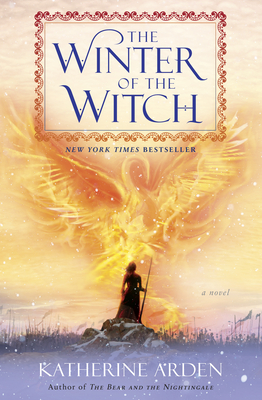 The Winter of the Witch (Hardcover)
A Novel (Winternight Trilogy #3)
Del Rey, 9781101885994, 384pp.
Publication Date: January 8, 2019
* Individual store prices may vary.
Description
Following their adventures in The Bear and the Nightingale and The Girl in the Tower, Vasya and Morozko return in this stunning conclusion to the bestselling Winternight Trilogy, battling enemies mortal and magical to save both Russias, the seen and the unseen.
 
Reviewers called Katherine Arden's novels The Bear and the Nightingale and The Girl in the Tower "lyrical," "emotionally stirring," and "utterly bewitching." The Winternight Trilogy introduced an unforgettable heroine, Vasilisa Petrovna, a girl determined to forge her own path in a world that would rather lock her away. Her gifts and her courage have drawn the attention of Morozko, the winter-king, but it is too soon to know if this connection will prove a blessing or a curse.

Now Moscow has been struck by disaster. Its people are searching for answers—and for someone to blame. Vasya finds herself alone, beset on all sides. The Grand Prince is in a rage, choosing allies that will lead him on a path to war and ruin. A wicked demon returns, stronger than ever and determined to spread chaos. Caught at the center of the conflict is Vasya, who finds the fate of two worlds resting on her shoulders. Her destiny uncertain, Vasya will uncover surprising truths about herself and her history as she desperately tries to save Russia, Morozko, and the magical world she treasures. But she may not be able to save them all.

Advance praise for Winter of the Witch

"Katherine Arden's Winternight Trilogy isn't just good—it's hug-to-your-chest, straight-to-the-favorites-shelf, reread-immediately good, and each book just gets better. The Winter of the Witch plunges us back to fourteenth-century Moscow, where old gods and new vie for the soul of Russia and fate rests on a witch girl's slender shoulders. Prepare to have your heart ripped out, loaned back to you full of snow and magic, and ripped out some more."—Laini Taylor
About the Author
Katherine Arden is the author of the national bestseller The Bear and the Nightingale and The Girl in the Tower. Born in Austin, Texas, she has studied Russian in Moscow, taught at a school in the French Alps, and worked on a farm in Hawaii. She currently lives in Vermont.
Praise For The Winter of the Witch: A Novel (Winternight Trilogy #3)…
"Katherine Arden's Winternight Trilogy isn't just good—it's hug-to-your-chest, straight-to-the-favorites-shelf, reread-immediately good, and each book just gets better. The Winter of the Witch plunges us back to fourteenth-century Moscow, where old gods and new vie for the soul of Russia and fate rests on a witch girl's slender shoulders. Prepare to have your heart ripped out, loaned back to you full of snow and magic, and ripped out some more."—Laini Taylor

Praise for the novels of Katherine Arden

The Bear and the Nightingale

"Arden's debut novel has the cadence of a beautiful fairy tale but is darker and more lyrical."—The Washington Post
 
"A beautiful deep-winter story, full of magic and monsters and the sharp edges of growing up."—Naomi Novik, bestselling author of Uprooted
 
 "Stunning . . . will enchant readers from the first page . . . with an irresistible heroine who wants only to be free of the bonds placed on her gender."—Publishers Weekly (starred review)
 
"Utterly bewitching . . . peopled with vivid, dynamic characters."—Booklist (starred review)

"An extraordinary retelling of a very old tale . . . a beautifully layered novel of family and the harsh wonders of deep winter magic."—Robin Hobb
 
"Supple, sumptuous . . . transports the reader to a version of medieval Russia where history and myth coexist."—Kirkus Reviews (starred review)
 
"Vasya [is] a clever, stalwart protagonist, determined to forge her own path in a time when women had few choices."—The Christian Science Monitor

The Girl in the Tower
 
"Following her absorbingly vibrant and highly praised debut Arden . . . continues the story of the brave and impetuous Vasya."—Library Journal

"[A] sensual, beautifully written, and emotionally stirring fantasy. Fairy tales don't get better than this."—Publishers Weekly (starred review)

"Arden's lush, lyrical writing cultivates an intoxicating, visceral atmosphere, and her marvelous sense of pacing carries the novel along at a propulsive clip. A masterfully told story of folklore, history, and magic with a spellbinding heroine at the heart of it all."—Booklist (starred review)