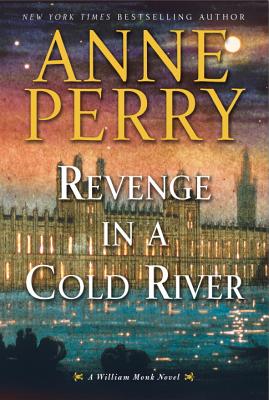 Revenge in a Cold River (Hardcover)
A William Monk Novel
Ballantine Books, 9781101886359, 320pp.
Publication Date: September 6, 2016
Other Editions of This Title:
Hardcover, Large Print (9/7/2016)
* Individual store prices may vary.
Description
Master of mystery and historical intrigue Anne Perry once again transports readers to the banks of the Thames in Victorian London for her thrilling new William Monk novel. In Revenge in a Cold River, Monk faces his darkest hour ever as he spars with a quarry hell-bent on vengeance.

When Commander Monk of the Thames River Police is called to investigate the drowning of an escaped prisoner, he's forced to contend with customs officer McNab, who clearly bears a bitter grudge against him. But the reason is a mystery in itself. Monk's memory loss—a secret he guards closely—leaves him vulnerable to repercussions from his missing past, especially his exploits overseas in the tumultuous Gold Rush days of San Francisco. And now McNab, as icy and unfathomable as the steel-gray Thames itself, appears intent on using whatever damning facts he can find to his advantage to ruin Monk's future as an officer of the law.

As Monk explores the possibility of a conspiracy, McNab's game of cat and mouse escalates, with veiled threats and cryptic insinuations. Snared in an unforeseen trap, a desperate Monk must turn to his wife, Hester, and friend and attorney Oliver Rathbone for help, as his life literally hangs in the balance.

With razor-edged suspense and shocking twists and turns, Revenge in a Cold River is Anne Perry at her most intense—and most satisfying.

Praise for Revenge in a Cold River

"Fascinating and addictive . . . Another strong historical mystery that is true in both culture and manners to its Victorian setting."—New York Journal of Books

"Perry is a master storyteller whose writing encompasses rich detail and nuance. . . . [Revenge in a Cold River] is her best to date."—The Star-Ledger

"The storytelling is dazzling, as it always is in a Perry novel."—The New York Times Book Review 

Praise for Anne Perry and her William Monk novels
 
Corridors of the Night
 
"[A] suspenseful, twisting narrative."—Historical Novels Review
 
Blood on the Water
 
"One of Ms. Perry's most engrossing books . . . gallops to a dramatic conclusion."—The Washington Times
 
Blind Justice
 
"[Perry's] courtroom scenes have the realism of Scott Turow."—Huntington News
 
A Sunless Sea
 
"Anne Perry's Victorian mysteries are marvels."—The New York Times Book Review
 
Acceptable Loss
 
"Masterful storytelling and moving dialogue."—The Star-Ledger
About the Author
Anne Perry is the bestselling author of two acclaimed series set in Victorian England: the William Monk novels, including Corridors of the Night and Blood on the Water, and the Charlotte and Thomas Pitt novels, including Treachery at Lancaster Gate and The Angel Court Affair. She is also the author of a series of five World War I novels, as well as thirteen holiday novels, most recently A Christmas Message, and a historical novel, The Sheen on the Silk, set in the Ottoman Empire. Anne Perry lives in Scotland and Los Angeles.
Praise For Revenge in a Cold River: A William Monk Novel…
"The storytelling is dazzling, as it always is in a Perry novel. . . . Like the great Dickens novel Our Mutual Friend, the Monk series has a deep, almost primal bond with London's river, which disgorges all sorts of objects, including human bodies, with each tide. . . . [An] uncommonly atmospheric mystery."—The New York Times Book Review

"Fascinating and addictive . . . Another strong historical mystery that is true in both culture and manners to its Victorian setting."—New York Journal of Books

"Perry is a master storyteller whose writing encompasses rich detail and nuance. . . . [Revenge in a Cold River] is her best to date."—The Star-Ledger

Praise for Anne Perry and her William Monk novels
 
Corridors of the Night
 
"[A] suspenseful, twisting narrative."—Historical Novels Review
 
Blood on the Water
 
"One of Ms. Perry's most engrossing books . . . gallops to a dramatic conclusion."—The Washington Times
 
Blind Justice
 
"[Perry's] courtroom scenes have the realism of Scott Turow."—Huntington News
 
A Sunless Sea
 
"Anne Perry's Victorian mysteries are marvels."—The New York Times Book Review
 
Acceptable Loss
 
"Masterful storytelling and moving dialogue."—The Star-Ledger
or
Not Currently Available for Direct Purchase