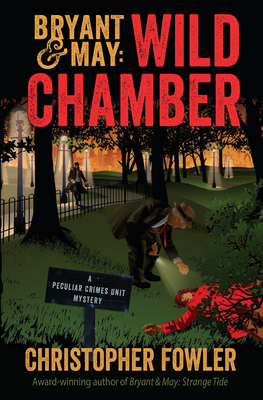 Bryant & May: Wild Chamber: A Peculiar Crimes Unit Mystery (Hardcover)
Wild Chamber: A Peculiar Crimes Unit Mystery
Bantam, 9781101887066, 448pp.
Publication Date: December 5, 2017
Description
Detectives Arthur Bryant and John May are back on the case in this whip-smart and wildly twisting mystery, in which a killer in London's parks is proving to be a most elusive quarry.

Helen Forester's day starts like any other: Around seven in the morning, she takes her West Highland terrier for a walk in her street's private garden. But by 7:20 she is dead, strangled yet peacefully laid out on the path, her dog nowhere to be found. The only other person in the locked space is the gardener, who finds the body and calls the police. He expects proper cops to arrive, but what he gets are Bryant, May, and the wily members of the Peculiar Crimes Unit. Before the detectives can make any headway on the case, a second woman is discovered in a public park, murdered in nearly identical fashion. Bryant, recovering from a health scare, delves into the arcane history of London's cherished green spaces, rife with class drama, violence, and illicit passions. But as a devious killer continues to strike, Bryant and May struggle to connect the clues, not quite seeing the forest for the trees. Now they have to think and act fast to save innocent lives, the fate of the city's parks, and the very existence of the PCU. An irresistibly witty, inventive blend of history and suspense, Bryant & May: Wild Chamber is Christopher Fowler in classic form. Praise for Christopher Fowler's ingenious novels featuring the Peculiar Crimes Unit "Fowler, like his crime-solvers, is deadpan, sly, and always unexpectedly inventive."--Entertainment Weekly "Captivating."--The Seattle Times " A] guilty pleasure."--Marilyn Stasio, The New York Times Book Review " Fowler] takes delight in stuffing his books with esoteric facts; together with a cast of splendidly eccentric characters and] corkscrew plots, wit, verve and some apposite social commentary, they make for unbeatable fun."--The Guardian "Dazzling."--The Denver Post "The most delightfully, wickedly entertaining duo in crime fiction."--The Plain Dealer "Thrilling."--Chicago Tribune
About the Author
Christopher Fowler is the acclaimed author of the award-winning Full Dark House and thirteen other Peculiar Crimes Unit mysteries, as well as the PCU story collection London's Glory. In 2015, Fowler won the coveted Crime Writers' Association Dagger in the Library Award in recognition for his body of work. He lives in London, where he is at work on his next Peculiar Crimes Unit novel, Bryant & May: Hall of Mirrors.
Advertisement