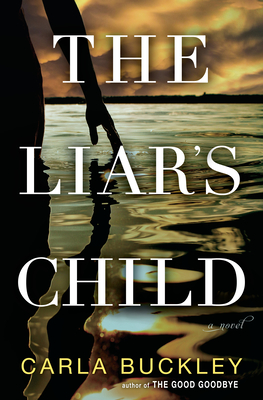 The Liar's Child (Hardcover)
A Novel
Ballantine Books, 9781101887127, 288pp.
Publication Date: March 12, 2019
Other Editions of This Title:
Digital Audiobook (3/11/2019)
Library Binding, Large Print (7/10/2019)
* Individual store prices may vary.
Description
In this intense and intimate family portrait that moves at a thriller's pace, a troubled woman faces a gripping moral dilemma after rescuing two abandoned children from a hurricane.
 
On the outskirts of North Carolina's Outer Banks sits the Paradise, an apartment complex where renters never stay long enough to call the place "home"—and neighbors are seldom neighborly. It's ideal for Sara Lennox, who moved there to escape a complicated past—and even her name—and rebuild a new life for herself under the radar. But Sara cannot help but notice the family next door, especially twelve-year-old Cassie and five-year-old Boon. She hears rumors and whispers of a recent tragedy slowly tearing them apart.
 
When a raging storm threatens then slams the coastal community, Sara makes a quick, bold decision: Rescue Cassie and Boon from the storm and their broken home—without telling a soul. But this seemingly noble act is not without consequences. Some lethal.
 
Carla Buckley crafts a richly rewarding psychological portrait, combining a heart-wrenching family drama with high-stakes suspense, as the lives of three characters intertwine in an unforgettable story of fury, fate—and redemption.

Praise for The Liar's Child

"Surprising and rewarding . . . Ms. Buckley does what only the best suspense writers can do: She makes you care about what happens to her characters, provoking your emotions as well as your curiosity."—The Wall Street Journal
 
"Buckley has crafted a complex and compelling story. The nuances and dynamics at play in The Liar's Child will take the most jaded reader on a heartfelt and emotional journey."—Associated Press
 
"A wonderfully complex and multilayered drama complete with the suspense that keeps the pages turning. Fans of Kate White and Diane Chamberlain will be asking if it's possible for a child to leave the past behind long after the book ends."—Booklist
 
"Carla Buckley's superb psychological thrillers are always emotionally wrenching but The Liar's Child packs a visceral gut punch that knocks the wind right out of us . . . Emotive writing that packs a wallop to both the heart and the mind."—Book Trib
About the Author
Carla Buckley is the author of The Good Goodbye, The Deepest Secret, Invisible, and The Things That Keep Us Here, which was nominated for a Thriller Award as a best first novel and the Ohioana Book Award for fiction. She is a graduate of Oberlin College and the Wharton School of Business, and lives in Chapel Hill, North Carolina, with her husband and three children. She is currently at work on her next novel.
Praise For The Liar's Child: A Novel…
"Surprising and rewarding . . . Ms. Buckley does what only the best suspense writers can do: She makes you care about what happens to her characters, provoking your emotions as well as your curiosity."—The Wall Street Journal
 
"Buckley has crafted a complex and compelling story. The nuances and dynamics at play in The Liar's Child will take the most jaded reader on a heartfelt and emotional journey."—Associated Press

"You should read The Liar's Child by Carla Buckley because it's a lovely and evocative story, and because it raises all kinds of questions about parents and children, secrets and safety. But be careful: This is a writer who knows how to break your heart."—Carolyn Parkhurst, New York Times bestselling author of The Dogs of Babel and Lost and Found

"Buckley has a rare gift for character. In The Liar's Child, she digs deep into the hearts of the troubled, flawed, and all-too-human souls who populate this beautifully written and utterly involving novel. I didn't so much open this book as fall inside this compelling story." —Lisa Unger, New York Times bestselling author of Under My Skin
 
"Buckley is a sly writer. Just when you think you have things figured out, she flips the story on its head. Deft plotting and psychologically fleshed out characters make The Liar's Child a ripping good read."—Diane Chamberlain, New York Times bestselling author of The Dream Daughter

 "Buckley's provocative novel may be set against an exciting outer storm, but it's the complex inner storms of her nuanced characters that had me gripping the pages."—Caroline Leavitt, New York Times bestselling author of Is This Tomorrow and Pictures of You
 
"Told in Buckley's trademark evocative prose, The Liar's Child spotlights her singular gift: the ability to tug on the threads of her characters' lives and make everything unravel, and then expertly stitch their lives back together again."
—Karen Dionne, author of the international bestseller The Marsh King's Daughter
 
"Her characters are believably flawed; her creation of atmosphere and setting is perfection. I adored this beautifully written book, and I double-dog dare you to not find yourself wanting to read from start to finish without a break."—Elizabeth J. Church, author of All the Beautiful Girls and The Atomic Weight of Love

"A mystery wrapped in an achingly good family drama, The Liar's Child hooked me from page one. An unconventional love story that broke my heart in all the best ways, Carla Buckley's emotionally complex, beautifully written tale is also a page-turner that will keep you up long past your bedtime."—Joshilyn Jackson, New York Times bestselling author of The Almost Sisters