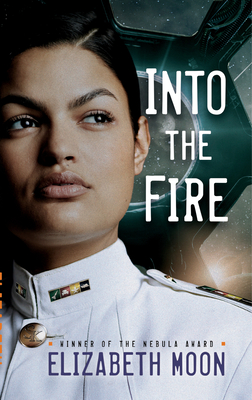 Into the Fire (Vatta's Peace #2) (Mass Market)
Del Rey, 9781101887363, 512pp.
Publication Date: October 30, 2018
Other Editions of This Title:
Hardcover (2/6/2018)
MP3 CD (6/5/2018)
* Individual store prices may vary.
Description
In this new military sci-fi thriller from the Nebula Award–winning author of Cold Welcome, Admiral Kylara Vatta is back—with a vengeance.

Ky beats sabotage, betrayal, and the unforgiving elements to lead a ragtag group of crash survivors to safety on a remote arctic island. And she cheats death after uncovering secrets someone is hell-bent on protecting. But the worst is far from over when Ky discovers the headquarters of a vast conspiracy against her family and the heart of the planet's government itself.

With their base of operations breached, the plotters have no choice but to gamble everything on an audacious throw of the dice. Even so, the odds are stacked against Ky. When her official report on the crash and its aftermath goes missing—along with the men and women she rescued—Ky realizes that her mysterious enemies are more powerful and dangerous than she imagined. 

Now, targeted by faceless assassins, Ky and her family—along with her fiancé, Rafe—must battle to reclaim the upper hand and unmask the lethal cabal closing in on them with murderous intent.

Praise for Into the Fire

"[Elizabeth] Moon's powerful female characters send the unmistakable message that whatever men try to do, these women can do much, much better."—Publishers Weekly

"Intrigue and great action scenes, along with punchy dialogue."—SFRevu
About the Author
Elizabeth Moon grew up on the Texas border, served three years of active duty in the USMC (1968–71), and now lives with her husband, also a veteran, near Austin, Texas. She has published more than twenty-five novels, including Nebula Award winner The Speed of Dark, Hugo finalist Remnant Population, and the enduring epic fantasy series The Chronicles of Paksenarrion. She has published more than fifty short-fiction pieces in anthologies and magazines and in four of her own short-fiction collections, most recently Moon Flights and Deeds of Honor. When not writing, Moon enjoys photographing native plants and wildlife, knitting socks, and cooking.
Praise For Into the Fire (Vatta's Peace #2)…
"[Elizabeth] Moon's powerful female characters send the unmistakable message that whatever men try to do, these women can do much, much better."—Publishers Weekly

"Intrigue and great action scenes, along with punchy dialogue."—SFRevu

Praise for Elizabeth Moon's Cold Welcome

"A gripping page-turner with enough twists and turns to satisfy even the most hardened sf reader."—Booklist

"Like much of Elizabeth Moon's fiction, the characters shine."—SSFWorld

"Abounding with a new set of piratical baddies, ramped-up military slang, assorted betrayals, and echoes of Shackleton's incredible cold-weather trek."—Publishers Weekly

"An exciting tale of military sf."—Library Journal

"Solidy engrossing . . . Moon's great strength is her characters, particularly the soldiers and how they comport themselves when under great stress."—Kirkus Reviews