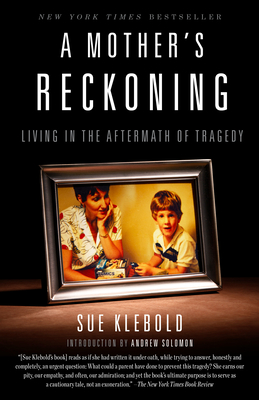 A Mother's Reckoning
Living in the Aftermath of Tragedy
Paperback

* Individual store prices may vary.
Other Editions of This Title:
Digital Audiobook (2/14/2016)
Hardcover (2/15/2016)
Paperback, Large Print (2/7/2017)
Description
The acclaimed New York Times bestseller by Sue Klebold, mother of one of the Columbine shooters, about living in the aftermath of Columbine.
On April 20, 1999, Eric Harris and Dylan Klebold walked into Columbine High School in Littleton, Colorado. Over the course of minutes, they would kill twelve students and a teacher and wound twenty-four others before taking their own lives.
 
For the last sixteen years, Sue Klebold, Dylan's mother, has lived with the indescribable grief and shame of that day. How could her child, the promising young man she had loved and raised, be responsible for such horror? And how, as his mother, had she not known something was wrong? Were there subtle signs she had missed? What, if anything, could she have done differently?
 
These are questions that Klebold has grappled with every day since the Columbine tragedy. In A Mother's Reckoning, she chronicles with unflinching honesty her journey as a mother trying to come to terms with the incomprehensible. In the hope that the insights and understanding she has gained may help other families recognize when a child is in distress, she tells her story in full, drawing upon her personal journals, the videos and writings that Dylan left behind, and on countless interviews with mental health experts.
 
Filled with hard-won wisdom and compassion, A Mother's Reckoning is a powerful and haunting book that sheds light on one of the most pressing issues of our time. And with fresh wounds from the Newtown and Charleston shootings, never has the need for understanding been more urgent.
 
All author profits from the book will be donated to research and to charitable organizations focusing on mental health issues.

— Washington Post, Best Memoirs of 2016


Praise For A Mother's Reckoning: Living in the Aftermath of Tragedy…
"…[U]nimaginably detailed, raw, minute-by-minute, illuminating, and just plain gripping. It's also the most extraordinary testament--to honesty, love, pain, doubt, and resilience.… This book is nothing less than a public service. I beseech you to read it."
– Bruce Feiller

"As people read Sue's memoir, what they will find is that her book is honest, and her pain genuine.  Her story may be uncomfortable to read, but it will raise awareness about brain health and the importance of early identification and intervention to maintain it.  If people listen to her – to all that she has experienced, and to how this has changed her – they will be quicker to respond to depression in young people, to the suicidal thinking that can accompany it, and to the rage that can build almost unnoticed in young people when the people who truly and completely love and care for them are distracted by other challenges in life."
—Paul Gionfriddo, President and CEO of Mental Health America

"Required reading for all parents of adolescents...soul-piercingly honest, written with bravery and intelligence... A book of nobility and importance." –The Times

 "Reading this book as a critic is hard; reading it as a parent is devastating….I imagine snippets of my own young children in Dylan Klebold, shades of my parenting in Sue and Tom.  I suspect that many families will find their own parallels….This book's insights are painful and necessary and its contradictions inevitable."
—Carlos Lozada, The Washington Post

 "[Sue Klebold's book] reads as if she had written it under oath, while trying to answer, honestly and completely, an urgent question: What could a parent have done to prevent this tragedy?…
She earns our pity, our empathy and, often, our admiration; and yet the book's ultimate purpose is to serve as a cautionary tale, not an exoneration."
—The New York Times Book Review

"[T]he parenting book everyone should read."
—Parents.com

 "I believe Sue Klebold.  So will you."
—LA Times

"At times her story is so chilling you want to turn away, but Klebold's compassion and honesty –and realization that parents and institutions must work to discover kids' hidden suffering-will keep you riveted."
—People.com

"This book which can be tough to read in places is an important one. It helps us arrive at a new understanding of how Columbine happened and, in the process, may help avert other tragedies." Rated: A.
—Entertainment Weekly
Crown, 9781101902776, 336pp.
Publication Date: February 7, 2017
About the Author
Sue Klebold is the mother of Dylan Klebold, one of the two shooters at Columbine High School in 1999 who killed 13 people before ending their own lives, a tragedy that saddened and galvanized the nation. She has spent the last 15 years excavating every detail of her family life, and trying to understand the crucial intersection between mental health problems and violence. Instead of becoming paralyzed by her grief and remorse, she has become a passionate and effective agent working tirelessly to advance mental health awareness and intervention.