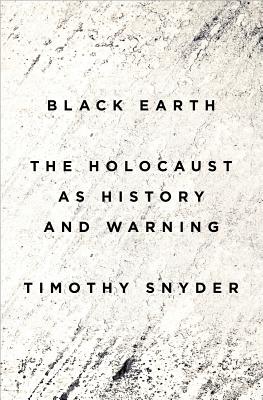 Black Earth
The Holocaust as History and Warning
Hardcover

* Individual store prices may vary.
Other Editions of This Title:
Digital Audiobook (9/7/2015)
Paperback (9/6/2016)
Compact Disc (9/8/2015)
Description
A brilliant, haunting, and profoundly original portrait of the defining tragedy of our time.

In this epic history of extermination and survival, Timothy Snyder presents a new explanation of the great atrocity of the twentieth century, and reveals the risks that we face in the twenty-first. Based on new sources from eastern Europe and forgotten testimonies from Jewish survivors, Black Earth recounts the mass murder of the Jews as an event that is still close to us, more comprehensible than we would like to think, and thus all the more terrifying. 

The Holocaust began in a dark but accessible place, in Hitler's mind, with the thought that the elimination of Jews would restore balance to the planet and allow Germans to win the resources they desperately needed. Such a worldview could be realized only if Germany destroyed other states, so Hitler's aim was a colonial war in Europe itself.  In the zones of statelessness, almost all Jews died. A few people, the righteous few, aided them, without support from institutions. Much of the new research in this book is devoted to understanding these extraordinary individuals. The almost insurmountable difficulties they faced only confirm the dangers of state destruction and ecological panic. These men and women should be emulated, but in similar circumstances few of us would do so. 

By overlooking the lessons of the Holocaust, Snyder concludes, we have misunderstood modernity and endangered the future. The early twenty-first century is coming to resemble the early twentieth, as growing preoccupations with food and water accompany ideological challenges to global order. Our world is closer to Hitler's than we like to admit, and saving it requires us to see the Holocaust as it was --and ourselves as we are. 

Groundbreaking, authoritative, and utterly absorbing, Black Earth reveals a Holocaust that is not only history but warning.
Praise For Black Earth: The Holocaust as History and Warning…
A New York Times Bestseller
A New York Times Editors' Choice
Selected as one of the Best Books of 2015 by The Washington Post, The Economist, and Publishers Weekly
Finalist for the Samuel Johnson Prize
Shortlisted for the 2016 Mark Lynton History Prize and the Council on Foreign Relations' Arthur Ross Book Award

Praise for Black Earth:

"Clear-eyed . . . Arresting . . . An unorthodox and provocative account . . . Snyder is admirably relentless." —The New Yorker

"Black Earth is mesmerizing . . . Remarkable . . . Gripping . . . Disturbingly vivid . . . Mr. Snyder is sometimes mordant, often shocked, always probing." —The Wall Street Journal

"Revelatory . . . Evocative . . . Most relevant today." —The Atlantic

"A very fine book . . . Snyder identifies the conditions that allowed the Holocaust—conditions our society today shares . . . He certainly couldn't be more right about our world." —The New Republic

"An unflinching look at the Holocaust . . . Mr. Snyder is a rising public intellectual unafraid to make bold connections between past and present." —The New York Times

"Snyder's historical account has a vital contemporary lesson . . . It's a testament to his intellectual and moral resources that he can so deeply contemplate this horrific past in ways that strengthen his commitment to building a future based on law, rights, and citizenship." —The Washington Post

"Black Earth elucidates human catastrophe in regions with which a Western audience needs to become familiar." —The New York Times Book Review

"An impressive reassessment of the Holocaust, which steers an assured course [and] challenges readers to reassess what they think they know and believe . . . Black Earth will prove uncomfortable reading for many who hew to cherished but mythical elements of Holocaust history." —The Economist

"Excellent in every respect . . . Although I read widely about the Holocaust, I learned something new in every chapter. The multilingual Snyder has mined contemporaneous Eastern European sources that are often overlooked." —Stephen Carter, Bloomberg

"In Black Earth, a book of the greatest importance, Snyder now forces us to look afresh at these monumental crimes. Written with searing intellectual honesty, his new study goes much deeper than Bloodlands in its analysis, showing how the two regimes fed off each other." —Antony Beevor, The Sunday Times

"Snyder is both a great historian and a lively journalist . . . If we understood the Nazi horror more clearly, we might be less susceptible to those who misremember the past to mislead us in the present. Snyder's Black Earth, like Bloodlands before it, is an indispensable contribution to that clearer understanding." —Commentary

"Snyder writes elegant, lucid, powerful prose. He has read widely in literatures not widely read. In Black Earth he has synthesized previous work into a narrative of the Holocaust that recasts the familiar in unfamiliar terms that challenge the thinking of experts and non-experts alike." —Haaretz

"No matter how many histories, biographies, and memoirs you may have already read, Black Earth will compel you to see the Holocaust in a wholly new and revelatory light." —The Jewish Journal

"In this unusual and innovative book, Timothy Snyder takes a fresh look at the intellectual origins of the Holocaust, placing Hitler's genocide firmly in the politics and diplomacy of 1930s Europe. Black Earth is required reading for anyone who cares about this difficult period of history." —Anne Applebaum

"Timothy Snyder's bold new approach to the Holocaust links Hitler's racial worldview to the destruction of states and the quest for land and food. This insight leads to thought-provoking and disturbing conclusions for today's world. Black Earth uses the recent past's terrible inhumanity to underline an urgent need to rethink our own future." —Ian Kershaw

"Part history, part political theory, Black Earth is a learned and challenging reinterpretation." —Henry Kissinger

"Black Earth is provocative, challenging, and an important addition to our understanding of the Holocaust.  As he did in Bloodlands, Timothy Snyder makes us rethink those things we were sure we already knew." —Deborah Lipstadt

"Timothy Snyder's Black Earth is not only a powerful exposure of the horrors of the Holocaust but also a compelling dissection of the Holocaust's continuing threat." —Zbigniew Brzezinski

"Timothy Snyder argues, eloquently and convincingly, that the world is still susceptible to the inhuman impulses that brought about the Final Solution. This book should be read as admonition by presidents, prime ministers, and in particular by anyone who believes that the past is somehow behind us." —Jeffrey Goldberg
Tim Duggan Books, 9781101903452, 480pp.
Publication Date: September 8, 2015
About the Author
Timothy Snyder is the Housum Professor of History at Yale University and a member of the Committee on Conscience of the United States Holocaust Memorial Museum. He is the author of On Tyranny: Twenty Lessons from the Twentieth Century and Bloodlands: Europe Between Hitler and Stalin, which received the literature award of the American Academy of Arts and Letters, the Hannah Arendt Prize, and the Leipzig Book Prize for European Understanding. Snyder is a frequent contributor to The New York Review of Books and the Times Literary Supplement and a former contributing editor at The New Republic. He is a permanent fellow of the Institute for Human Sciences, serves as the faculty advisor for the Fortunoff Archive for Holocaust Testimonies, and sits on the advisory council of the Yivo Institute for Jewish Research. He lives in New Haven, Connecticut.
Coverage from NPR
or
Not Currently Available for Direct Purchase