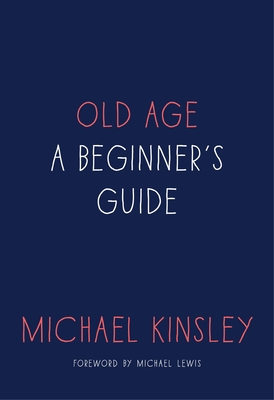 Old Age
A Beginner's Guide
Hardcover

* Individual store prices may vary.
Other Editions of This Title:
Digital Audiobook (4/25/2016)
Description
Vanity Fair columnist Michael Kinsley escorts his fellow Boomers through the door marked "Exit."

The notorious baby boomers—the largest age cohort in history—are approaching the end and starting to plan their final moves in the game of life. Now they are asking: What was that all about? Was it about acquiring things or changing the world? Was it about keeping all your marbles? Or is the only thing that counts after you're gone the reputation you leave behind?

In this series of essays, Michael Kinsley uses his own battle with Parkinson's disease to unearth answers to questions we are all at some time forced to confront. "Sometimes," he writes, "I feel like a scout from my generation, sent out ahead to experience in my fifties what even the healthiest Boomers are going to experience in their sixties, seventies, or eighties."

This surprisingly cheerful book is at once a fresh assessment of a generation and a frequently funny account of one man's journey toward the finish line. "The least misfortune can do to make up for itself is to be interesting," he writes. "Parkinson's disease has fulfilled that obligation."
Praise For Old Age: A Beginner's Guide…
A New York Times Bestseller
A New York Times Editors' Choice
A #1 Washington Post Bestseller

"A superb new book . . . A generational cri de coeur. . . . Mr. Kinsley possesses what is probably the most envied journalistic voice of his generation: skeptical, friendly, possessed of an almost Martian intelligence." —Dwight Garner, The New York Times

"Wickedly funny. . . . Especially poignant. . . . Among all the books published in recent years about old age and dying, it would be hard to find one that is more fun to read than Old Age." —Reeve Lindbergh, The Washington Post

"Kinsley brings wisdom and artfully suppressed anger, wistful humor, well-pitched prose, and the bite of the thinker against the pretenses of the world. . . . Old Age is not a little book about economics or Parkinson's disease, but it is a big little book about what happens when we begin to think beyond who has won the race." —Peter Stothard, The Wall Street Journal

"If aging is an opponent, I can't think of anyone better suited to take it on than Michael Kinsley. His prodigious wit and intellect cut straight through to the realities—positive and negative—of growing older. By turns funny and rueful, but always real, this book is a must-read for newcomers to the world of old age." —Michael J. Fox

"Hilarious. . . . Witty. . . . If it's possible for a book about illness and death to be delightful, this one fills the bill." —Phillip Lopate, The New York Times Book Review

"Old Age is irreverent, wise, and laugh-out-loud funny about living long enough for your organs to start to betray you. Count on Michael Kinsley to write the book about life you didn't know you needed." —Atul Gawande

"Michael Kinsley, a favorite around here, has written a smart, funny, and profound little memoir." —Pamela Paul, The New York Times Book Review

"A wise and edgy guide to old age. . . . A humorous but penetrating look at the issues the baby-boomer generation should consider as it confronts life's last phase." —The Seattle Times

"A wise and funny journey that manages to make mortality itself an energizing subject." —Money.com
Tim Duggan Books, 9781101903766, 160pp.
Publication Date: April 26, 2016
About the Author
Michael Kinsley is a columnist at Vanity Fair, a contributor to The New Yorker, and the founder of Slate. He has served as the editor of The New Republic and Harper's, the managing editor of The Washington Monthly, and the American editor of The Economist. He lives in Washington, DC.
Coverage from NPR