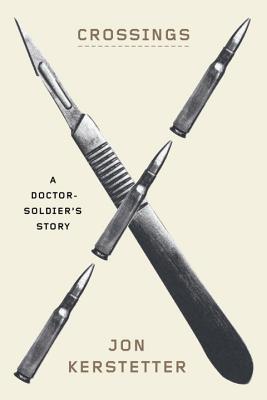 Crossings
A Doctor-Soldier's Story
Hardcover

* Individual store prices may vary.
Other Editions of This Title:
Digital Audiobook (9/4/2017)
Paperback (9/4/2018)
Compact Disc (9/5/2017)
Compact Disc (9/5/2017)
MP3 CD (9/5/2017)
Description
A searing, beautifully told memoir by a Native American doctor on the trials of being a doctor-soldier in the Iraq War, and then, after suffering a stroke that left his life irrevocably changed, his struggles to overcome the new limits of his body, mind, and identity.

Every juncture in Jon Kerstetter's life has been marked by a crossing from one world into another: from civilian to doctor to soldier; between healing and waging war; and between compassion and hatred of the enemy. When an injury led to a stroke that ended his careers as a doctor and a soldier, he faced the most difficult crossing of all, a recovery that proved as shattering as war itself.

Crossings is a memoir of an improbable, powerfully drawn life, one that began in poverty on the Oneida Reservation in Wisconsin but grew by force of will to encompass a remarkable medical practice. Trained as an emergency physician, Kerstetter's thirst for intensity led him to volunteer in war-torn Rwanda, Kosovo, and Bosnia, and to join the Army National Guard. His three tours in the Iraq War marked the height of the American struggle there. The story of his work in theater, which involved everything from saving soldiers' lives to organizing the joint U.S.–Iraqi forensics team tasked with identifying the bodies of Saddam Hussein's sons, is a bracing, unprecedented evocation of a doctor's life at war.

But war was only the start of Kerstetter's struggle. The stroke he suffered upon returning from Iraq led to serious cognitive and physical disabilities. His years-long recovery, impeded by near-unbearable pain and complicated by PTSD, meant overcoming the perceived limits of his body and mind and reimagining his own capacity for renewal and change. It led him not only to writing as a vocation but to a deeper understanding of how healing means accepting a new identity, and how that acceptance must be fought for with as much tenacity as any battlefield victory.
Praise For Crossings: A Doctor-Soldier's Story…
Finalist for the 2018 Colby Award

"Grave and pensive, but always engaging... [Crossings] offers intimate portraits of lives shaped by war... A new generation of storytellers will emerge from this latest iteration of the terror wars... [Crossings is a] powerful reminder of why we should listen."
—Wall Street Journal

"Crossings is an intimate and compelling look at how a Native American served his country as a combat medic and overcame the generational odds against success in his personal, professional and spiritual life. [An] inspiring, transformational story."
—San Antonio Express-News

"Kerstetter's remarkable story of courage and resilience provides a detailed look at the life and work of a combat physician... Though this is his first book, Kerstetter is a compelling writer, and not just of war stories. Kerstetter emotionally describes his recovery, the end of his medical career, and the process of relearning that led to this memoir... Recommended for readers who enjoy war memoirs and for anyone looking for a moving life story."
—Library Journal

"The author's emergence as a military doctor makes for interesting reading… but what is of greatest value in this narrative is Kerstetter's ongoing, twofold recovery from a stroke on one hand and PTSD on the other… The author's medical perspective on his own condition and critical therapeutic moments adds depth to an already solid story. An inspiring memoir."
—Kirkus Reviews

"All of us will have challenges in our lives. Dr. Kerstetter has had many. I admire the author's courage and humility in telling his story. This is a well-written book and I highly recommend it."
—Annals of Emergency Medicine

"Kerstetter has written a fascinating and nuanced edge-of-your-seat tale about the humanity of medicine amidst the inhumanity of war. Your heart will be pounding on every page. I couldn't put this wonderful book down."
—Matt McCarthy, author of The Real Doctor Will See You Shortly
Crown, 9781101904374, 352pp.
Publication Date: September 5, 2017
About the Author
Jon Kerstetter received his medical degree from the Mayo Medical School in Rochester, Minnesota, and his MFA degree from Ashland University in Ohio. He served as a combat physician and flight surgeon for the U.S. Army and completed three combat tours in Iraq. His writing has appeared in The Best American Essays, River Teeth, and other literary journals.
or
Not Currently Available for Direct Purchase