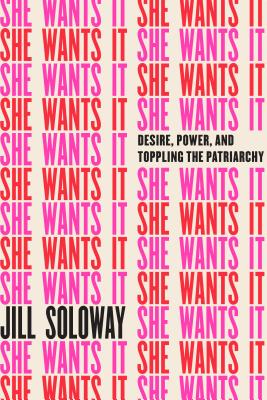 She Wants It
Desire, Power, and Toppling the Patriarchy
Hardcover

* Individual store prices may vary.
Other Editions of This Title:
Digital Audiobook (10/15/2018)
Paperback (10/15/2019)
Description
New York Times Editors' Choice 

In this poignant memoir of personal transformation, Jill Soloway takes us on a patriarchy-toppling emotional and professional journey. When Jill's parent came out as transgender, Jill pushed through the male-dominated landscape of Hollywood to create the groundbreaking and award-winning Amazon TV series Transparent. Exploring identity, love, sexuality, and the blurring of boundaries through the dynamics of a complicated and profoundly resonant American family, Transparent gave birth to a new cultural consciousness. While working on the show and exploding mainstream ideas about gender, Jill began to erase the lines on their own map, finding their voice as a director, show creator, and activist. 

She Wants It: Desire, Power, and Toppling the Patriarchy moves with urgent rhythms, wild candor, and razor-edged humor to chart Jill's evolution from straight, married mother of two to identifying as queer and nonbinary. This intense and revelatory metamorphosis challenges the status quo and reflects the shifting power dynamics that continue to shape our collective worldview. With unbridled insight that offers a rare front seat to the inner workings of the #metoo movement and its aftermath, Jill captures the zeitgeist of a generation with thoughtful and revolutionary ideas about gender, inclusion, desire, and consent.
Praise For She Wants It: Desire, Power, and Toppling the Patriarchy…
"Fearlessly revealing, deeply felt, rigorous and compassionate, She Wants It offers an intimate portrait of Jill Soloway's remarkable life and, simultaneously, a portrait of the larger human struggle to create, from a revolutionary TV show to a revolution in the culture itself. It's a rare and, yes, an important book." —Michael Cunningham
  
"A funny and brutally honest book about what it means to be a woman and what it takes to be a creator, She Wants It is deeply personal but always universal in its unapologetic recounting of a life lived and raw talent shared." —Amy Poehler

"A funny and wise new memoir…that speaks so urgently to our cultural moment…It's Soloway's deeply considered and honestly depicted quest for an authentic self that gives this memoir its depth." —New York Times Book Review
 
"Jill Soloway writes with passion, fierceness, and vulnerability. In She Wants It we read an amazing story of changing worlds—both the one around them, which is forever altered by their groundbreaking series, Transparent, as well as the one dwelling deep within their own unruly heart. She Wants It tells the story of a revolution, both cultural and personal. I often had to pause to laugh, or cry, or simply catch my breath in wonder. Provocative, generous, and inspiring." —Jennifer Finney Boylan

"A timely tell-all." —InStyle
 
"What an unbelievable pleasure to see the world through Jill's eyes and bear witness to their incredible journey as an artist, activist, parent, child, sibling, and uncontainable human being. Part memoir, part manifesto, pure magic. Read this book." —Van Jones
 
"Jill Soloway's writing remains unparalleled by any other when it comes to entertaining us while slyly changing our culture toward acceptance and equality. She Wants It opens our eyes and makes us giggle all along. You will savor every word." —Amy Schumer

"Refreshingly forthright." —Bustle
 
"Most writers hide in memoirs, sharing little real stories. With generous openhearted honesty, courage, and compassion, Soloway invites us to hear true stories. They share the difficult painful revelations, triumphs, and failures. Listening to them, readers laugh, cry, love, and most important, learn." —bell hooks
 
"She Wants It brims with juicy gossip, vulnerable revelation, and rousing calls-to-arms. After I finished reading it, I went out and made my first movie. What will you do?" —Michelle Tea

"If anyone has led a more wildly interesting life and written about it more brilliantly than Jill Soloway, this devourer of such hasn't found it. Grab on, and grab hold! You'll be laughing and crying the whole way through." —Norman Lear
 
"This is a story about self-doubt, self-discovery, and the triumph of self-actualization. It is imperative reading for anyone who wants to gain a better understanding of what it means to be Other in this world—what it means to discover who you are, to understand that each of us deserves happiness, and gathering the grit to go after it. I could not put this hilarious and heartfelt book down." —Chelsea Handler

"Soloway's perspective on sexuality and family is both candid and timely and urges readers to question society's view of gender and define it for themselves." —TIME

"This intimate, funny memoir. . .is many things at once: a behind-the-scenes look at the entertainment industry, a sometimes tumultuous but ultimately positive coming-out narrative, a wry and reflective family history, a cri de coeur about gender-based societal strictures, and a success story of, after some missteps, building a workplace culture around allyship." —Publisher's Weekly (starred review)

"Jill Soloway is still the smartest kid in the class, coaxing us all along with them on their profound and daring journey of self-discovery." —Daphne Merkin
 
"Jill Soloway's extraordinary memoir, She Wants It, is a compendium of the heart, a brave piece of literature which pulses from the page with its unique journey through the grace and guts of living honestly and intentionally in a world that often aims to deny us of both. Jill's story is both an illumination and an education, one that broke me as a reader, then put me back together again, wholly changed and forever redefined." —Amber Tamblyn
 
"She Wants It is more than a memoir. It's also a manifesto about the rest of us—about men and women and everyone else, about how this particular moment in time is forcing us to reckon with a sometimes dark and destructive present as well as our national past." —The Stranger

"Jill Soloway is not only a stunningly talented series creator, they're an archangel, here to rid us of the patriarchy. It's a grand mission and it's not easy going, She Wants It is their wild-winged, soft-hearted share-all. I loved their book so much—it is about everything I'm interested in; a personal life amidst daring creative endeavors." —Jane Campion
 
"Pages are just another canvass that Jill uses to share their truth and artistry. She Wants It gives a timely front row seat to gender exploration and storytelling that entertains as it inspires." —Sarah Kate Ellis
 
"Fierce, funny, and fabulous—this book is a triumph!" —Margaret Cho

"An assumption-exploding, smart account of creativity, work, and a decidedly unconventional life." —Kirkus (starred review)
 
"She Wants It is an extraordinary examination of feminism, ambition, artistic desire, chance, and career by one of the greatest American writer/directors working today. Soloway surveys the trajectory of their life, and the creation of their groundbreaking series Transparent, with courage, self-knowledge, humility, and wit. Their voice got inside me, I was totally hooked." —Chris Kraus
 
"In a world where gender doesn't mean what it used to, She Wants It offers so much more than a backstage peek into the autobiographical origins of Transparent. Jill Soloway's on a quest to figure out feminism for the 21st century—and wants you to want that, too." —Susan Stryker
 
"Jill Soloway is a very lucky queer. They get every break, and then help people who never get a break. They stumble at intimacy and then soar to new heights of connection and self-knowledge. Jill takes Hollywood to the thorniest questions Hollywood didn't know existed. This is a rollicking tale of how an enmeshed family sometimes brings out the best." —Sarah Schulman

"Jill Soloway's is one of our culture's most innovative minds, and She Wants It is a keen demonstration of the depth of their insight. As Soloway depicts their intertwined desire to create art with the need to be their complete self, in the face of a culture that seeks to limit them because of their gender, they do so with that ineffable combination of intellect, unpredictability, and wit that has made their films and TV shows so undeniably brilliant. She Wants It is a necessary read for anyone who has ever wrestled with desire, both as an artist and a human being." —Meredith Talusan
 
"Jill has a brilliant ability to communicate their creative process. The nuts and bolts of bringing a story to fruition, from life, thought, and inspiration to the screen and vice versa. They're fearless about expressing their desires, for creative control, for power, for equality, dammit—with no apologies." —Susie Bright

Crown Archetype, 9781101904749, 256pp.
Publication Date: October 16, 2018
About the Author
JILL SOLOWAY is the Emmy and Golden Globe Award-winning creator of Transparent and I Love Dick. Their first feature film, Afternoon Delight, won the 2013 Directing Award at Sundance. Their work can also be seen in Six Feet Under, How to Make It in America, and United States of Tara. An activist and artist, Jill cofounded 5050by2020, East Side Jews, and the spoken word series Sit n' Spin. Jill lives in Los Angeles.
Coverage from NPR
or
Not Currently Available for Direct Purchase