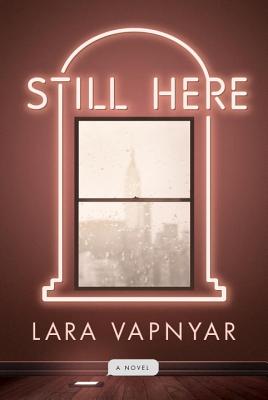 Still Here (Hardcover)
A Novel
Hogarth, 9781101905524, 320pp.
Publication Date: August 2, 2016
Other Editions of This Title:
Paperback (5/2/2017)
* Individual store prices may vary.
Description
A profound and dazzlingly entertaining novel from the writer Louis Menand calls "Jane Austen with a Russian soul"
 
In her warm, absorbing and keenly observed new novel, Lara Vapnyar follows the intertwined lives of four immigrants in New York City as they grapple with love and tumult, the challenges of a new home, and the absurdities of the digital age.
 
Vica, Vadik, Sergey and Regina met in Russia in their school days, but remained in touch and now have very different American lives. Sergey cycles through jobs as an analyst, hoping his idea for an app will finally bring him success. His wife Vica, a medical technician struggling to keep her family afloat, hungers for a better life. Sergey's former girlfriend Regina, once a famous translator is married to a wealthy startup owner, spends her days at home grieving over a recent loss. Sergey's best friend Vadik, a programmer ever in search of perfection, keeps trying on different women and different neighborhoods, all while pining for the one who got away.
 
As Sergey develops his app—calling it "Virtual Grave," a program to preserve a person's online presence after death—a formidable debate begins in the group, spurring questions about the changing perception of death in the modern world and the future of our virtual selves. How do our online personas define us in our daily lives, and what will they say about us when we're gone? 

— New York Times Book Review, 100 Notable Books of 2016
About the Author
LARA VAPNYAR moved from Moscow to Brooklyn in 1994 and now lives in New York City with her family. Still Here is her third novel.
Praise For Still Here: A Novel…
Praise for Still Here:

"Still Here is flat-out wonderful, the work of a generous imagination that overflows with stories, some humorous, others heartbreaking, all resonant. The novel is timely in its trenchant dissection of technology and post-recession America, yet classic in its evocation of love and death, ambition and identity, families and friendships forged and broken. Lara Vapnyar's quartet of Russian strivers are so luminous on the page, they continued to glow in my mind well past the final sentence." -- Anthony Marra, New York Times bestselling author of The Tsar of Love and Techno and A Constellation of Vital Phenomena

"...minutely observed, razor funny and wholly wonderful." --New York Times Book Review

"A brisk and amusing reboot of the familiar immigrant tale...think 'Friends' with a heavy Russian accent." --Wall Street Journal

"[Still Here] provides a lively view of a group of friends navigating their early 40s, juggling mistakes of their past and trying to remain hopeful about the future. Once again, Vapnyar illustrates her incredible ability to create rich and entertaining narratives." --Publishers Weekly (starred review)

"[A] piercing novel about the absurdities of the digital age, Still Here is also the finest kind of comedy of manners, as much a snapshot of how we live now as were the 19th-century novels of Anthony Trollope and George Eliot." --BookPage


Praise for Lara Vapnyar's Previous Works: 

The Scent of Pine: 

"[With] a buoyant wit, a sharp-edged Russian melancholy, a fascination with outsiders who long to be insiders and a blunt reckoning with the costs of that transition for those who achieve it. This slender but provocative novel advances those concerns, skillfully questioning the notion that age brings wisdom, at least in matters of the heart." --New York Times Book Review 

"Ms. Vapnyar has shown herself to be exquisitely sensitive to the shifting vagaries of emotion, particularly happiness...Enchanting." --New York Times


"Sharply observed, darkly humorous, and sexy, Vapnyar weaves her tale of mid-life crisis and coming-of-age like a modern-day, Russian Scheherazade."--Tatjana Soli New York Times bestselling author of The Lotus Eaters

"[Vapnyar has] an impressive gift, not just of language, but of insight into the human condition."--The Boston Globe

"[Vapnyar's] wistful and waggish account of disappointments in friendship, sex, and love is closer in spirit to Anton Chekhov, who, remaining in Russia, captured the universal melancholy of human mortality." --Christian Science Monitor 

There Are Jews in My House:

"A remarkable collection...Eerie in its simplicity, stunning in its scope. Through her tender, insightful writing, Vapnyar's characters, battered by history and each other, emerge from the long Soviet night oddly radiant and whole." --Gary Shteyngart

"Lara Vapnyar is Jane Austen with a Russian soul. The blend of coolness and pathos in these perfect stories is uncanny." --Louis Menand

"Prepare yourself for radiance."–New York Observer

"These finely etched stories glow with the life-giving force of language newly acquired." --Time Out New York

"Shot through with coolly rendered details of exquisite beauty...Relish this small gem and hope for more." --San Francisco Chronicle

"Superbly written tales that continue the tradition of Russian realism.... One feels that a season is changing and the future has arrived." --Washington Times 

"Vapnyar's ambition, purity of prose, and gift for concentrated emotion make this collection a standout--and the first move in what promises to be a long and interesting career." --Hartford Courant

"A feat of linguistic achievement. Not only is [Vapnyar's] prose stark and carved in its fresh foreignness, but her stories have the quality of memoir, which lends a naturalness to her subjects.... You must read these stories or have them read to you." --Los Angeles Times 

"Beautifully wrought tales...Nuanced and deftly written...Superb." --Baltimore Sun 

"There Are Jews in My House has an exciting flawlessness, like a perfectly cut stone.... This book should become one of those slender classics, beloved especially among those who thrill to find the old-fashioned short story made so richly and authentically new." --O: The Oprah Magazine

"Vapnyar draws an indelible portrait of the land she left behind. . . . [She] conjures a country that is both alluring and oppressive and induces longing and dismay in equal parts." --The New York Times Book Review

"Richly written...[Vapnyar's] gift is capturing zigzag lives, alternate realities, the messy imperfection of people as they struggle to find a path." --Miami Herald

"Vapnyar's sensitive descriptions of Russian life here and abroad make her a writer to watch." --Dallas Morning News 

"Powerful . . . Vapnyar seems to be establishing her own more expansive freedom."—The New York Times

"Stealthily engrossing, graceful prose . . . This lovely collection very effectively captures the small moments that tell what it is to be human." —Minneapolis Star Tribune

"Reading the stories in There Are Jews in My House is a bit like what it might have been like to look over Tolstoy's shoulder while he examined a blade of grass, then another. In Vapnyar's fiction, details jut, simple and bright, until they pose a world." --Chicago Tribune

Broccoli and Other Tales of Food and Love:

"Poignant, piquant, and mischievously amusing." --Wall Street Journal

"Elegant...In these stories, food has the power to define characters, propel plots, cause riots, and even commit manslaughter." --New York Times

"The comedy of these amusing character studies would, perhaps, have delighted Chekhov.... With Vapnyar, we're seeing the weird and wonderful development of a sophisticated artist." --San Francisco Chronicle

"Charming...The stories come alive, inviting the reader to explore the kitchen tables and anxious stomachs of the characters." --New York Observer 

Memoirs of a Muse: 

"Beautifully observant and funny. . . . It's already easy to identify that Vapnyar touch, and to fall under its spell."—Entertainment Weekly

"So good, so consistently fresh, funny, and surprising, that every sentence is a pleasure." –San Francisco Chronicle

"[Vapnyar] is clearly a talented writer, possessed of an ample humor and insight and a humane sensibility."–The New York Times Book Review

"Hilarious . . . [Vapnyar's] eye for the absurd remains sharp . . . An immensely talented storyteller."–Vogue

 
or
Not Currently Available for Direct Purchase