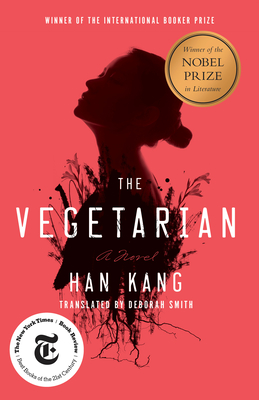 The Vegetarian
A Novel
Paperback

* Individual store prices may vary.
Other Editions of This Title:
Digital Audiobook (2/1/2016)
Paperback (11/5/2015)
Hardcover (2/2/2016)
Description
WINNER OF THE INTERNATIONAL BOOKER PRIZE • "[Han] Kang viscerally explores the limits of what a human brain and body can endure, and the strange beauty that can be found in even the most extreme forms of renunciation."—Entertainment Weekly

"Ferocious."—The New York Times Book Review (Ten Best Books of the Year)
"Both terrifying and terrific."—Lauren Groff
"Provocative [and] shocking."—The Washington Post

Before the nightmares began, Yeong-hye and her husband lived an ordinary, controlled life. But the dreams—invasive images of blood and brutality—torture her, driving Yeong-hye to purge her mind and renounce eating meat altogether. It's a small act of independence, but it interrupts her marriage and sets into motion an increasingly grotesque chain of events at home. As her husband, her brother-in-law and sister each fight to reassert their control, Yeong-hye obsessively defends the choice that's become sacred to her. Soon their attempts turn desperate, subjecting first her mind, and then her body, to ever more intrusive and perverse violations, sending Yeong-hye spiraling into a dangerous, bizarre estrangement, not only from those closest to her, but also from herself. 
 
Celebrated by critics around the world, The Vegetarian is a darkly allegorical, Kafka-esque tale of power, obsession, and one woman's struggle to break free from the violence both without and within her.

One of the Best Books of the Year—BuzzFeed, Entertainment Weekly, Wall Street Journal, Time, Elle, The Economist, HuffPost, Slate, Bustle, The St. Louis Dispatch, Electric Literature, Publishers Weekly
Praise For The Vegetarian: A Novel…
"Surreal . . . [A] mesmerizing mix of sex and violence ."—Alexandra Alter, The New York Times

"[Han Kang] has been rightfully celebrated as a visionary in South Korea . . . Han's glorious treatments of agency, personal choice, submission and subversion find form in the parable. . . . Ultimately, though, how could we not go back to Kafka? More than The Metamorphosis, Kafka's journals and 'A Hunger Artist' haunt this text."—Porochista Khakpour, New York Times Book Review

"Indebted to Kafka, this story of a South Korean woman's radical transformation, which begins after she forsakes meat, will have you reading with your hand over your mouth in shock."—O: The Oprah Magazine

"The Vegetarian has an eerie universality that gets under your skin and stays put irrespective of nation or gender."—Laura Miller, Slate

"Slim and spiky and extremely disturbing . . . I find myself thinking about it weeks after I finished." Jennifer Weiner, PopSugar

"It takes a gifted storyteller to get you feeling ill at ease in your own body. Yet Han Kang often set me squirming with her first novel in English, at once claustrophobic and transcendent."—Chicago Tribune

"Compelling . . . [A] seamless union of the visceral and the surreal."—Los Angeles Review of Books

"A complex, terrifying look at how seemingly simple decisions can affect multiple lives . . . In a world where women's bodies are constantly under scrutiny, the protagonist's desire to disappear inside of herself feels scarily familiar."—Vanity Fair

"Elegant . . . a stripped-down, thoughtful narrative . . . about human psychology and physiology."—HuffPost

"This elegant-yet-twisted horror story is all about power and its relationship with identity. It's chilling in the best ways, so buckle in and turn down the lights."—Elle

"This haunting, original tale explores the eros, isolation and outer limits of a gripping metamorphosis that happens in plain sight. . . . Han Kang has written a remarkable novel with universal themes about isolation, obsession, duty and desire."—Minneapolis Star Tribune

"Complex and strange . . . Han's prose moves swiftly, riveted on the scene unfolding in a way that makes this story compulsively readable. . . . [The Vegetarian] demands you to ask important questions, and its vivid images will be hard to shake. This is a book that will stay with you."—St. Louis Post-Dispatch

"Dark dreams, simmering tensions, chilling violence . . . This South Korean novel is a feast. . . . It is sensual, provocative and violent, ripe with potent images, startling colors and disturbing questions. . . . Sentence by sentence, The Vegetarian is an extraordinary experience."—The Guardian
Hogarth, 9781101906118, 208pp.
Publication Date: August 23, 2016
About the Author
Han Kang was born in 1970 in South Korea. In 1993 she made her literary debut as a poet, and was first published as novelist in 1994. A participant of the Iowa Writers' Workshop, Han has won the Man Booker International Prize, the Yi Sang Literary Prize, the Today's Young Artist Award, and the Manhae Literary Prize. She currently works as a professor in the Department of Creative Writing at the Seoul Institute of the Arts.