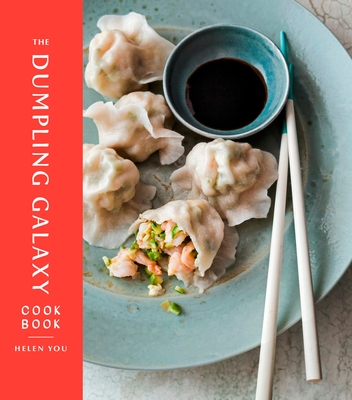 The Dumpling Galaxy Cookbook
Hardcover

* Individual store prices may vary.
Description
From one of Eater's 38 best restaurants in America—which has been hailed by the New York magazine, Michelin Guide, and more for serving the freshest dumplings in New York City—comes the ultimate Chinese cookbook with 60 dumping recipes and dim sum-like sides. 

New York Times critic Pete Wells calls Helen You "a kind of genius for creating miniature worlds of flavor" and, indeed her recipes redefine the dumpling: Lamb and Green Squash with Sichuan pepper; Spicy Shrimp and Celery; Wood Ear Mushroom and Cabbage; and desserts such as Sweet Pumpkin and Black Sesame Tang Yuan. With information on the elements of a great dumpling, stunning photography, and detailed instructions for folding and cooking dumplings, this cookbook is a jumping-off point for creating your own galaxy of flavors. 

"Flushing jiaozi master Helen You's guide to what many consider the best shuijiao (or boiled Chinese dumplings) in town."—New York magazine
Praise For The Dumpling Galaxy Cookbook…
"A brief but thorough guide to the dumplings of your dreams." —Lucky Peach

"New York City's famed dumpling spot delivers 60 Chinese recipes, both classic and updated, which you'll love to bring into your home" —Food and Wine

"For beginners, it does take some time to roll these wrappers by hand . . . But the result is hot, fresh, tender dumplings, and even if they don't look as perfect as Helen You's, they can still carry a taste of home." —New York Times

"Once you get a hang of making and folding wrappers—or, more realistically, using store-bought—there are limitless options for dumplin' stuffin' . . .  In The Dumpling Galaxy, a shrimp, egg, and asparagus dumpling is like a brunch quiche in dumpling form, and salmon and dill are reminiscent of a bagel with lox . . . For the truly adventurous, embark on an epic weekend project of making pork soup dumplings. The advanced technique includes making a flavorful broth that is congealed, cut into cubes, and tucked inside steamed dumplings. The result is a nice slurp of soup followed by a tender bite of dumpling." —Bon Appetit

"Helen You has been selling dumplings in Flushing, Queens, for over a decade. And now, thanks to her new cookbook, you can imitate making her wonderful dumpling creations right in the comfort of your own home. Learn the dos and don'ts of the traditional yet finicky dough, and delicious but simple fillings." —Tasting Table

"Dumpling Galaxy's cookbook will bring Flushing dim sum to your kitchen . . . Regulars will recognize Dumpling Galaxy's signature creations, such as lamb with green squash, though the book also features some brand-new creations, including salmon with dill." —AM New York 

"Making good dumplings takes nothing more than practice, and You shares her most popular recipes with detailed tips on texture and technique to make this a perfect guide for anyone who wants to create dumplings at home." —Milwaukee Journal-Sentinel
Clarkson Potter, 9781101906637, 128pp.
Publication Date: January 17, 2017
About the Author
HELEN YOU is the chef and owner of Dumpling Galaxy in Flushing, Queens, which started as the Tianjin Dumpling House, a stall in the Golden Shopping Mall basement food court. Helen and her dumplings have been lauded in New York magazine, Serious Eats, Eater, and and the New York Times, which named Dumpling Galaxy a Critics' Pick and awarded it one star. A 2018 semi-finalist for the James Beard Award Foundation Best Chef New York City, she lives in New York with her family.

A native of Queens, MAX FALKOWITZ is the senior digital editor of Saveur and previously worked at Serious Eats as a senior features editor.