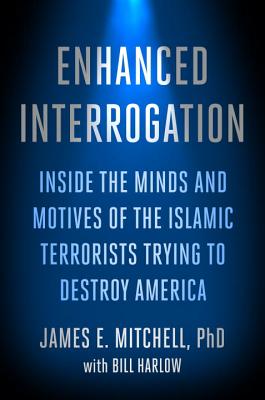 Enhanced Interrogation (Hardcover)
Inside the Minds and Motives of the Islamic Terrorists Trying To Destroy America
Crown Forum, 9781101906842, 320pp.
Publication Date: November 29, 2016
Other Editions of This Title:
Digital Audiobook (11/28/2016)
* Individual store prices may vary.
Description
In the dark days immediately after 9/11, the CIA turned to Dr. James Mitchell to help craft an interrogation program designed to elicit intelligence from just-captured top al-Qa'ida leaders and terror suspects.  

A civilian contractor who had spent years training U.S. military members to resist interrogation should they be captured, Mitchell, aware of the urgent need to prevent impending catastrophic attacks, worked with the CIA to implement "enhanced interrogation techniques"--which included waterboarding.

In Enhanced Interrogation, Mitchell now offers a first-person account of the EIT program, providing a contribution to our historical understanding of one of the most controversial elements of America's ongoing war on terror.  Readers will follow him inside the secretive "black sites" and cells of terrorists and terror suspects where he personally applied enhanced interrogation techniques.

Mitchell personally questioned thirteen of the most senior high-value detainees in U.S. custody, including Abu Zubaydah; Abd al-Rahim al-Nashiri, the amir or "commander" of the USS Cole bombing; and Khalid Sheikh Mohammed, the mastermind behind the September 11, 2001, terror attacks--obtaining information that he maintains remains essential to winning the war against al-Qa'ida and informing our strategy to defeat ISIS and all of radical Islam.

From the interrogation program's earliest moments to its darkest hours, Mitchell also lifts the curtain on its immediate effects, the controversy surrounding its methods, and its downfall. He shares his view that EIT, when applied correctly, were useful in drawing detainees to cooperate, and that, when applied incorrectly, they were counter-productive.  He also chronicles what it is like to undertake a several-years-long critical mission at the request of the government only to be hounded for nearly a decade afterward by congressional investigations and Justice Department prosecutors.

Gripping in its detail and deeply illuminating, Enhanced Interrogation argues that it is necessary for America to take strong measures to defend itself from its enemies and that the country is less safe now without them than it was before 9/11.
About the Author
DR. JAMES E. MITCHELL has a PhD in clinical psychology from the University of South Florida. He served twenty-two years in the U.S. Air Force and retired as a lieutenant colonel. From August 2002 through January 2009, Dr. Mitchell was involved in the development of the CIA's enhanced interrogation program and served as one of their interrogators from its inception until it was shut down by executive order on January 22, 2009.

BILL HARLOW is a writer, consultant, and public relations specialist with more than thirty years of experience. He spent seven years as the top spokesman for the CIA and four years at the White House handling national security media matters for two presidents. He has coauthored three New York Times bestsellers on intelligence.
Praise For Enhanced Interrogation: Inside the Minds and Motives of the Islamic Terrorists Trying To Destroy America…
If you want to know the details of what happened and make your own decision pick up Enhanced Interrogation. You cannot make a decision on enhanced interrogation until you read this book. 
– Brian Kilmeade

  "No one has heard from Khalid Sheikh Mohammed since the 9/11 attacks, but James Mitchell has spent countless hours with the terror mastermind at the CIA's black sites. In this gripping book, Mitchell reveals for the first time, in chilling detail, what KSM and other senior terrorist commanders told him. If you want to understand what drives the Islamic radicals seeking to destroy America—and what they say we must do if we want to stop them—you simply must read this book."
— Marc Thiessen, Washington Post Columnist and Bestselling Author of Courting Disaster
 
"Finally, we learn the true story about what 'enhanced interrogation' is, how it works, and how it protected America after the devastating attack of 9/11. The country owes a profound debt of gratitude to James Mitchell, who spent thousands of hours at CIA 'black sites' learning the secrets of men like Abu Zubaydah, Abd al-Rahim al-Nashiri, and Khalid Sheikh Mohammed, as he and his dedicated colleagues scrambled to stop more deadly attacks on our nation."
— Debra Burlingame, Cofounder of 9/11 Families for a Safe & Strong America and Keep America Safe
 
"Emotions are high and accusations are being thrown about, but facts matter. Before anyone rushes to judgment, they should read this book and take in what happened through the eyes of a key player in the CIA's interrogation program."
— General Michael Hayden, Usaf, Ret., Former Cia Director
 
"The authentic account of head-to-head hardball with fanatical Islamic killers by a professional who not only won big for America, but did it while fending off powerful critics. The lessons learned needed to be told—and well-told they are. The war on us by radical Islamists is far from over—read and learn!"
— Hon. Porter J. Goss, Former Chairman of House Intelligence Committee and Cia Director
or
Not Currently Available for Direct Purchase