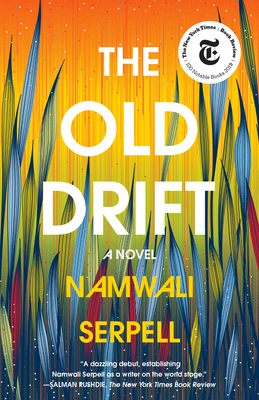 The Old Drift
A Novel
Paperback

* Individual store prices may vary.
Other Editions of This Title:
Digital Audiobook (4/1/2019)
Hardcover (3/26/2019)
Description
"A dazzling debut, establishing Namwali Serpell as a writer on the world stage."—Salman Rushdie, The New York Times Book Review
 
NAMED ONE OF THE BEST BOOKS OF THE YEAR BY Dwight Garner, The New York Times • The New York Times Book Review • Time • NPR • The Atlantic • BuzzFeed • Tordotcom • Kirkus Reviews • BookPage

WINNER OF: The Arthur C. Clarke Award • The Los Angeles Times Art Seidenbaum Award • The Anisfield-Wolf Book Award for Fiction • The Windham-Campbell Prizes for Fiction

1904. On the banks of the Zambezi River, a few miles from the majestic Victoria Falls, there is a colonial settlement called The Old Drift. In a smoky room at the hotel across the river, an Old Drifter named Percy M. Clark, foggy with fever, makes a mistake that entangles the fates of an Italian hotelier and an African busboy. This sets off a cycle of unwitting retribution between three Zambian families (black, white, brown) as they collide and converge over the course of the century, into the present and beyond. As the generations pass, their lives—their triumphs, errors, losses and hopes—emerge through a panorama of history, fairytale, romance and science fiction.

From a woman covered with hair and another plagued with endless tears, to forbidden love affairs and fiery political ones, to homegrown technological marvels like Afronauts, microdrones and viral vaccines, this gripping, unforgettable novel is a testament to our yearning to create and cross borders, and a meditation on the slow, grand passage of time.
 
Finalist for the Los Angeles Times Ray Bradbury Prize • Longlisted for the Center for Fiction First Novel Prize

"An intimate, brainy, gleaming epic . . . This is a dazzling book, as ambitious as any first novel published this decade."—Dwight Garner, The New York Times
 
"A founding epic in the vein of Virgil's Aeneid . . . though in its sprawling size, its flavor of picaresque comedy and its fusion of family lore with national politics it more resembles Salman Rushdie's Midnight's Children."—The Wall Street Journal
 
"A story that intertwines strangers into families, which we'll follow for a century, magic into everyday moments, and the story of a nation, Zambia."—NPR
Praise For The Old Drift: A Novel…
"A rich, thick Zambian epic, The Old Drift blends real-life history with magical realism. . . . A striking debut."—USA Today (5 Books Not to Miss)

"In a novel that spans the breadth of Zambia's precolonial past to its digital future, Serpell's unbound imagination is often a thing of beauty. . . . It is in the familial space with its dramas of loves, betrayals, desires and dreams that [Serpell] excels. Her Zambian characters are especially brimming and compelling. In a nod to Leo Tolstoy, she eventually offers her readers a lovely kernel of an overarching theme that binds her characters across the passage of time and encapsulates her confident writing style: 'Every family is a war but some are more civil than others.'"—Minneapolis Star Tribune

"Namwali Serpell's vibrant, intellectually rich debut novel, The Old Drift, is in keeping in that tradition, and like any good nation-hoovering novel, it too refuses to conform to expectations. . . . This oddball cast of characters simply represents the joys of the picaresque novel, in which the author's set design is intentionally surreal and ironic. . . . Serpell is a natural social novelist, capable of conjuring a Dickensian range of characters with a painterly eye for detail."—The Washington Post

"Highly anticipated . . . a boldly sweeping epic . . . The singularly stunning achievement of [The Old Drift]: grappling with grandiose, complex notions, funneled through a kind of worldly knowledge and historical curiosity—all of which is ultimately grounded in an attention to the interiors of individual lives. . . . Serpell's vision has made The Old Drift among the most buzzed-about books of the year."—San Francisco Chronicle 

"In this wonderfully chaotic epic, Namwali Serpell invites us into an indelible world that's part history, part sci-fi, totally political, and often as heartbreaking as it is weirdly hilarious."—The Boston Globe

"Serpell creates a stunning narrative that's voiced as forcefully by her characters as they are by a vociferous swarm of mosquitoes—yes, actual mosquitoes—exploding the dividing lines between categories to tell a new kind of story."—The Rumpus

"It's hard to believe this is a debut, so assured is its language, so ambitious its reach, and yet The Old Drift is indeed Namwali Serpell's first novel, and it signifies a great new voice in fiction. Feeling at once ancient and futuristic, The Old Drift is a genre-defying riotous work that spins a startling new creation myth for the African nation of Zambia. . . . Serpell's voice is lucid and brilliant, and it's one we can't wait to read more of in years to come."—Nylon, (50 Books You'll Want to Read in 2019)

"In turns charming, heartbreaking, and breathtaking, The Old Drift is a staggeringly ambitious, genre-busting multigenerational saga with moxie for days. . . . I wanted it to go on forever. A worthy heir to Gabriel García Márquez's One Hundred Years of Solitude."—Carmen Maria Machado, author of Her Body and Other Parties
Hogarth, 9781101907153, 592pp.
Publication Date: May 5, 2020
About the Author
Namwali Serpell is a Zambian writer who teaches at the University of California, Berkeley. She received a Rona Jaffe Foundation Writers' Award for women writers and was selected for the Africa 39, a Festival project to identify the best African writers under 40. She won the Caine Prize for African Writing and the Windham-Campbell Prize for Fiction. The Old Drift is her first novel.