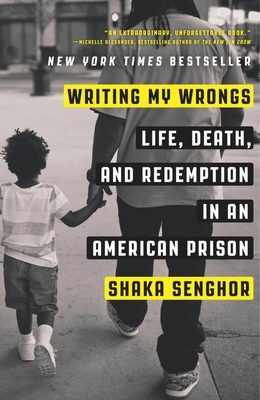 Writing My Wrongs
Life, Death, and Redemption in an American Prison
Paperback

* Individual store prices may vary.
Other Editions of This Title:
Digital Audiobook (3/7/2016)
Hardcover (3/8/2016)
Description
New York Times bestseller | Member of Oprah's SuperSoul 100 | one of World Economic Forum's "Most Recommended Books of 2016"

Now in paperback, the harrowing,* inspiring**, and unforgettable† memoir of redemption and second chances amidst America's mass incarceration epidemic. 

Shaka Senghor was raised in a middle class neighborhood on Detroit's east side during the height of the 1980s crack epidemic. An honor roll student and a natural leader, he dreamed of becoming a doctor—but at age 11, his parents' marriage began to unravel, and the beatings from his mother worsened, sending him on a downward spiral that saw him run away from home, turn to drug dealing to survive, and end up in prison for murder at the age of 19, fuming with anger and despair.      

Writing My Wrongs is the story of what came next. During his nineteen-year incarceration, seven of which were spent in solitary confinement, Senghor discovered literature, meditation, self-examination, and the kindness of others—tools he used to confront the demons of his past, forgive the people who hurt him, and begin atoning for the wrongs he had committed. Upon his release at age thirty-eight, Senghor became an activist and mentor to young men and women facing circumstances like his. His work in the community and the courage to share his story led him to fellowships at the MIT Media Lab and the Kellogg Foundation, membership in Oprah Winfrey's SuperSoul 100, and invitations to speak at events like TED and the Aspen Ideas Festival.

In equal turns, Writing My Wrongs is a page-turning portrait of life in the shadow of poverty, violence, and fear; an unforgettable story of redemption, reminding us that our worst deeds don't define us; and a compelling witness to our country's need for rethinking its approach to crime, prison, and the men and women sent there.

* the New York Times
** Bryan Stevenson
† Michelle Alexander 
Praise For Writing My Wrongs: Life, Death, and Redemption in an American Prison…
"[A] harrowing [portrait] of life behind bars . . . Gritty, visceral . . . Senghor writes about the process of atonement and the possibility of redemption, and talks of his efforts to work for prison reforms that might turn a system designed to warehouse into one aimed at rehabilitation."—Michiko Kakutani, The New York Times

"My first glance at the person on the book's cover—a dreadlocked, tattooed, heavyset black male—left me skeptical. Full of judgment. Why should I be interested in the story of a murderer? But as [Senghor's] words unfolded, so did my understanding—of what it means to fall short, to go astray, to lose your way . . . His story touched my soul."—O: The Oprah Magazine

"[A] powerful memoir."—The Washingtonian

"No one has forced us to look at the core questions about humanity and our broken criminal justice system with more authenticity and clarity than Senghor . . . If Senghor's tale is any indication, redemption, mercy and grace aren't just emotional ideals or spiritual buzzwords. They are the sharp, effective tools that can be used to rebuild lives and communities, one person at a time."—Erica Williams Simon, Time

"Probably the most important book I've read in the past few years . . . Few people, sadly, come out on the end of two decades of hard time and find their way back to the life Shaka is now leading. Here, he tells us why that is, and why it doesn't have to stay that way."—Shaun King, New York Daily News

"Extraordinary . . . You will reconsider everything you've ever thought about poverty, the prison industrial complex and the connection between the two."—Essence

"[An] inspiring book that gives hope for those who believe in the redemption of the incarcerated."—Publishers Weekly

"A necessary reminder of the deep humanity, vulnerability and potential that lies within each one of us, including those we view as 'thugs' or 'criminals'.  Shaka's story illustrates that if we muster the courage to love those who do not yet love themselves, a new world is possible."—Michelle Alexander, bestselling author of The New Jim Crow
 
"Shaka Senghor's terrific and inspiring book affirms that we are all more than the worst thing we've ever done.  This beautiful and compelling story of recovery and redemption offers all of us powerful truths and precious insights as we seek recovery from decades of over-incarceration and excessive punishment."—Bryan Stevenson, founder of the Equal Justice Initiative, bestselling author of Just Mercy

"A profound story of neglect, violence, discovery, redemption and inspiration. Consistently touching and surprising, Writing My Wrongs is, ultimately, deeply hopeful. Prepare to have your preconceptions shattered."—J.J. Abrams, director, writer, producer
Convergent Books, 9781101907313, 288pp.
Publication Date: January 31, 2017
About the Author
Shaka Senghor, a member of Oprah's SuperSoul 100, is a writer, mentor, and motivational speaker whose story of redemption has inspired thousands. While serving 19 years in prison, Senghor discovered redemption and responsibility through literature, his own writing, and the kindness of others. He is the author of six books, a former Director's Fellow at the MIT Media Lab, a Community Leadership Fellow with the Kellogg Foundation, and the founder of The Atonement Project, which helps victims and violent offenders heal through the power of the arts.  He currently serves as the Director of Strategy and Innovation with #cut50, a bipartisan initiative to safely and smartly reduce the U.S. prison population in half by 2025, and speaks regularly at high schools, prisons, churches, and universities around the country.