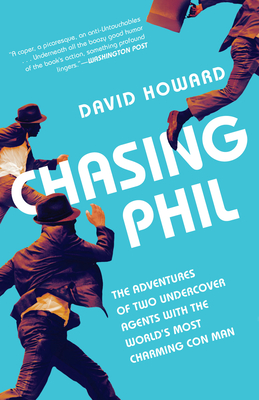 Chasing Phil
The Adventures of Two Undercover Agents with the World's Most Charming Con Man
Paperback

* Individual store prices may vary.
Description
A thrilling true crime caper, bursting with colorful characters and awash in '70s glamour, that spotlights the FBI's first white-collar undercover sting
 
1977, the Thunderbird Motel. J.J. Wedick and Jack Brennan—two fresh-faced, maverick FBI agents—were about to embark on one of their agency's first wire-wearing undercover missions. Their target? Charismatic, globetrotting con man Phil Kitzer, whom some called the world's greatest swindler. From the Thunderbird, the three men took off to Cleveland, to Miami, to Hawaii, to Frankfurt, to the Bahamas—meeting other members of Kitzer's crime syndicate and powerful politicians and businessmen he fooled at each stop. But as the young agents, playing the role of proteges and co-conspirators, became further entangled in Phil's outrageous schemes over their months on the road, they also grew to respect him—even care for him. Meanwhile, Phil began to think of Jack and J.J. as best friends, sharing hotel rooms and inside jokes with them and even competing with J.J. in picking up women.
 
Phil Kitzer was at the center of dozens of scams in which he swindled millions of dollars, but the FBI was mired in a post-Watergate malaise and slow to pivot toward a new type of financial crime that is now all too familiar. Plunging into the field with no undercover training, the agents battled a creaky bureaucracy on their adventures with Phil, hoping the FBI would recognize the importance of their mission. Even as they grew closer to Phil, they recognized that their endgame—the swindler's arrest—was drawing near… 
 
Anchored by larger-than-life characters, framed by exotic locales and an irresistible era, Chasing Phil is high drama and propulsive reading, delivered by an effortless storyteller.
Praise For Chasing Phil: The Adventures of Two Undercover Agents with the World's Most Charming Con Man…
"[A] caper, a picaresque, an anti-Untouchables. . . .Underneath all the boozy good humor of the book's action, something profound lingers—about the ease with which Kitzer can treat all the world as one great mark and the way Wedick and Brennan can pretend to see it in the same fashion. In fact, the book's biggest achievement is that its honest people—Wedick and Brennan—are made as human as their quarry, in many ways more so: more uncertain, more prone to error, so easily impressed by the world of financial chicanery and easy bonhomie through which Kitzer guides them."
—Washington Post

"This pursuit began before the FBI had anything resembling the extensive training that undercover agents receive today, meaning Wedick and Brennan forged their own path in tracking down Kitzer. The decisions they made on the fly prove an intriguing facet of the story, as does the peek into the world of organized crime."
—Associated Press

 
"Howard's research is rock solid but his ability to spin a yarn, truthful though it is, will keep you flipping the pages for hours at a time.... Chasing Phil not only entertains, it lends credible insight into a vital turning point at the FBI, the pursuit of white collar crime and the victims who stand penniless in the wake of Kitzer's withering charm."
—Providence Journal

"Exhilarating and cinematic."
—Shelf Awareness

"In the genre of truth-is-stranger-than-fiction, Chasing Phil is a standout. What a wild, wonderful story of cons and crooks, told with great style and swagger."
—Susan Orlean, author of The Orchid Thief and Rin Tin Tin

"Here is an infectiously good tale about the art of the con. In David Howard's capable hands, a lost world of sharks in tailored suits and their bodacious scams comes to crackling life on the page. I could feel the trickles of sweat from the high-stakes lies, could hear the muffled voices over primitive FBI surveillance gear. And as I read along, I kept checking my back pocket to make sure my wallet was still there." 
—Hampton Sides, author of Hellhound on His Trail

"I can't recall the last time I had so much fun with a true crime book. The plot bobs and weaves, the '70s underworld jet-set scene is rendered with groovy precision, the main characters are big, vibrant, and complex, and the supporting cast seems snatched from a John D. MacDonald caper. Chasing Phil is superb reportage mixed with edge-of-your-seat storytelling."
—Jonathan Miles, author of Dear American Airlines and Anatomy of a Miracle

"You'd never have wanted to invest with Phil Kitzer—con man extraordinaire, the criminal who initiated the FBI's age of undercover operations—but boy would it have been great to hang out with him. What a life! David Howard's suspenseful, propulsive, 1970s-infused book is the closest any of us will ever come to a boozy, airplane-hopping evening with Phil. Chasing Phil is an outstanding, heart-thumping read."
—Michael Finkel, author of The Stranger in the Woods and True Story

"David Howard takes you so deep inside the FBI's high-stakes, high-testosterone pursuit of one of the '70s great con artists, you can practically taste the Camels and the Cutty Sark. A terrific true-crime tale, masterfully told." 
—Mark Adams, author of Turn Right at Machu Picchu

"Chasing Phil snared me with a tale as spellbinding as Catch Me If You Can and American Hustle: A world-class swindler, two FBI agents on his tail, and all the high drama and bad hair the late 70s had to offer. David Howard's story of the FBI's first body-wire undercover mission crackles with sharp dialogue and hairpin plot turns. Strap in. This is a true-crime thrill ride."  
—Bruce Barcott, author of The Last Flight of the Scarlet Macaw and Weed the People

Crown, 9781101907436, 384pp.
Publication Date: August 7, 2018
About the Author
DAVE HOWARD has written for the New York Times, Men's Journal, Outside, Travel & Leisure, and Bicycling, among other outlets. He is also the author of Lost Rights.
or
Not Currently Available for Direct Purchase