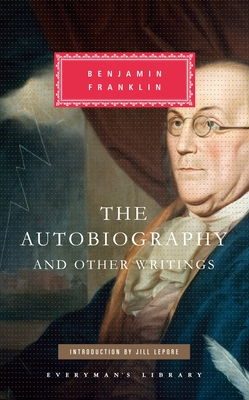 The Autobiography and Other Writings (Everyman's Library Classics Series) (Hardcover)
Everyman's Library, 9781101907603, 344pp.
Publication Date: September 8, 2015
Other Editions of This Title:
Mass Market (8/5/2014)
Paperback (12/1/2008)
Paperback (4/29/2003)
Mass Market (4/1/1982)
Mass Market Paperbound (9/4/2001)
Paperback (1/1/1957)
* Individual store prices may vary.
Description
Benjamin Franklin's account of his rise from poverty and obscurity to affluence and fame has charmed every generation of readers since it first appeared. Begun as a collection of anecdotes for his son, the memoir grew into a history of his remarkable achievements in the literary, scientific, and political realms. A printer, inventor, scientist, diplomat, and statesman, Franklin was also a brilliant writer whose wit and wisdom shine on every page. His Autobiography has deservedly become the most widely read American autobiography of all time—the self-portrait of a quintessential American.

Franklin was a remarkably prolific writer, and is equally beloved for his humorous, philosophical, parodic, and satirical writings, parables, and maxims, which he published under an astonishing number of pen names, including Poor Richard, the Busy-Body, and Silence Dogood. This hardcover edition of The Autobiography and Other Writings contains a varied selection of these, including "The Kite Experiment," "A Parable Against Persecution," "Observations Concerning the Increase of Mankind," "Rules for Making Oneself a Disagreeable Companion," and "The Way to Wealth."
About the Author
BENJAMIN FRANKLIN (1706-1790) was a printer, writer, inventor, scientist, diplomat, and statesman. JILL LEPORE is the David Woods Kemper '41 Professor of American History at Harvard University and a staff writer at The New Yorker. Her books include Book of Ages, a finalist for the National Book Award; New York Burning, a finalist for the Pulitzer Prize; The Name of War, winner of the Bancroft Prize; The Mansion of Happiness, which was short-listed for the 2013 Andrew Carnegie Medal for Excellence in Nonfiction; and The Secret History of Wonder Woman. She lives in Cambridge, Massachusetts.