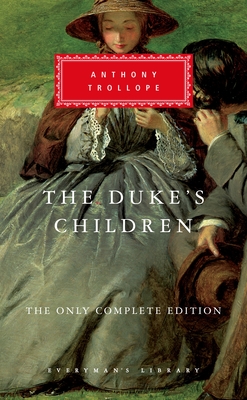 The Duke's Children (Hardcover)
The Only Complete Edition
Everyman's Library, 9781101907818, 840pp.
Publication Date: April 4, 2017
* Individual store prices may vary.
Description
Newly restored from the original manuscript and more than a quarter longer than existing editions: one of the finest novels from one of the greatest English novelists is finally available in the form he intended.

Trollope wrote The Duke's Children, his final Palliser novel, as a four-volume work but was required by his publisher to reduce it to three, necessitating the loss of nearly sixty-five thousand words. A team of researchers led by Steven Amarnick has worked with the manuscript at Yale's Beinecke Library to restore the novel to its original form. The result is richer and more complex, with a subtly different ending, a clearly superior book to the one that has always been published.
 
Plantagenet Palliser, the Duke of Omnium, has lost both his vivacious wife, Lady Glencora, and his position as prime minister of Great Britain. The bereft duke is left to try to manage his three grown children, whose rebellions take the various forms of gambling debts, university pranks, and unsuitable romantic attachments. But though he fails to understand his offspring, Palliser truly cares for them, and he navigates the clash of generations with a growing awareness of the necessity of compromises, both political and personal. Insightful, entertaining, and compassionate—and now restored to its full glory—The Duke's Children is a fitting conclusion to the epic Palliser series, one of the most remarkable achievements of British fiction.
About the Author
ANTHONY TROLLOPE (1815-1882) was born in London to a bankrupt barrister father and a mother who, as a well-known writer, supported the family. Trollope enjoyed considerable success both as a novelist and as a senior civil servant in the post office. He published more than forty novels and many short stories that are regarded as among the greatest of nineteenth-century fiction.

MAX EGREMONT is the author of numerous biographies and novels. His biography of the poet Siegfried Sassoon was short-listed for the James Tait Black Memorial Prize. He is a Fellow of the Royal Society of Literature, and lives in Sussex, England.
Praise For The Duke's Children: The Only Complete Edition…
"Trollope is that rare thing: a strong writer with a trustworthy imagination . . . Yet, beyond saying that his writing feels like life, it's hard to say just how he works his magic . . . Trollope, quite uncynically, understands both what's necessary to make the world go round and which way the world ought to be made to turn . . . Politics and gossip are still the essential life of the world . . . and any writer who can turn them into art will survive." —Adam Gopnik, The New Yorker
  
"The Duke's Children is a novel about sorrow and loss, and about a parent's pained discovery that our children inevitably grow to love us less than we love them . . . The new version will most likely not change anyone's view of The Duke's Children, and yet all those tiny excisions do add up. The restored version is a fuller, richer book." —Charles McGrath, The New York Times Book Review
  
"Trollope has brought much pleasure. He can still make us laugh and many of his characters . . . still live, perhaps rivalled only among nineteenth-century novelists by some creations of Jane Austen and Charles Dickens . . . Trollope denied that he had any mysterious genius, calling his achievement 'comfortable but not splendid.' This modesty, one feels, was genuine. It was also misplaced. The Duke's Children shows an ability to go deep enough to see the anxiety and pain that can accompany death and change." —from the Introduction by Max Egremont