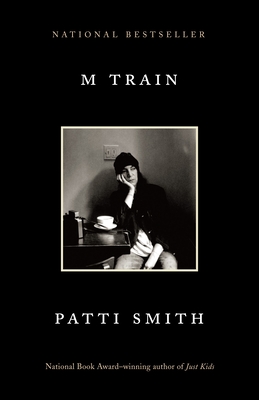 M Train
Paperback

* Individual store prices may vary.
Other Editions of This Title:
Digital Audiobook (10/5/2015)
Hardcover (10/6/2015)
CD-Audio (11/3/2015)
Description
NATIONAL BESTSELLER • From the National Book Award–winning author of Just Kids: a "sublime collection of true stories … and wild imaginings that take us to the very heart of who Patti Smith is" (Vanity Fair), told through the cafés and haunts she has worked in around the world. Patti Smith calls this bestselling work "a roadmap to my life."

M Train begins in the tiny Greenwich Village café where Smith goes every morning for black coffee, ruminates on the world as it is and the world as it was, and writes in her notebook. Through prose that shifts fluidly between dreams and reality, past and present, we travel to Frida Kahlo's Casa Azul in Mexico; to the fertile moon terrain of Iceland; to a ramshackle seaside bungalow in New York's Far Rockaway that Smith acquires just before Hurricane Sandy hits; to the West 4th Street subway station, filled with the sounds of the Velvet Underground after the death of Lou Reed; and to the graves of Genet, Plath, Rimbaud, and Mishima.

Woven throughout are reflections on the writer's craft and on artistic creation. Here, too, are singular memories of Smith's life in Michigan and the irremediable loss of her husband, Fred Sonic Smith.  
 
Braiding despair with hope and consolation, illustrated with her signature Polaroids, M Train is a meditation on travel, detective shows, literature, and coffee. It is a powerful, deeply moving book by one of the most remarkable multiplatform artists at work today.

Featuring a postscript with five new photos from Patti Smith
Praise For M Train…
"This book is brilliant. A poetic, energetic search for the secret links between life and art—and coffee." —Henning Mankell

"An eloquent—and a deeply moving—elegy for what she has 'lost and cannot find' but can remember in words." —The New York Times

"Elegiac, melancholic, and meditative, filled with wistful flashbacks and haunting Polaroid snapshots." —NPR

"Begins in a tiny Greenwich Village cafe and ends as a dream requiem to the same place, encompassing an entire lost world. . . . Yet despite all of these losses, there is extraordinary joy here. . . . Readers who share in Smith's transcendent pilgrimage may find themselves reborn within the pages of this exquisite memoir." —The Washington Post

"[Smith] opens her extraordinary heart and soul to us, holding nothing back and never permitting vanity to intrude. It's a gift, this record of beloved absences, to which one can only respond: thank you." —O, The Oprah Magazine

"Weaves poetry, dreams, art, literature, and conversational fragments into a phantasmagoric, atmospheric, and transportive whole. . . . Brilliant. . . . Where Just Kids concerned Smith's hopefulness, hunger, callowness, and loss, M Train is about being lost and found." —The Boston Globe

"M Train is a great meditation on solitude, independence, age, a ride-along with the last Romantic standing. . . . Patti Smith inventories her inspirations, and makes her house out of the life lived, out of the love spent." —USA Today 

"M Train comes near to accomplishing Marcel Proust's goal to follow the workings of the human mind and the human heart. By the end of the book you know that nothing is everything, and that life is a labor of love." —Harper's Bazaar

"M Train is an impressionistic weave of dreams, disasters, and epiphanies, a meditation on life and art by a woman who sees them as one." —Rolling Stone
 
"A sublime collection of true stories concerning irredeemable loss, memory, travel, crime, coffee, books, and wild imaginings that take us to the very heart of who Patti Smith is." —Vanity Fair

"Marvelous . . . M Train is a book of days, a year in the life, a series of reflections. . . . The message is that living is a kind of invocation, or better yet, a form of prayer." —Los Angeles Times
Vintage, 9781101910160, 288pp.
Publication Date: August 23, 2016
About the Author
Patti Smith is a writer, performer, and visual artist. She gained recognition in the 1970s for her revolutionary merging of poetry and rock. She has released twelve albums, including Horses, which has been hailed as one of the top one hundred albums of all time by Rolling Stone. 

Smith had her first exhibit of drawings at the Gotham Book Mart in 1973 and has been represented by the Robert Miller Gallery since 1978. Her books include Just Kids, winner of the National Book Award in 2010, Wītt, Babel, Woolgathering, The Coral Sea, and Auguries of Innocence. 

In 2005, the French Ministry of Culture awarded Smith the title of Commandeur des Arts et des Lettres, the highest honor given to an artist by the French Republic. She was inducted into the Rock and Roll Hall of Fame in 2007. 

Smith married the musician Fred Sonic Smith in Detroit in 1980. They had a son, Jackson, and a daughter, Jesse. Smith resides in New York City.