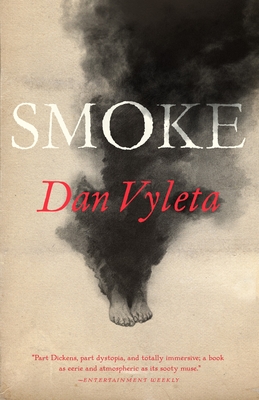 Smoke
A Novel
Paperback

* Individual store prices may vary.
Other Editions of This Title:
Digital Audiobook (5/23/2016)
Hardcover (5/24/2016)
Description
Readers of The Night Circus by Erin Morgenstern and Arcadia by Iain Pears are sure to be mesmerized by Dan Vyleta's thrilling blend of Dickensian historical fiction and fantasy, as three young friends scratch the surface of the grown-up world to discover startling wonders—and dangerous secrets.
 
In an alternate Victorian England those who are wicked are marked by the smoke that pours out of their bodies. The aristocracy are clean, proof of their virtue and right to rule, while the lower classes are drenched in sin and soot. 

Thomas Argyle is the only son of a wayward aristocrat. Charlie Cooper is his best friend. When Thomas finds himself under the boot heel of a sadistic headboy in the treacherous halls of their elite boarding school, he and Charlie begin to question the rules of their society. Then the boys meet Livia, the daughter of a wealthy and powerful family. She leads them to a secret laboratory where they learn that smoke may not be as it seems, and together they set out to uncover the truth about their world.
Praise For Smoke: A Novel…
"Part Dickens, part dystopia and totally immersive; a book as eerie and atmospheric as its sooty muse."
—Entertainment Weekly

"Mr. Vyleta . . . writes with intricacy and imagination and skillful pacing; never once would I have considered putting his book down. . . . In the manner of both a Dickens novel and the best young adult adventure stories (the Harry Potter series among them), the children run away together to uncover the dark secrets of the grown-up world. . . . His ending, which I wouldn't dare reveal here, is a real firecracker, and the lessons Mr. Vyleta wishes to impart are largehearted."
—Jennifer Senior, The New York Times

"Compelling. . . . Deliriously imagined. . . . This gas-lamp fantasy at time borders on steampunk through the grimy lens of a dystopian past." —NPR 

"Smoke is one of the most original and enthralling books I have read in a long time. . . . An addictive combination of thriller, fantasy, and historical novel, with a dash of horror. It's chilling and complex and amazingly imaginative." 
—Marilyn Dahl, Shelf Awareness

"Astonishing . . . It's filling in that gaping hole left by both Harry Potter and Philip Pullman's Northern Lights. Yes, really."
—Stylist (London)

"Flat-out thrilling." —The Globe and Mail (Toronto)
Anchor, 9781101910405, 560pp.
Publication Date: June 27, 2017
About the Author
DAN VYLETA is the son of Czech refugees who emigrated to Germany in the late 1960s. He holds a Ph.D. in history from King's College, Cambridge. Vyleta is the author of three novels, Pavel & I, The Quiet Twin, which was shortlisted for the Rogers Writers' Trust Fiction Prize, and The Crooked Maid, which was a finalist for the Scotiabank Giller Prize and won the J.I. Segal Award. An inveterate migrant, Vyleta has lived in Germany, Canada, the United States and the United Kingdom. He currently resides in Stratford-upon-Avon in England.
1. Smoke is a physical marker of sin. And yet Thomas, Charlie, and Livia are increasingly willing to embrace their smoking. As you read the novel, did your attitude towards Smoke change? If so, at what point?
2. If a physical manifestation of sin really existed, so that we could see who is evil and who is not, would the world be a better place?
3. Renfrew tells us that Smoke infects. What are the implications of this? Does the book imply we would be better people if we lived in relative isolation from one another?
4.  Social class plays an important role in Smoke. Discuss the complicated relationship between social status and morality, real and perceived.
5. "The most difficult thing," Charlie tells Lady Naylor, "is to compromise." What does he mean by that assertion? Do you agree with him?
6. There are a range of characters that might qualify for "villains". Who best deserves the title?
7. The corruption of innocence permeates the novel (the Beasley & Sons candy and the infection of Mowgli are two examples). Did it inspire you to think in new ways about our responsibilities as adults to our children and their environment? Are children born in innocence, as we like to insist, or in Smoke, as the book maintains?
8. "We made a choice. Pandora's box. We opened it. Now we have to brave it out," says Thomas at the close of the novel.  Did Thomas, Livia, and Charlie make the right choice?  Or was it simply the only choice?
9.  What do you think the future holds for the three friends?