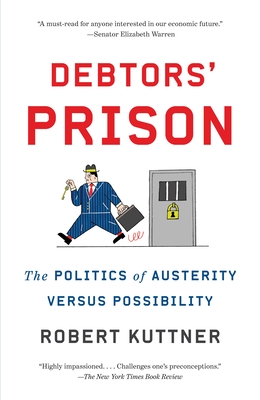 Debtors' Prison
The Politics of Austerity Versus Possibility
Paperback

* Individual store prices may vary.
Other Editions of This Title:
Hardcover (4/30/2013)
Description
Since the financial crisis of 2008, the conversation about economic recovery has centered on the question of debt: whether we have too much of it, whose debt to forgive, and how to cut the deficit. But what if we've been asking the wrong questions all along? In Debtors' Prison, leading economic thinker Robert Kuttner makes the most powerful argument to date that with austerity as a solution all we're doing is jailing ourselves.

Just as debtors' prisons once prevented individuals from resuming a productive life, austerity measures shackle, rather than restore, economic growth. This is the simple truth belied by the sound bites of presidential elections and fiscal-cliff debates, and the perverse policies of the European Union. Blending current affairs with economics and history, from Robinson Crusoe author Daniel Defoe's campaign for debt forgiveness in the seventeenth century to the two world wars and Bretton Woods, Kuttner uncovers the double standards in the politics of debt. Lucid, authoritative, provocative—a book that corrects the economic conversation and encourages a search for new solutions. 
Praise For Debtors' Prison: The Politics of Austerity Versus Possibility…
"A highly readable, thought provoking analysis of America's—and the world's—situation, a unique blend of history, economics, and politics that shows a clear way out of our morass, if only our politics would 'allow us to get from here to there.' Kuttner explains why we don't have to be doomed to a generation of depression, but that current debt, finance, and austerity policies make that a likely prospect. Even those who disagree with his conclusions will find his wealth of historical insights invaluable."
 
—Joseph Stiglitz, winner of the Nobel Prize in Economics and author of The Price of Inequality

"Robert Kuttner has a gift for clear and forceful explanations of the complex dealings that brought the economy to its knees. Debtors' Prison takes an innovative approach to economic history, using the lens of credit and debt to explore past boom-and-bust cycles and to illuminate the central issues in current economic debates. Kuttner's impressive history also catapults the reader into the future, providing critical insight on strengthening the financial system. A must-read for anyone interested in our economic future."
 
—Senator Elizabeth Warren

 "Kuttner's thesis is girded to a historical narrative that yields a coherent, readable and highly impassioned book….The charge that 'austerity mongers' on the Continent have been standing guard over a new debtors' prison cannot be easily dismissed."

—The New York Times Book Review

"Engaging… Kuttner does more than offer another garden variety liberal progressive shaming of the powers that be. He weaves together history, economics, and investigative reporting into an intellectual tapestry that is both a page-turner and an education... He not only demolishes the arguments of the deficit hawks but also offers cogent solutions to the present crisis."

—New York Journal of Books

"Kuttner has provided some highly useful intellectual weaponry for the ranks of battle-scarred warriors who combat austerity economics on a daily basis. For that alone, he deserves thanks for this highly readable and erudite book."

—The Huffington Post

"[T]imely . . . take[s] readers on a historical tour of indebtedness, starting in 1692 with Daniel Defoe and ending with the recent recession and according to Kuttner, the misguided austerity regimes that sprang up in response . . . Kuttner draws thorough comparisons among the Depression, World War II, and present day fiscal engineering . . . An insightful and relevant look at the topic of debt in the United States and abroad."

—Susan Hurst, Library Journal

"[C]ontributes a much-needed historical perspective that explores, as Kuttner puts it, 'how the bad economic advice of the austerity lobby became the prevailing view.' . . . arrive[s] at an opportune time . . . [Kuttner] hold[s] out the possibility of a different future."
—Meg Jacobs, Democracy

"This timely, thought-provoking book will add valuable insight to ongoing fiscal policy debates." 

—Mary Whaley, Booklist

"Kuttner (The Squandering of America), cofounder and co-editor of the American Prospect, pulls no punches in his latest full-throated defense of Keynesian economics and repudiation of the modern neoliberal system . . . Kuttner's deft overview of economic history—most notably his coverage of the Marshall Plan—demonstrates that economic stimulus can be very effective at ending recessions."

—Publishers Weekly

"Debtors' Prison is more than a devastating brief against the trans-Atlantic pursuit of austerity. It is a magisterial retelling of our history through the prism of the struggle over credit and debt. Navigating between countries and eras with the authority of a scholar and the narrative skill of a journalist, Robert Kuttner has written the authoritative guide to economic recovery and financial reform."
 
—Jacob S. Hacker, co-Author of Winner-Take-All Politics: How Washington Made the Rich Richer—And Turned Its Back on the Middle Class
 
"Robert Kuttner nails the missing piece in Barack Obama's presidency—the reason the American economy is still stalled and sickly. Read this book, then send it to the White House. Kuttner has the plan. The president needs to see it."
 
—William Greider, author of Come Home, America

"No topics in modern political life have spawned more confusion, misdirected effort, and overall malarkey than 'deficits' and 'debt.' Robert Kuttner does us the enormous service of explaining which kinds of debt we should worry more about, and which kinds less—and how to manage public and private debt so as to sustain an age of broadly shared prosperity rather than of austere decline."
 
—James Fallows, author of China Airborne

"[I]nformed, passionate, at times angry . . . The breadth of Kuttner's review of the politics of credit and debt through American history is impressive."

—Mark Levinson, Dissent

 
 
 

Vintage, 9781101910528, 352pp.
Publication Date: June 9, 2015
About the Author
Robert Kuttner is cofounder and coeditor of The American Prospect magazine, as well as a professor at Brandeis University's Heller School. He was a longtime columnist for BusinessWeek and continues to write columns in The Boston Globe, The New York Times Global Edition, and The Huffington Post. This is his tenth book.
or
Not Currently Available for Direct Purchase