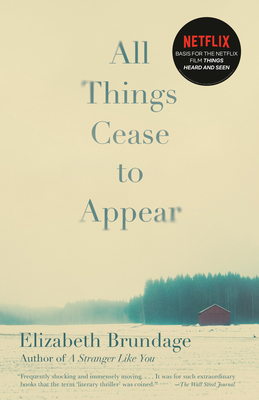 All Things Cease to Appear
Paperback

* Individual store prices may vary.
Other Editions of This Title:
Digital Audiobook (3/7/2016)
Hardcover, Large Print (6/22/2016)
Hardcover (3/8/2016)
Description
"This literary thriller's complex narrative involves a cursed house, an unsolved murder and impeccable writing." —The New York Times Book Review • The basis for the Netflix film Things Heard and Seen
 
Recent transplants to the small town of Chosen, New York, the Clares have not received the warmest welcome; once a thriving dairy farm, their home is haunted by the tragedy that left the former owner's three sons orphaned and adrift. 
 
Late one winter afternoon, professor George Clare knocks on his neighbor's door with terrible news: he returned from work to find his wife, Catherine, murdered in their bed. Someone took an ax to her head while their three-year-old daughter, Franny, played alone in her room across the hall.  
 
As one dark secret peels away to reveal others—and as the Clare marriage reveals itself to have a sinister darkness that rivals the farm's history—Elizabeth Brundage offers a rich and complex portrait of the scars that can haunt a community for generations and the dark longings inside each and every one of us that drive us to do inexplicable things.
Praise For All Things Cease to Appear…
"Frequently shocking and immensely moving…. It was for such extraordinary books that the term 'literary thriller' was coined." —The Wall Street Journal
 
"Ghosts, murder, a terrifying psychotic who seems normal, and beautiful writing.  Loved it." —Stephen King
 
"This literary thriller's complex narrative involves a cursed house, an unsolved murder and impeccable writing." —The New York Times Book Review, Editor's Choice
 
"A beautifully written treat … as much a disturbing portrait of family and town life as it is a provocative mystery." —Elle
 
"Superb…. Think a more literary, and feminist, Gone Girl.  As the seemingly perfect marriage at its core reminds us, the most lethal deceptions are the stories we tell ourselves." —Vogue

"As terrifyingly unsettling—and as beautiful—as cracking ice over a raging river. Part murder mystery, part ghost story, All Things Cease to Appear is also a profound look at how past guilt informs the present, how what we yearn for is not always what we get, and how it's not only houses that can be haunted, but people as well. One of the most ambitious, original and gorgeously written novels that I've ever read—and been unable to forget." —Caroline Leavitt, author of Cruel, Beautiful World
 
"A classic murder mystery [combined] with a gripping psychological thriller, exploring the complexities of grief, relationships—romantic, familial and friendly—and small-town life." —BookPage
 
"With a storyline that tightens like a constrictor, this is a book that you won't want to read alone at night." —Kirkus Reviews (starred review)
 
 
"[A] dark, chilling drama." —Entertainment Weekly
 
"All Things Cease to Appear is a riveting ghost story, psychological thriller, and literary page turner. . . . At its heart, this is a story about women's grit and courage, will and intelligence. It's a powerful and beautiful novel." —Kate Christensen, author of The Astral  
 
"Exquisitely gut-churning…. Brundage's language is the real draw, with her vivid portraits of spouses on opposite sides of a brutal abyss." —Time
 
"At once high art and a spellbinding thriller, this is a book of many wonders, including a character as creepily sinister as any created by Patricia Highsmith." —Beverly Lowry, author of Harriet Tubman: Imagining a Life

"Insightful, evocative." —People, "Book of the Week"
 
"Transcendent . . . Tragedy leaves an indelible mark on both people and places in Brundage's piercing new novel. Party mystery, part ghost story, and entirely brilliant." —Library Journal

"Spellbinding." —The Anniston Star
 
"Slightly Gothic, socially perceptive, and briskly written." —New York magazine
 
"[A] dark, chilling drama." —Entertainment Weekly
 
"Brundage's searing, intricate novel epitomizes the best of the literary thriller. . . . Succeeding as murder mystery, ghost tale, family drama, and love story, her novel is both tragic and transcendent." —Publishers Weekly

"A dynamic portrait of a young woman coming into her own [and] of a marriage in free fall." —Booklist (starred review)

"I bloody loved this. . . . Beneath the daisies and farmhouses, the drinks parties and local dramas, something grand, tense and terrifying is shifting, between men and women, between townies and newcomers, between adults and children." —Louisa Young, author of My Dear, I Wanted to Tell You 
Vintage, 9781101911488, 464pp.
Publication Date: February 7, 2017
About the Author
ELIZABETH BRUNDAGE graduated from Hampshire College, attended NYU film school, was a screenwriting fellow at the American Film Institute in Los Angeles, and received an MFA as well as a James Michener Award from the University of Iowa Writers' Workshop. She has taught at a variety of colleges and universities, most recently at Skidmore College, where she was visiting writer-in-residence. She lives near Albany in upstate New York.
 
www.elizabethbrundage.com