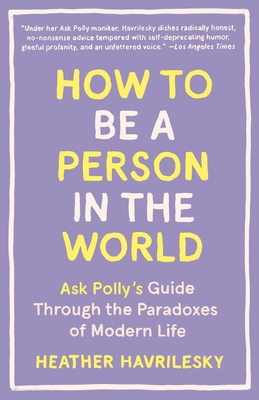 How to Be a Person in the World
Ask Polly's Guide Through the Paradoxes of Modern Life
Paperback

* Individual store prices may vary.
Other Editions of This Title:
Digital Audiobook (7/11/2016)
Description
New York Times Bestseller • From the "best advice columnist of her generation" (Esquire) comes a hilarious, frank, and witty collection of all-new responses, plus a few greatest hits from the beloved "Ask Polly" column in New York magazine's The Cut.

Should you quit your day job to follow your dreams? How do you rein in an overbearing mother? Will you ever stop dating wishy-washy, noncommittal guys? Should you put off having a baby for your career? 

Heather Havrilesky is here to guide you through the "what if's" and "I don't knows" of modern life with the signature wisdom and tough love her readers have come to expect. Whether she's responding to cheaters or loners, lovers or haters, the anxious or the down-and-out, Havrilesky writes with equal parts grace, humor, and compassion to remind you that even in your darkest moments you're not alone.
Praise For How to Be a Person in the World: Ask Polly's Guide Through the Paradoxes of Modern Life…
A Best Book of the Year
NPR * Esquire * Harper's Bazaar * Nylon * The Huffington Post * PopSugar

"Funny, staggering, no-bullshit sculptures of insight." —Leslie Jamison, Paris Review

"Under her Ask Polly moniker, Havrilesky dishes radically honest, no-nonsense advice tempered with self-deprecating humor, gleeful profanity, and an unfettered voice." —Los Angeles Times

"The best advice columnist of her generation." —Esquire

"There's something nourishing in every column. . . . But sometimes [Havrilesky] writes things that are like opening up the fridge and finding the universe inside." —The Atlantic
 
"Warm and charismatic. . . . Genuinely humorous and compelling. . . . Polly gets it." —The New York Times Book Review

"With vicious wit and merciless accuracy, [Havrilesky] isolates motivations, redirects anxious and defeatist energy, and delivers specific, usually hilarious, instructions." —The Paris Review

"If you are even a little bit interested in people and the world, then this book will interest you. And if you think you aren't interested in people or the world, then you should read this book anyway because it might surprise you by proving that there's a lot to reward such interest—and compassion and empathy—after all." —Chicago Tribune
 
"[Havrilesky] is part Buddha and part Amy Schumer: Wise, whip-smart, and profanely funny." —Entertainment Weekly
 
"On one hand, [Havrilesky] will shake you by the shoulders and tell you the truth. On the other, she's the friend rooting you on, cursing (creatively) all the way. . . . Havrilesky abandons the prim and proper and instead delivers delightfully offbeat wisdom with a side of straight talk." —NPR Books
 
"A comfort to read. . . . There is real love behind [Havrilesky's] tough love. . . . Even if you feel you're not in need of advice yourself, you will surely value Havrilesky's astute social commentary." —San Francisco Chronicle
 
"Irresistible. . . . Alluringly wry. . . . [Others] promise to help us clean up our messes. But Havrilesky leans into the mess until it swallows her, its embrace resembling something like light." —Slate

"Casual and pathologically sincere, like you've just stumbled into the most engaging conversation at a party after spending 30 minutes talking about the weather across the room." —Vogue.com

"In moments of despair, Havrilesky's elegant writing and rock-solid judgment can change your entire outlook. Read How to Be a Person in the World for the advice, but stay for the pure magic that is her perceptiveness and prose." —Paper Magazine
Anchor, 9781101911587, 272pp.
Publication Date: June 27, 2017
About the Author
HEATHER HAVRILESKY is the author of the memoir Disaster Preparedness. She has written for New York magazine, The New York Times Book Review, the Los Angeles Times, The New York Times Magazine, Bookforum, The New Yorker, NPR's All Things Considered, and several anthologies. She was a TV critic at Salon for seven years. She lives in Los Angeles with her husband and a loud assortment of dependents, most of them nondeductible.