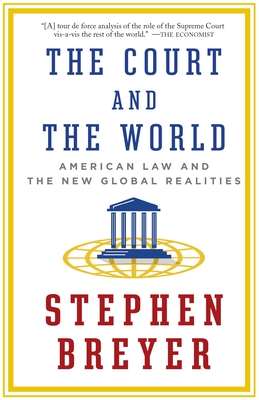 The Court and the World (Paperback)
American Law and the New Global Realities
Vintage, 9781101912072, 400pp.
Publication Date: August 23, 2016
Other Editions of This Title:
Digital Audiobook (9/14/2015)
Hardcover (9/15/2015)
* Individual store prices may vary.
Description
In this original, far-reaching, and timely book, Justice Stephen Breyer examines the work of the Supreme Court of the United States in an increasingly interconnected world, a world in which all sorts of activity, both public and private—from the conduct of national security policy to the conduct of international trade—obliges the Court to understand and consider circumstances beyond America's borders.  

Written with unique authority and perspective, The Court and the World reveals an emergent reality few Americans observe directly but one that affects the life of every one of us. Here is an invaluable understanding for lawyers and non-lawyers alike.
About the Author
STEPHEN BREYER is an associate justice of the United States Supreme Court. He is a resident of Cambridge, Massachusetts, and Washington, D.C.
Praise For The Court and the World: American Law and the New Global Realities…
"[A] tour de force analysis of the role of the Supreme Court vis-a-vis the rest of the world . . . the book's main message is inarguable: in a world that is smaller and more tightly interconnected than it has ever been, the Supreme Court cannot stand aloof from the legal universe beyond America's shores. . . . In his characteristically measured, above-the-fray style . . . Mr. Breyer provides in-depth yet lucid accounts of how the court has approached many instances of cross-border justice, from anti-trust lawsuits to child custody battles to purported human rights violations. . . . Readers of all political and ideological persuasions might learn something." —The Economist
 
"[A] lucid new book. . . . Playing the judge as enlightened modern technocrat, [Breyer] offers a reasoned elaboration of the mounting costs that judicial isolationism would entail in our increasingly interconnected world. Globalization, he argues, has made engagement with foreign law and international affairs simply unavoidable. . . . Why not learn from the efforts of others as we try to solve the same basic problems. . . . Democracy has never been a nativist straitjacket. Breyer's book offers a powerful description of the price we would pay for allowing it to become one." —John Fabian Witt, The New York Times
 
 "A serious, insightful work, complete with a concrete, highly detailed analysis of scores of cases decided by his court and by others around the world . . . [Breyer's] new book reflects his international interests but also his view of how his job has changed over two decades on the court." —Noah Feldman, The Washington Post

"There is no better or wiser source on the intersection of American jurisprudence and international law than Justice Stephen Breyer. He offers insights on every page and his attention to both principle and common sense points the way for harmonizing national and global concerns while strengthening law and reason." —Martha Minow, Morgan and Helen Chu Dean and Professor, Harvard Law School
 
"The book is insightful, clearly written, well informed, free of legal jargon, and accessible to a lay audience as well as informative to lawyers, judges, and law professors." —Judge Richard Posner, Foreign Affairs