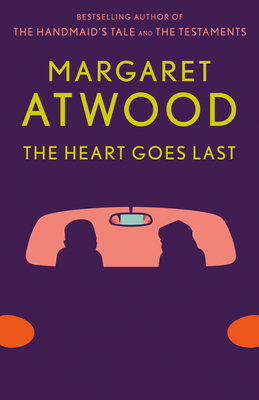 The Heart Goes Last
A Novel
Paperback

* Individual store prices may vary.
Description
From the #1 New York Times bestselling author of The Handmaid's Tale

In the gated community of Consilience, residents who sign a contract will get a job and a lovely house for six months of the year—if they serve as inmates in the Positron prison system for the alternate months…

Stan and Charmaine, a young urban couple, have been hit by job loss and bankruptcy in the midst of nationwide economic collapse. Forced to live in their third-hand Honda, where they are vulnerable to roving gangs, they think the gated community of Consilience may be the answer to their prayers. At first, this seems worth it: they will have a roof over their heads and food on the table. But when a series of troubling events unfolds, Positron begins to look less like a prayer answered and more like a chilling prophecy fulfilled. The Heart Goes Last is a vivid, urgent vision of development and decay, freedom and surveillance, struggle and hope—and the timeless workings of the human heart.
Praise For The Heart Goes Last: A Novel…
"Captivating. . . . Thrilling. . . . Margaret Atwood [is] a living legend." —The New York Times Book Review

"Quintessential Atwood. . . . The writing here is so persuasive, so crisp, that it seeps under your skin." —The Boston Globe

"An arresting perspective on the confluence of information, freedom, and security in the modern age." —The New Yorker
 
"A gripping, psychologically acute portrayal of our own future gone totally wrong, and the eternal constant of flawed humanity." —Huffington Post

"Dystopia virtuoso Margaret Atwood turns her effortless world-building, deft humor and grim commentary on the depths of human hubris to the prison industrial complex, love and free will." —The Denver Post

"Rare apocalyptic entertainment. . . . Not only does Atwood sketch out an all-too-possible future but she also looks to the past, tapping into archetypes from fairy tales and myth, giving the novel a resonance beyond satire." —The Miami Herald

"Another Atwood classic." —St. Louis Post-Dispatch

"Poignant. . . . Gloriously madcap. . . . You only pause in your laughter when you realise that, in its constituent parts, the world she depicts here is all too horribly plausible." —The Guardian (London)

 "Engrossing." —The Austin Chronicle

"Wonderful. . . . Explores the idea of a powerful system and its discontents. . . . Atwood's The Heart Goes Last is a riveting addition to her oeuvre." —Electric Literature

"Atwood's creepy but entertaining vision of a possible future." —The Washington Times

"Fast-paced and funny. . . . True love ultimately endures in The Heart Goes Last, but so do the real terrors present in Atwood novels, all too often manifesting in ours." —PopMatters
 
"Eerily prophetic. . . . A heady blend of speculative fiction with noir undertones that is provocative, powerful and will prompt all readers to reassess which parts of their humanity are for sale." —BookPage

"Ever-inventive, astutely observant, and drolly ironic, Atwood unfurls a riotous plot. . . . This laser-sharp, hilariously campy, and swiftly flowing satire delves deeply into our desires, vices, biases, and contradictions, bringing fresh, incisive comedy to the rising tide of postapocalyptic fiction . . . in which Atwood has long been a clarion voice." —Booklist (starred review)
Anchor, 9781101912362, 400pp.
Publication Date: August 9, 2016
About the Author
Margaret Atwood, whose work has been published in thirty-five countries, is the author of more than forty books of fiction, poetry, and critical essays. In addition to The Handmaid's Tale, her novels include Cat's Eye, short-listed for the 1989 Booker Prize; Alias Grace, which won the Giller Prize in Canada and the Premio Mondello in Italy; The Blind Assassin, winner of the 2000 Booker Prize; Oryx and Crake, short-listed for the 2003 Man Booker Prize; The Year of the Flood; and her most recent, MaddAddam. She is the recipient of the Los Angeles Times Innovator's Award, and lives in Toronto with the writer Graeme Gibson.

www.margaretatwood.ca