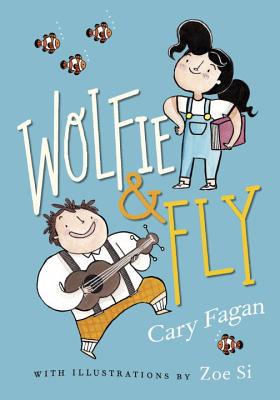 Wolfie and Fly (Hardcover)
Tundra Books, 9781101918203, 96pp.
Publication Date: January 10, 2017
Other Editions of This Title:
Paperback (1/9/2018)
* Individual store prices may vary.
Description
A classic story of imagination, friendship, adventure and speeding through the ocean in a cardboard box. For fans of Ivy & Bean, Judy Moody or Nate the Great.


Wolfie and Fly is an early chapter book at its simplest and best. Our heroine, Renata Wolfman (Wolfie) does everything by herself. Friends just get in the way, and she only has time for facts and reading. But friendship finds her in the form of Livingston Flott (Fly), the slightly weird and wordy boy from next door. Before she knows it, Wolfie is motoring through deep water with Fly as her second in command in a submarine made from a cardboard box.

Out on a solo swim to retrieve a baseball vital to the mission, Wolfie is finally by herself again, but for the first time, she finds it a little lonely. Maybe there is something to this friend thing...
About the Author
CARY FAGAN is an award-winning author for children and adults. His kids' books include the popular Kaspar Snit novels, the two-volume Master Melville's Medicine Show, and the picture book Mr. Zinger's Hat, winner of the Marilyn Baillie Picture Book Award and the IODE Jean Throop Award. He has also won the Jewish Book Award and been shortlisted for the Silver Birch Award (five times), the Rocky Mountain Book Award (twice), the Hackmatack Award (twice), the Norma Fleck Award, the Shining Willow Award, and others. Cary lives in Toronto with his family.

ZOE SI a cartoonist, freelance illustrator and lawyer. She believes in the power of words, but also that wherever words fail, a mildly disparaging cartoon can usually succeed. Wolfie and Fly is Zoe's first book for kids. She lives and works in beautiful British Columbia.
Praise For Wolfie and Fly…
SELECTION - CBC Books Most Anticipated Books of 2017
A New York Public Library Best Book for Kids pick

PRAISE FOR Wolfie and Fly:

"Fagan has lots of fun with the comedic contrast between Wolfie's misanthropic tendencies and Fly's enthusiasm . . . It's a promising first outing for this memorable odd couple." --Starred Review, Publishers Weekly

"This fun-filled early chapter book brims with personality as the curmudgeonly Renata opens herself up to friendship and new experiences. Lively illustrations capture the kids' imaginative antics, while the relatable story is accessibly written. Young readers will enthusiastically embrace this entertaining odd couple." --Starred Review, Booklist

"[A] classic story of imagination, friendship and adventure." --City Parent Magazine

"Renata is so lovable in her own way, and Livingston is such a cute character . . . I am already looking forward to more Wolfie and Fly's adventures." --Reviews in Chalk

PRAISE FOR Jacob Two-Two on the High Seas:

"Fagan has produced a lively tale of pirates, transatlantic voyages, and the usual heedless parents . . ." --Quill & Quire

". . . Fagan crafts a zany tale that kids (in the spirit of Jacob's doublespeak) will want to read at least twice. Petricic[s] line art complements the story's humor..." --Publishers Weekly

". . . this book has high adventure and black-and-white line drawings interspersed throughout." --School Library Journal

"Well supplied with comical sketches from Petričić, plus a supporting cast... the episode fits into the series nicely in both breathless pacing and Roald Dahl-style zaniness . . . it also fits nicely between the events of Jacob Two-Two Meets the Hooded Fang and Jacob Two-Two and the Dinosaur. Not too-too bad." --Kirkus Reviews