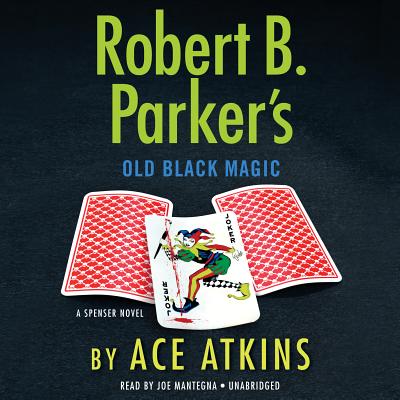 Robert B. Parker's Old Black Magic (Spenser #47) (CD-Audio)
Random House Audio, 9781101924655
Publication Date: May 15, 2018
Other Editions of This Title:
Digital Audiobook (4/30/2018)
Hardcover (5/1/2018)
Paperback, Large Print (7/2/2019)
Paperback (5/7/2019)
Library Binding, Large Print (5/2/2018)
* Individual store prices may vary.
Description
Iconic, tough-but-tender Boston PI Spenser delves into the black market art scene to investigate a decades-long unsolved crime of dangerous proportions.

The heist was legendary, still talked about twenty years after the priceless paintings disappeared from one of Boston's premier art museums. Most thought the art was lost forever, buried deep, sold off overseas, or, worse, destroyed as incriminating evidence. But when paint chips from the most valuable piece stolen, Gentlemen in Black by a Spanish master, arrives at the desk of a Boston journalist, the museum finds hope and enlists Spenser's help.

Soon the cold art case thrusts Spenser into the shady world of black market art dealers, aged Mafia bosses, and old vendettas. A five-million-dollar-reward by the museum's top benefactor, an aged, unlikable Boston socialite, sets Spenser and pals Vinnie Morris and Hawk onto a trail of hidden secrets, jailhouse confessions, and decades-old murders.

Set against the high-society art scene and the low-life back alleys of Boston, this is classic Spenser doing what he does best.
About the Author
ROBERT B. PARKER was the author of seventy books, including the legendary Spenser detective series, the novels featuring police chief Jesse Stone, and the acclaimed Virgil Cole-Everett Hitch westerns, as well as the Sunny Randall novels. Winner of the Mystery Writers of America Grand Master Award and long considered the undisputed dean of American crime fiction, he died in January 2010.

ACE ATKINS is the Edgar-nominated author of nineteen books, including the forthcoming Quinn Colson novel The Fallen. Selected by the Robert B. Parker estate to continue the Spenser novels, most recently the New York Times-bestsellers Robert B. Parker's Slow Burn and Robert B. Parker's Kickback.
Praise For Robert B. Parker's Old Black Magic (Spenser #47)…
"Atkins perfectly catches Spenser's breezy voice and Parker's knack for creating vivid characters."—Seattle Times

More Praise for Robert B. Parker's Old Black Magic

"Atkins . . . again captures all the qualities Spenser fans love in the series: smart-ass humor, a touch of romance, plenty of violence, and, of course, Spenser's complex sense of honor. Atkins adds his own touch in the form of complex plots with genuine mysteries at their center."—Booklist

Praise for Ace Atkins and the Spenser Series

"Handpicked by the Parker estate to be the keeper of the flame for the Spenser franchise, award-winning author Ace Atkins rises flawlessly to the occasion. In addition to the signature dialogue, all the familiars are fully resurrected: Susan, the sexy shrink; Pearl, the wonder dog; Hawk, the wonder sidekick; good cop Quirk, and, of course, Spenser himself, that consummate knight errant for the twenty-first century."—Kirkus Reviews

"It's a feat when a writer creates characters who live and breathe on the page and make readers care and keep coming back for more. To manage that with someone else's characters, let alone with an icon like Spenser, is a minor miracle. Ace Atkins pulls it off."—Chicago Sun-Times

"Atkins does a wonderful job with the characters created by Parker."—Booklist
 
"Classic Spenser—the Spenser of wry wit, tasty food and drinks, hard workouts and lethal confrontations...Once again, Atkins has delivered a thriller that evokes the best of Parker's Spenser series, not least the punchy back-and-forth of the dialogue."—Associated Press

"Atkins has done a splendid job of capturing the voice of the late Robert B. Parker."—Publishers Weekly