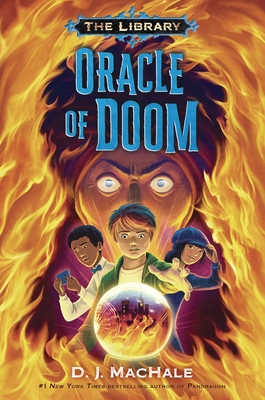 Oracle of Doom (The Library Book 3) (Hardcover)
Random House Books for Young Readers, 9781101932612, 304pp.
Publication Date: October 9, 2018
* Individual store prices may vary.
Description
Check out a book and read your future. . . . It's another page-turning adventure from #1 New York Times bestselling author D. J. MacHale!

Marcus is an agent of the Library, a place filled with tales that don't have an ending. Puzzles that won't be solved until Marcus and his friends step in to finish them. This time it's their own stories at stake.

Theo just visited the Oracle Baz, an old amusement-park machine that spits out fortunes for the cost of a quarter. Fun, right? The only problem is, the oracle's cheap predictions have been coming true . . . and Theo's fortune says that life as he knows it will end on his fourteenth birthday! Plus, Lu's cousin, who also went to the oracle, is missing.

Marcus knows where to find help for his friends--the Library. It turns out that the Oracle Baz was a real man who died in a fire long ago. Can a glimpse into the fortune-teller's past change all their futures?
About the Author
D. J. MacHale is the author of Surrender the Key and Black Moon Rising, the bestselling Pendragon series, the spooky Morpheus Road trilogy, the sci-fi thriller trilogy The SYLO Chronicles, and Voyager: Project Alpha. In addition to his published works, he has written, directed, and produced numerous award-winning television series and movies for young people, including Are You Afraid of the Dark?, Flight 29 Down, and Tower of Terror. D.J. lives with his family in Southern California. You can find him at djmachalebooks.com.
Praise For Oracle of Doom (The Library Book 3)…
Praise for Black Moon Rising (The Library, Book 2)

"MacHale once again pens a page-turner that adds just the right amount of humor." —Kirkus Reviews

Praise for Surrender the Key (The Library, Book 1)

"MacHale deftly pulls readers into this page-turning adventure, well-choreographed chapter transitions defying them to put it down." —Kirkus Reviews

"Readers who love action and adventure, lightened with a bit of humor, will look forward to meeting Marcus, Lu, and Theo again." —Shelf Awareness

"A mysterious, hard-to-put-down book with a twisting plot, funny characters, and haunting souls. I can't wait to hear what adventures they have next." —A.J. H., age 11

"I read enough in just one day to fill my school reading log for a week." —Michael C., age 10

"A unique, intriguing book filled with page-turning adventures." —Madeline H., age 12

"Couldn't put it down. I stayed up reading until 11:00 p.m. with only one thought in my mind: one more chapter!" —Ben H., age 11