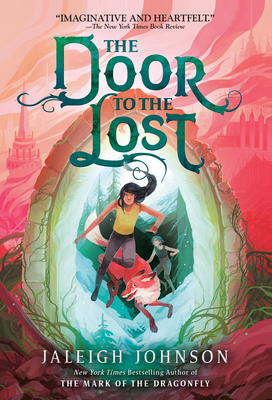 The Door to the Lost (Paperback)
Yearling, 9781101933190, 320pp.
Publication Date: July 2, 2019
Other Editions of This Title:
Hardcover (7/3/2018)
* Individual store prices may vary.
Description
From the New York Times bestselling author of The Mark of the Dragonfly comes a thrilling fantasy adventure about two magical friends living as refugees in a world that doesn't trust magic. Perfect for fans of Serafina and the Black Cloak and the School for Good and Evil series!

There was no warning the day magic died in Talhaven. It happened with a giant explosion and the arrival of a skyship full of children, all with magic running through their veins and no memory of home.

Rook and Drift are two of those children, and ever since that day, they've been on the run, magical refugees in a world that doesn't trust magic. Because magic doesn't die right away--it decays, twists, and poisons all that it touches. And now it's beginning to poison people.

Try as they might, Rook and Drift can't remember anything about their lives before Talhaven. But it's beginning to look like they're the only ones who can save their adopted world . . . if that world doesn't destroy them first.

Praise for The Door to the Lost

"This fun, exciting story . . . and the many well-rendered, imaginative and heartfelt scenes along the way make this journey worthwhile." --The New York Times Book Review

"Themes of refugees and found families are addressed in a way that retains fantasy flavor while realistically presenting the brutality of ignorance and beauty of humanity. Your new favorite fantasy." --Kirkus Reviews, Starred

"Johnson's immersive world building is vivid . . . and the fast-paced action, compelling characters, and one cute magical fox will keep fantasy-loving kids hooked." --Booklist

"With heartfelt explorations of the meanings of friendship and family. . . . Fans of portal fantasies, steampunk, and action-driven books will find this an entertaining read and will be left wanting more." --School Library Journal

Praise for The Mark of the Dragonfly

"This magnetic middle-grade debut . . . [is] a page-turner that defies easy categorization and ought to have broad appeal." --Publishers Weekly, Starred

"Heart, brains, and courage find a home in a steampunk fantasy worthy of a nod from Baum." --Kirkus Reviews, Starred

"A fantastic and original tale of adventure and magic. . . . Piper is a heroine to fall in love with: smart, brave, kind, and mechanically inclined to boot." --School Library Journal, Starred
About the Author
Jaleigh Johnson is a New York Times bestselling author as well as lifelong reader, gamer, and moviegoer. She loves nothing better than to escape into fictional worlds and take part in fantastic adventures. Her novels for young readers include The Mark of the Dragonfly, The Secrets of Solace, The Quest to the Uncharted Lands, and The Door to the Lost.

Jaleigh lives and writes in the wilds of the Midwest, but you can visit her online at jaleighjohnson.com or follow @JaleighJohnson on Twitter.
Praise For The Door to the Lost…
Praise for The Door to the Lost:

"This fun, exciting story…and the many well-rendered, imaginative and heartfelt scenes along the way make this journey worthwhile."—The New York Times Book Review

 ★ "Exquisite worldbuilding will please steadfast fans of Johnson's...and apropos themes of refugees and found families are addressed in a way that retains fantasy flavor while realistically presenting the brutality of ignorance and beauty of humanity. Your new favorite fantasy."—Kirkus Reviews, Starred Review

"Johnson's immersive world building is vivid...and the fast-paced action, compelling characters, and one cute magical fox will keep fantasy-loving kids hooked."—Booklist

"With heartfelt explorations of the meanings of friendship and family...fans of portal fantasies, steampunk, and action-driven books will find this an entertaining read and will be left wanting more."—School Library Journal

Praise for The Mark of the Dragonfly:
 
A New York Times Bestseller

★ "This magnetic middle-grade debut…[is] a page-turner that defies easy categorization and ought to have broad appeal."—Publishers Weekly, Starred Review
 
★ "Heart, brains, and courage find a home in a steampunk fantasy worthy of a nod from Baum."--Kirkus Reviews, Starred Review
 
★ "A fantastic and original tale of adventure and magic...Piper is a heroine to fall in love with: smart, brave, kind, and mechanically inclined to boot."—SLJ, Starred Review
 
"A complex and impeccably developed plot—there is plenty to recommend in this novel."—The Bulletin
 
"Appealing characters and lots of action make it a good choice for young adventure readers."—Booklist

Praise for The Secrets of Solace:

★ "Highly recommended for those who have finished with Harry and are too young for Katniss."—SLJ, Starred Review

"An engaging world rich in detail, mayhem, and adventure . . . All aboard for fantasy lovers with a dual penchant for girl power and keeping up with the Indiana Joneses." —Kirkus Reviews

"With imaginative details . . . readers will be rewarded by exciting action scenes and a deeper knowledge of Solace."—Booklist

"The book nicely balances the firm structure of the archivists' orderly lives with the wild abandon of the protagonist."—The Bulletin

Praise for The Quest to the Uncharted Lands:
★ "The author's endearing STEAM-loving heroine and magical hero hit all the right buttons for middle grade readers....Funny and heartbreaking...a must-have choice for all middle grade shelves." —SLJ, Starred

"A full-throttle fanfare for those with a predilection for alchemy, adventure, and a little anarchy."—Kirkus Reviews