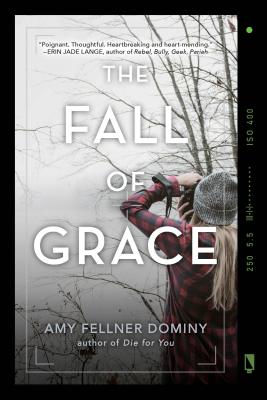 The Fall of Grace (Hardcover)
Delacorte Press, 9781101936238, 304pp.
Publication Date: April 10, 2018
* Individual store prices may vary.
Description
Fans of Sarah Dessen and Jenny Han will love The Fall of Grace, an adventure-thriller with a hint of romance, in which not everything as perfect as it seems.

"Poignant. Thoughtful. Heartbreaking and heart-mending. A careful exploration of how children often pay the price for their parents' mistakes. The Fall of Grace is Amy Fellner Dominy's best writing yet."-Erin Jade Lange, author of Rebel, Bully, Geek, Pariah

Grace's junior year is turning into her best year yet. She's set to make honor roll, her print from photography class might win a national contest, and her crush just asked her to prom.

Then the bottom falls out. News breaks that the investment fund her mom runs is a scam and her mother is a thief. Now, instead of friends, the FBI is at her door. Grace is damaged goods.

Millions of dollars are unaccounted for, and everyone wants to know where all the money went. Can she find it and clear her mother's name?

The key to repairing her shattered life seems to lie in a place deep in the wilderness, and Grace sets out, her identity hidden, determined to find it.

But she isn't alone.

Sam Rivers, a mysterious loner from school, is on her trail and wants to know exactly what secrets she uncovers. As the pair travels into the wilds, Grace realizes she must risk everything on the dark, twisted path to the truth.

Praise for The Fall of Grace:

"The Fall of Grace is heart-rending and real; readers will laugh and weep as they follow Grace's journey of anger, guilt, betrayal, love, and the different layers of forgiveness. The emotional turmoil is almost abrasively raw, and yet so believable. In a culture of call-outs and finger pointing, this is a book for anyone who has stood accused."--Aprilynne Pike #1 New York Times Bestselling author of Wings and Glitter

"Clever plot construction,...romance, and Grace's realistic emotional roller coaster will appeal to fans of Sarah Dessen."-Booklist

"Quick-paced...[The Fall of Grace] features a satisfyingly unexpected and realistic ending that will likely surprise readers."-Kirkus Reviews

"Dominy writes with raw emotion, exploring the impact of revealed family secrets through the lens of a daughter's fierce love."-Publishers Weekly

"Grace is engaging and sympathetic...[and] her observations ring true, as does the dialogue....The vivid descriptions and tension of the story will pull readers in, and the conclusion will leave them satisfied. With adventure, mystery, and romance, the story will appeal to a broad audience."-VOYA

"A blend of suspense and adventure with a romance....[The Fall of Grace is] a story of soul-searching, self-discovery, and eventual maturity."-SLJ

"[Dominy] frankly explore[s] the limits of guilt and responsibility, and what they [the characters] can and can't do in terms of restitution for past sins and moving forward."--Bulletin
About the Author
Amy Fellner Dominy loves writing for kids of every age. She is the author of picture books as well as middle-grade and young adult novels, including The Fall of Grace, Die for You, A Matter of Heart, and OyMG, a Sydney Taylor Notable Book. Amy lives with her family in Phoenix. To learn more about her and her books, visit her online at amydominy.com or follow @amydominy on Twitter.
Praise For The Fall of Grace…
Praise for The Fall of Grace:

"Poignant. Thoughtful. Heartbreaking and heart-mending. A careful exploration of how children often pay the price for their parents' mistakes. The Fall of Grace is Amy Fellner Dominy's best writing yet."—Erin Jade Lange, author of Rebel, Bully, Geek, Pariah

"The Fall of Grace is heart-rending and real; readers will laugh and weep as they follow Grace's journey of anger, guilt, betrayal, love, and the different layers of forgiveness. The emotional turmoil is almost abrasively raw, and yet so believable. In a culture of call-outs and finger pointing, this is a book for anyone who has stood accused."—Aprilynne Pike #1 New York Times Bestselling author of Wings and Glitter

"Clever plot construction,...romance, and Grace's realistic emotional roller coaster will appeal to fans of Sarah Dessen."-Booklist

"Quick-paced...[The Fall of Grace] features a satisfyingly unexpected and realistic ending that will likely surprise readers."-Kirkus Reviews

"Dominy writes with raw emotion, exploring the impact of revealed family secrets through the lens of a daughter's fierce love."-Publishers Weekly

"Grace is engaging and sympathetic...[and] her observations ring true, as does the dialogue....The vivid descriptions and tension of the story will pull readers in, and the conclusion will leave them satisfied. With adventure, mystery, and romance, the story will appeal to a broad audience."-VOYA

"A blend of suspense and adventure with a romance....[The Fall of Grace is] a story of soul-searching, self-discovery, and eventual maturity."-SLJ

"[Dominy] frankly explore[s] the limits of guilt and responsibility, and what they [the characters] can and can't do in terms of restitution for past sins and moving forward."—Bulletin

Praise for Amy Fellner Dominy's Die for You:

"In this delicate, tense exploration of teenage relationship abuse, both the slow progression of Dillon's illness and Emma's refusal to see the signs until it is nearly too late ring true. The violence is handled sensitively . . . [in this] perceptive portrait of relationship abuse." —Kirkus Reviews

"This taut thriller unrolls hidden messages of abusive relationships with a sharp edge and well-drawn gray areas, leaving readers on the edge of their seats." —Booklist

"With a fresh voice, Dominy adeptly depicts how love can grow dark and that abuse isn't always physical." —SLJ

Praise for Amy Fellner Dominy's A Matter of Heart:
 
"A novel that will make your heart pound—anxiously, joyfully, triumphantly." —New York Times bestselling author Lauren Myracle

"This engaging and fast-paced read expertly paints the world of high-school sports and the single-minded focus and commitment that some high-school athletes can have." —Booklist

"Dominy's excellent use of dialogue firmly grounds the novel in contemporary times. The setting thrives on details, showcasing excellent research. . . . This is recommended for Chris Lynch fans, swimming fans, and anyone interested in warning teens about the dangers of HCM." —VOYA

"This is a solid look at an elite athlete who gets benched. . . . An enjoyable read even for couch potatoes." —Kirkus Reviews

"More than a sports novel, this book delves deep into issues of identity—how we identify ourselves separately from what we do well—and the importance of support systems while making life-altering decisions. Give this to fans of Catherine Gilbert Murdock's Dairy Queen series." —SLJ