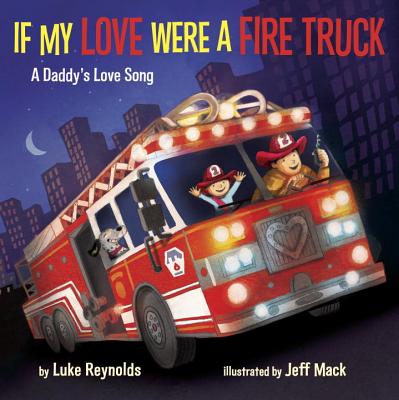 If My Love Were a Fire Truck (Hardcover)
A Daddy's Love Song
Doubleday Books for Young Readers, 9781101937402, 32pp.
Publication Date: April 18, 2017
* Individual store prices may vary.
Description
A father's love for his son goes zoom, swoosh, vroom, boom! in this energetic, adventurous, action-packed lullaby to fathers and sons.
 
The bond between a father and his son is as powerful as a rocket ship blasting into space, a giant whale splashing across the ocean, and booming, colorful fireworks lighting up the night sky. Celebrating that one-of-a-kind relationship between Dad and his favorite little guy, If My Love Were a Fire Truck is a rhyming love song from fathers to sons that will become a cherished part of their lives for many years to come.

A Bank Street College of Education 2018 Best Children's Book of the Year

"This bedtime story reassures and entertains. A guaranteed hit for vehicle lovers."—School Library Journal

"an uplifting message of comfort and commitment."—Publishers Weekly

"An opening for parent-child pairs to use their own imaginations to see where love will take them."—Kirkus

"Luke Reynolds offers extravagant metaphors for paternal affections . . . a series of tenderhearted comparisons matched with colorful, exuberant pictures by Jeff Mack."—The Wall Street Journal

"a lovely bedtime story offering reassurance in a fun way."—The Washington Post

"A memorable bedtime lullaby that compares a father's love for his son with all the fantastic things he loves—from fire trucks to rocket ships to wild animals."—readbrightly.com

About the Author
LUKE REYNOLDS is the author of the picture books If My Love Were a Fire Truck and Bedtime Blastoff!and the middle-grade novel The Looney Experiment. Currently completing his PhD in Education at Boston College, Luke is also a full-time seventh grade English teacher in the public school system in Harvard, Massachusetts. He is married and has two young sons. Visit Luke online at lukewreynolds.com.
 
JEFF MACK has written and illustrated a wide range of children's books, including If My Love Were a Fire Truck, Hush Little Polar Bear, Good News Bad News, Duck in the Fridge, Frog and Fly, Hurry! Hurry!and the Hippo and Rabbit series, earning him three Texas 2x2 awards, a Colorado Bell Award, a Pennsylvania Family Literacy Award, a New York Public Library Best Book of the Year Award, a Bank Street Best Book of the Year award, and an Illinois Monarch Award nomination. Visit him online at jeffmack.com.
Praise For If My Love Were a Fire Truck: A Daddy's Love Song…
A Bank Street College of Education 2018 Best Children's Book of the Year

"This bedtime story reassures and entertains. A guaranteed hit for vehicle lovers."—School Library Journal

"an uplifting message of comfort and commitment."—Publishers Weekly

"An opening for parent-child pairs to use their own imaginations to see where love will take them."—Kirkus

"Luke Reynolds offers extravagant metaphors for paternal affections . . . a series of tenderhearted comparisons matched with colorful, exuberant pictures by Jeff Mack."—The Wall Street Journal

"a lovely bedtime story offering reassurance in a fun way."—The Washington Post

"A memorable bedtime lullaby that compares a father's love for his son with all the fantastic things he loves—from fire trucks to rocket ships to wild animals."—readbrightly.com