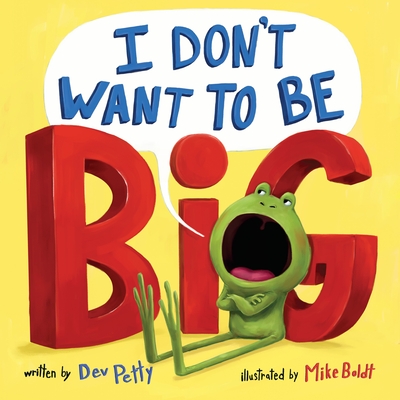 I Don't Want to Be Big (Hardcover)
Doubleday Books for Young Readers, 9781101939208, 32pp.
Publication Date: October 11, 2016
Description
Fans of the hit picture book I Don't Want to Be a Frog will love this silly companion featuring a frog that's still as stubborn as ever and his surprisingly patient father -- a read-aloud

"Reminiscent of Mo Willems's 'Elephant and Piggie' series"--Publishers Weekly Frog does NOT want to grow up. Doesn't need to be tall. Doesn't want to be able to jump high enough to see the tree frogs. He's just FINE being small. Besides, if you grow up, you don't get to do fun things like jump in mud puddles with your best friend, Pig. Do you? This hilarious story---which uses humor to teach that it's great being exactly who you are--is sure to bring a smile to every kid who just wants to stay a kid, in addition to those who are the smallest in their class. It's a sly and smartly funny tale that will have children and parents laughing together. Also available in the series: I Don't Want to Be a Frog and There's Nothing to Do "An enjoyable read-aloud"--Kirkus
About the Author
DEV PETTY is the author of I Don't Want to Be a Frog, I Don't Want to Be Big, and There's Nothing to Do! A graduate of the University of California, Santa Cruz, Dev previously worked as a visual-effects artist in film, contributing to such movies as the Matrix Trilogy. Dev was born and raised in Berkeley, California, and now lives right next door in Albany with her husband, two daughters, some dogs, and other critters. Visit her online at devpetty.com. MIKE BOLDT is an author and illustrator living in the countryside of Alberta, Canada. He has been illustrating for children for the past fifteen years, including the picture books I Don't Want to Be a Frog, I Don't Want to Be Big, and There's Nothing to Do! When he's not drawing, he's building snow forts and Lego spaceships with his three kids, or sharing laughs and his ice cream with his wife. He is very glad he's not a frog. Visit Mike online at mikeboldt.ca.
Advertisement