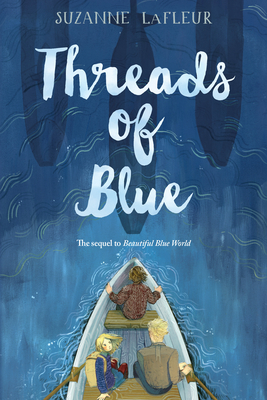 Threads of Blue (Hardcover)
Wendy Lamb Books, 9781101939994, 224pp.
Publication Date: September 12, 2017
Description
The thrilling sequel to the acclaimed Beautiful Blue World follows a brave girl who must flee her country during wartime and work undercover to defeat the enemy. For fans of The War That Saved My Life and Wolf Hollow. "A thoughtful, pellucid story . . . that] gently probes questions of loyalty, patriotism and sacrifice." --The Wall Street Journal on Beautiful Blue World A war took Mathilde away from her family when she was chosen to serve her country, Sofarende, with other children working on a secret military project. But now the other children--including her best friend, Megs--have fled to safety, and Mathilde is all alone, determined to complete her mission. In this powerful and deeply moving sequel to the acclaimed Beautiful Blue World, Mathilde must make her way through a new stage of the war. Haunted by the bold choice she made on the night she chose her country's future over her own well-being, she clings to the promise Megs made long ago: "Whatever happens, I'll be with you." Praise for Beautiful Blue World: "Readers will be drawn in by the underlying belief that kids' work is important and powerful, and eager for the promised sequel." --Publishers Weekly, Starred "Deeply emotional, compelling, and brilliant." --Kirkus Reviews, Starred "LaFleur crafts a protagonist who is compassionate and resourceful, in a war-ravaged world in which children are, by turns, exploited and empowered. The tension is high and danger ever present." --School Library Journal, Starred.
About the Author
Suzanne LaFleur is the author of Love, Aubrey; Eight Keys; Listening for Lucca; and Beautiful Blue World. She lives in New York City, where she decorates her walls with the handprints of children she loves. Visit her online at suzannelafleur.com.
Advertisement