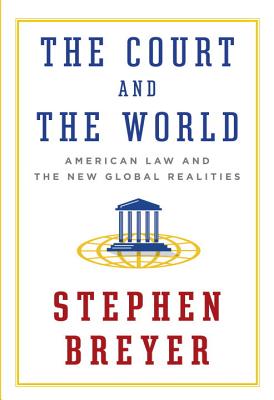 The Court and the World
American Law and the New Global Realities
Hardcover

* Individual store prices may vary.
Other Editions of This Title:
Digital Audiobook (9/14/2015)
Paperback (8/23/2016)
Description
In this original, far-reaching, and timely book, Justice Stephen Breyer examines the work of the Supreme Court of the United States in an increasingly interconnected world, a world in which all sorts of activity, both public and private—from the conduct of national security policy to the conduct of international trade—obliges the Court to understand and consider circumstances beyond America's borders.

It is a world of instant communications, lightning-fast commerce, and shared problems (like public health threats and environmental degradation), and it is one in which the lives of Americans are routinely linked ever more pervasively to those of people in foreign lands. Indeed, at a moment when anyone may engage in direct transactions internationally for services previously bought and sold only locally (lodging, for instance, through online sites), it has become clear that, even in ordinary matters, judicial awareness can no longer stop at the water's edge.   
To trace how foreign considerations have come to inform the thinking of the Court, Justice Breyer begins with that area of the law in which they have always figured prominently: national security in its constitutional dimension—how should the Court balance this imperative with others, chiefly the protection of basic liberties, in its review of presidential and congressional actions? He goes on to show that as the world has grown steadily "smaller," the Court's horizons have inevitably expanded: it has been obliged to consider a great many more matters that now cross borders. What is the geographical reach of an American statute concerning, say, securities fraud, antitrust violations, or copyright protections? And in deciding such matters, can the Court interpret American laws so that they might work more efficiently with similar laws in other nations?

While Americans must necessarily determine their own laws through democratic process, increasingly, the smooth operation of American law—and, by extension, the advancement of American interests and values—depends on its working in harmony with that of other jurisdictions. Justice Breyer describes how the aim of cultivating such harmony, as well as the expansion of the rule of law overall, with its attendant benefits, has drawn American jurists into the relatively new role of "constitutional diplomats," a little remarked but increasingly important job for them in this fast-changing world.

Written with unique authority and perspective, The Court and the World reveals an emergent reality few Americans observe directly but one that affects the life of every one of us. Here is an invaluable understanding for lawyers and non-lawyers alike.
Praise For The Court and the World: American Law and the New Global Realities…
"[A] tour de force analysis of the role of the Supreme Court vis-a-vis the rest of the world . . . the book's main message is inarguable: in a world that is smaller and more tightly interconnected than it has ever been, the Supreme Court cannot stand aloof from the legal universe beyond America's shores . . . In his characteristically measured, above-the-fray style . . . Mr. Breyer provides in-depth yet lucid accounts of how the court has approached many instances of cross-border justice, from anti-trust lawsuits to child custody battles to purported human rights violations . . . Readers of all political and ideological persuasions might learn something."
—The Economist
 
"[A] lucid new book . . . Playing the judge as enlightened modern technocrat, [Breyer] offers a reasoned elaboration of the mounting costs that judicial isolationism would entail in our increasingly interconnected world. Globalization, he argues, has made engagement with foreign law and international affairs simply unavoidable . . . Why not learn from the efforts of others as we try to solve the same basic problems . . . Democracy has never been a nativist straitjacket. Breyer's book offers a powerful description of the price we would pay for allowing it to become one."
—John Fabian Witt, The New York Times
 
 "A serious, insightful work, complete with a concrete, highly detailed analysis of scores of cases decided by his court and by others around the world . . . [Breyer's] new book reflects his international interests but also his view of how his job has changed over two decades on the court."
—Noah Feldman, The Washington Post
Knopf, 9781101946190, 400pp.
Publication Date: September 15, 2015
About the Author
STEPHEN BREYER is an associate justice of the United States Supreme Court. He is a resident of Cambridge, Massachusetts, and Washington, D.C.
Coverage from NPR
or
Not Currently Available for Direct Purchase