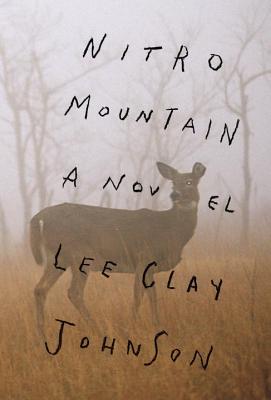 Nitro Mountain
A novel
Hardcover

* Individual store prices may vary.
Other Editions of This Title:
Paperback (4/18/2017)
Description
An astonishing, even shocking debut written with both humor and heart by, as John Casey puts it, "a natural-born writer who inhabits every one of his characters—the good, the bad, and those who swing back and forth."

Set in a bitterly benighted, mine-polluted corner of Virginia, Nitro Mountain follows a group of people bound together by alcohol, small-time crime and music. There's Leon, a hapless bass player who can embroil himself in trouble just by getting out of bed in the morning. And his would-be girlfriend, Jennifer, who's living with Arnett, the town's most dangerous thug—and hoping Leon will help her poison him. And there's Arnett himself, a psychopath for the ages—albeit so charming and deranged, so strikingly authentic, that he arrests the reader's attention at first sight and holds it fast. His mirror image, a singer-songwriter named Jones, has his own moral issues, though at least he's trying to be a good man. The bright if battered soul who pulls us through this story is Jennifer, a vulnerable yet strong woman struggling heroically to survive the endemic hopelessness and violence that have surrounded her since birth.

Relentless? Yes, of course, but never remotely gratuitous. Every single moment is shot through with the pain and misery that inspire so much of the music these people love more than life itself.
Praise For Nitro Mountain: A novel…
"[A] darkly stunning tale of stark dramas and tragic lives." —O Magazine

"Dark, frightening and staggeringly good." —Deep South Magazine
 
"Brutal and beautiful . . . You'll find yourself engrossed in the hard times and bad choices of its characters and, ultimately, the humanity we all share." —Jay Strafford, Richmond Times-Dispatch
 
"Johnson is a literary juggernaut. . . . This superbly well-written and tightly crafted book is not for the faint of heart." —Holly Nadler, Martha's Vineyard Times

"Tense, disturbing, impressive. . . Johnson, a writer of great ability, is adept at conjuring dismal sensory details. . . and he's excellent, in a book told from several divergent points of view, at inhabiting the twisted psyches of his unfortunate and self-destructive characters." —Tom Nolan, The Wall Street Journal

"A forceful debut novel . . . Johnson's sharp prose sometimes evokes Ron Rash—by way of Charles Bukowski." —Tray Butler, The Atlanta Journal-Constitution
 
"Cover to cover, the book exerts a fierce magnetic pull, sucking its reader into a profound desolation." —Susannah Felts, Nashville Scene

"Daring . . . a worthy addition to the growing canon of contemporary Appalachian noir. . . . Johnson shows an incredible control of language.  The narration is simple, but it enhances the world in which he plants us. . . . Nitro Mountain is like the home we failed to escape." —Bradley Sides, Electric Lit

"Excellent . . . bold, arresting and well-timed [with] intelligent and sympathetic portraits of hard-up people making bad, justifiable decisions." —Kenneth Champeon, BookPage

"Exquisitely stark and gritty . . . Raw, yet relentlessly compelling." —Publishers Weekly

"Appalachian noir at its darkest and most deranged . . . An ambitious, disturbing, and daring debut." —Kirkus (starred)

"A suspenseful, action-packed thriller that's also a brilliant study in humanity and what pushes someone over the line. Johnson paints some dark and desperate portraits, but even in the darkest he allows just enough light to reveal how complex and fragile each life is. He's skilled at delivering shocks when they're least expected, and likewise at humor—witty banter and memorable one-liners that will leave the reader laughing in the
most unlikely places." —Jill McCorkle

"Meet Leon, the lovesick bass player with a broken hand who prays, 'Please, more for me, I won't throw it away this time.'  In Nitro Mountain, Lee Clay Johnson also gives us lost, smart-ass Jennifer and a cast of other low-life bar rats trying to feel or figure out what, if anything, is precious, and how to save one another before it's too late." —Darcy Steinke

"Perturbingly good. Hazardous. Addictive. Harrowing and hilarious too." —Joy Williams

"Nitro Mountain is a terrific novel. Lee Johnson is a natural-born writer. He inhabits every one of his characters--the good, the bad, and those that swing back and forth. The book is crack-the-whip funny and then darker and drastic. Lee Johnson writes so well that the whole story is one electric current." —John Casey

"Lee Clay Johnson punches through the basement window of the American Canon Library, gropes across the spines of Leon Rooke, Denis Johnson, yes, Flannery O'Connor and Mr. Bill, and, heir-apparent to none and all, achieves a grasp farther than his reach. Cut-bloodied smelling of bourbon, he retrieves the book you have in your hand, some far and ancient tale best pronounced from Genesis. A masterwork of a first novel." —Mark Richard
 
"There is rough, real music in the voices of these characters, people for whom staying out of trouble would be a full-time job. Set in a place diminished by greed, where revenge is an art form, this novel abounds with ugly acts wrapped in beautiful language. How can it be as funny as it is, then?  Hilarious, harsh, original—meet Lee Clay Johnson." —Amy Hempel
 
"Johnson's brilliant Nitro Mountain mines the darkest corners of contemporary Appalachia: a still-lovely yet ravaged landscape whose people sometimes maintain their bedrock decency and dignity and sometimes tunnel into perversion, violence, and madness. It's also appallingly funny—the sort of reckless, dangerous comedy Flannery O'Connor might have written if she'd known more about drink, drugs, and country music. But even when Johnson's characters spin out of control, his meticulous, inventive prose and his economical, relentless narrative show a firm hand on the wheel, and in their worst moments he never loses sight of their humanity. Lee Clay Johnson is a writer with abundant and scary gifts and consummate skill; Nitro Mountain is a novel you can't put down and won't forget." —David Gates
Knopf, 9781101946367, 224pp.
Publication Date: May 17, 2016
About the Author
LEE CLAY JOHNSON grew up around Nashville, Tennessee, in a family of bluegrass musicians. He holds a BA from Bennington College and an MFA from the University of Virginia. His work has appeared in The Oxford American, The Common, Appalachian Heritage, Salamander, and The Mississippi Review. He lives in St. Louis and Charlottesville, Virginia.
or
Not Currently Available for Direct Purchase