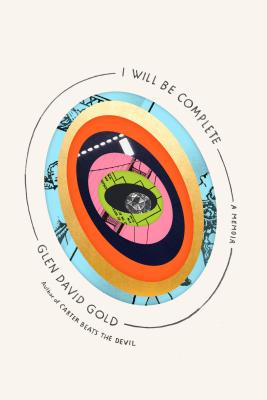 I Will Be Complete
A Memoir
Hardcover

* Individual store prices may vary.
Other Editions of This Title:
Digital Audiobook (6/25/2018)
Paperback (6/25/2019)
Description
From the bestselling author of Carter Beats the Devil and Sunnyside, a big-hearted memoir told in three parts: about growing up in the wake of the destructive choices of an extremely unconventional mother.

Glen David Gold's earliest memories are of a childhood in which he had everything he could possibly want. But when his father's fortune disappeared and his parents divorced, Gold fell out of his well-curated Southern California life. He was now growing up by the side of his increasingly erratic mother, among con men and get-rich schemes in '70s San Francisco.

Gold brings all his gifts as a novelist to a kaleidoscope of his most formative experiences: his salvation at boarding school; his dream job at an independent bookstore; a punk rock riot; a romance with a femme fatale; the start of his writing career; and his estrangement from his mother, who moved in with her soul mate, a man who threatened to kill her. By turns heartbreaking and disarmingly funny, I Will Be Complete is one son's journey, a series of love stories layered into a search for autonomy, and, ultimately, a way of letting go.
Praise For I Will Be Complete: A Memoir…
"Extraordinary . . . Riveting . . . An audacious, boundary-shattering work that will be talked about for a very long time . . . Imagine 'Home Alone' with a kid who is part Salvador Dali, part Holden Caulfield . . . Gold's knack for devastating insights is a marvel to read . . . And he delivers a conclusion for the ages." —Los Angeles Times 

"Unforseen consequences are at the heart of Gold's ambitious and brave new book."—New York Times Book Review

"A banquet of vivacity, shrewdness and wit, a soiree of heart-wreck wised up by humor . . . The opening 200 pages are among the most charismatic autobiographical reckonings you will read this year, aglow with rare and exquisite inventories of the self . . . Gold is a dynamic writer outfitted in wisdom and verve, one whose sentences you'll want to remember." —Washington Post

"One helluva ride . . . Revelatory . . . Much like Jeannette Walls' relationship with her mother in The Glass Castle or Augusten Burroughs' accounts in Running with Scissors . . . Wickedly intelligent and wildly imaginative." —San Francisco Chronicle
 
"Glen David Gold is one of the best storytellers working today. He could write about anything and make it gripping. As it turns out, he also has one hell of a story to tell." —Joseph Fink, co-author of Welcome to Night Vale

"Extraordinary . . . A symphonic riches-to-rags-to-riches story . . . It's the tale of a boy's moral and sentimental education, with all the febrile moods and heart-stopping lurches of a Donna Tartt epic . . . Smart, generous and gripping until the very last pages. It's one of the best books I've read in 2018." —The New Statesman (UK)
 
"An extraordinary account of an extraordinary life. Gold captures with stunning clarity the emotional chaos he grew up in, and that made him the brilliant writer he is now." —Lev Grossman, author of The Magicians

"A searching memoir." —O magazine

"Equally subtle and shocking, as clear-eyed about how the sins of the parent are visited on the child as it is generous and loving . . . You cannot read it and remain unchanged." —Irish Times
 
"Dazzlingly insightful . . . Brilliant . . . Moving." —The Spectator
 
"So well told, with such lucidity and honesty, it's almost frightening to read." —The Big Issue (UK)

"I Will Be Complete is the best memoir I've read in years. It's likely the best memoir published in years. Gold's a novelist and this book reads like the best fiction. It's exciting, beautiful, and clear-eyed in a way most memoirs aren't. Oh, and you'll never forget this charming, intelligent, unique narrator." —Darin Strauss, author of National Book Critics Circle Award winner Half a Life and Chang and Eng

"Remarkable . . . The product of nine years of work and a lifetime of reflection, the book is full of humour, unflinching reflection and flashes of horror. And it exudes tremendous empathy for his mother . . . Gold's book is funnier and more hopeful than any story about a child's abandonment and a parent's descent into terrifying chaos has a right to be." —The Sunday Times (UK)

"In this dazzling memoir, Glen David Gold shows us the dark side of the Auntie Mame myth. Raised by an unreliable bohemian mother in 1970s California, Gold follows the trail of damage she leaves, marking his adolescence and young manhood, until he decides he must choose between being 'complete' and emotionally whole. Beautiful and deft, witty and searing, like a playful song with a persistent bass line of unresolved grief. I can't stop thinking about it." —Janet Fitch, author of The Revolution of Marina M. and White Oleander

"Both funny and profoundly moving." —Sunday Express (UK)

"A riveting, sneakily emotional book . . . Gold's story is a uniquely awful one, but the experience of reading I Will Be Complete is anything but. The book unfolds like a novel and his first-person narrative is wry, funny, and refreshingly objective."—The Portland Mercury

"We expect the story of a boy and his mother ought to go a certain way. I Will Be Complete goes in ways you'd never expect. The people shatter, reassemble themselves, and shatter all over again. The prose is crystalline, hard as real diamonds, flashing, revealing. The story is simple, just a boy and his mother's long disintegration, but the journey is darkly complicated, heartbreaking, beautiful as hell." —Mark Childress, author of Crazy in Alabama
 
"Gold's heartbreaking, brave book deals with his tangled, troubled and troubling relationship with his tempestuous mother and, with insightful introspection, he reveals how it has affected all his other relationships. It's a shocking read." —Psychologies (UK)

"Oozes with the excitement of a life well-lived—and well-analyzed . . . Gold writes searchingly about the tenuous relationship with his mother that he fostered, watched decay, and eventually restored." —Kirkus Reviews
Knopf, 9781101946398, 496pp.
Publication Date: June 26, 2018
About the Author
GLEN DAVID GOLD is the author of Sunnyside and Carter Beats the Devil, which has been translated into fourteen languages. His short stories and essays have appeared in McSweeney's, Playboy, and The New York Times Magazine. He lives in Los Angeles.
or
Not Currently Available for Direct Purchase