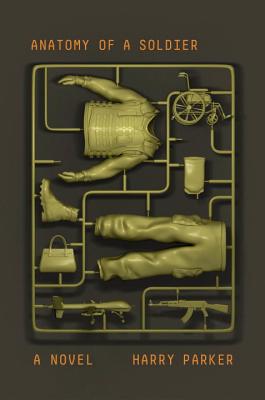 Anatomy of a Soldier (Hardcover)
A novel
Knopf, 9781101946633, 320pp.
Publication Date: May 17, 2016
Other Editions of This Title:
Digital Audiobook (5/16/2016)
Paperback (5/16/2017)
Paperback (12/29/2016)
* Individual store prices may vary.
Description
Anatomy of a Soldier is a stunning first novel—of patriotism, heroism, and profound humanism—that will immediately take its place on the shelf of classics about what it truly means to be at war.

Let's imagine a man called Captain Tom Barnes, aka BA5799, who's leading British troops in the war zone. And two boys growing up together there, sharing a prized bicycle and flying kites before finding themselves estranged once foreign soldiers appear in their countryside. And then there's the man who trains one of them to fight against the other's father and all these infidel invaders. Then imagine the family and friends who radiate out from these lives, people on all sides of this conflict where virtually everyone is caught up in the middle of something unthinkable.

But then regard them not as they see themselves but as all the objects surrounding them do: shoes and boots, a helmet, a bag of fertilizer, a medal, a beer glass, a snowflake, dog tags, and a horrific improvised explosive device that binds them all together by blowing one of them apart—forty-five different narrators in all, including the multiple medical implements subsequently required to keep Captain Barnes alive.

The result is a novel that reveals not only an author with a striking literary talent and intelligence but also the lives of people—whether husband or wife, father or mother, son or daughter—who are part of this same heart-stopping journey. A work of extraordinary humanity and hope, created out of something hopeless and dehumanizing, it makes art out of pain and suffering and takes its place in a long and rich line of novels that articulate the lives that soldiers lead. In the boom of an instant, and in decades of very different lives and experiences, we see things we've never understood so clearly before.
About the Author
HARRY PARKER grew up in Wiltshire and was educated at University College London. He joined the British Army when he was twenty-three and served in Iraq in 2007 and Afghanistan in 2009. He now lives in London. He's also a painter, attends art school, and has completed a postgrad degree at the Royal Drawing School. He sea-kayaks in his spare time.
Praise For Anatomy of a Soldier: A novel…
"This is one of the most intimate and detailed accounts of a wounded soldier's recovery ever committed to paper. . . . Behind this absorbing novel lies the indomitable spirit of Harry Parker. He has fought his way back from the darkest boundary of life to become a husband, father and, as this book shows, a writer of gifts and promise." —Michael Moritz, The Wall Street Journal

"Harry Parker's novel is a stunning concept, with stunning execution." —Marilyn Dahl, Shelf Awareness

"A gripping wartime story boldly and creatively told . . . Parker is invested in expressing the particulars of war with surprising intimacy, and the unique structure with multiple viewpoints ultimately reveals harsh truths about the countless cogs in the machine of war . . . Parker's unflinching tone lends the novel its lasting power." —Publishers Weekly

"This debut novel chronicles a soldier's maiming and recovery with an inventiveness that in no way mitigates war's searing heartbreak—or the spirit's indomitability . . . Parker's storytelling device of using objects as his narrators intensifies the reader's focus on the human emotions . . . You couldn't call this novel an antiwar tract . . . But you could certainly label it a pro-understanding work of art—and those may be more in need right now than ever before." —Kirkus Reviews

"An arresting and unconventional first novel . . . Anatomy of a Soldier is disorienting but deeply compelling." —Booklist (starred)

"A great novel: a defining work about a place beyond survival, where the terribly damaged succeed not just in living and adapting, but in bringing illumination back from the abyss. It will be read with wonder, with respect and with gratitude." —Anthony Loyd, The New Statesman

"Raw, uncompromising and courageous, this is a brilliant and unforgettable book." —Deirdre O'Brien, Sunday Mirror
 
"Parker manages to create great moments of suspense and pathos, thanks largely to the innovative structure he employs . . .Following the well-worn advice given to first-time novelists, Parker has written about what he knows. It just happens that he's done it unusually well." —Carl Wilkinson, Financial Times 
 
"[Parker's] prose, economical but evocative and at times wincingly graphic, confidently shepherds you through the ruptured timeline . . . morally and emotionally complex." —Chris Power, The Guardian
 
"A mighty achievement . . . stark and superb." —Esquire [UK]

"An arresting and unconventional first novel . . . Anatomy of a Soldier is disorienting but deeply compelling." —Thomas Gaughan, Booklist (starred)
 
"We've become desensitized to war stories, but Harry Parker—not simply through the originality of his approach but also through skillful storytelling, intimate observation, and an endless ability to surprise and move the reader—cuts past our callouses and delivers a bold new narrative of war and its aftermath." —Phil Klay

"It is a novel of concentrated ferocity and chilling accomplishments, tense and unflinching but alive to every nuance of feeling." —Hilary Mantel

"A new take on the war novel. . . both disorienting and captivating. . . nuanced and wonderfully complex." —The Guardian (U.K.)

"A riveting, evocative, brutally realistic read. Anatomy of a Soldier is a novel, but one clearly based on the author's searing experiences in combat and during recovery. It provides a vivid description of life as a soldier in Afghanistan and of life after being seriously wounded. What Harry Parker has written will enthrall, enlighten, and stay with readers." —General (Ret) David Petraeus, Commander of the International Security Assistance Force in Afghanistan, 2010-2011

"A tour de force. In this brilliant and beguiling novel Harry Parker sees the hidden forces that act on the bodies and souls of combatants and non-combatants. These pages are dangerous but they contain compassion and sorrow too. There is wonder here at what men have done to themselves. It feels like war through the looking glass but it is utterly real." —Nadeem Aslam
 
"This is a brilliant book, direct from the battle zone, where all the paraphernalia of slaughter is deployed to tell its particular and savage story." —Edna O'Brien
or
Not Currently Available for Direct Purchase