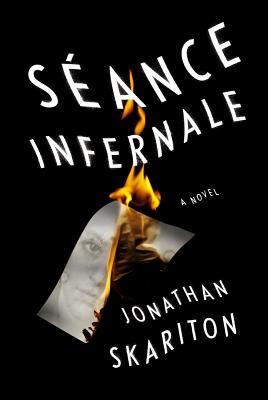 Séance Infernale
A novel
Hardcover

* Individual store prices may vary.
Other Editions of This Title:
Digital Audiobook (8/28/2017)
Paperback (7/10/2018)
Description
An extraordinary debut novel—dark, fast-paced, thrilling—set in contemporary and nineteenth-century Europe, the United States, and Scotland, involving the true inventor of moving pictures; his lost film made in Edinburgh in 1888; and a shocking series of crimes terrorizing the city in present time.

The time: 2002. The city: Los Angeles.

Alex Whitman, movie memorabilia dealer who can find anything, is hired by an eccentric film collector to locate what could be the first film ever made, Séance Infernale. Its creator, Augustin Sekuler, is considered by those who know about movies to be the true inventor of motion pictures—not the Lumiére brothers; nor Thomas Edison.

Sekuler was to present to the world in 1890 his greatest new invention, the first of its kind—a moving picture machine. He had boarded a train headed from Dijon to Paris, but never arrived at Gare de Lyons station. He and his moving picture machine vanished, never to be heard from again, his claim in history as the inventor of the moving image vanishing with him.

When Whitman tracks down what could be fragments of Sekuler's famously lost film, questions are raised—about Sekuler, about what happened to him and to his invention, and about the film itself.

In this riveting story of suspense, the search for the answers lead to curious riddles that may (or may not) shed light on Sekuler's darkest secret locked away for more than a century, riddles that set in motion a frantic hunt taking Whitman from Los Angeles and Paris, to Geneva, and finally to Sekuler's ancient labyrinthine city of Edinburgh, where the stakes become ratcheted up as the film's riddles lead to a darker, far more dangerous mystery.
Praise For Séance Infernale: A novel…
Excitement about Jonathan Skariton's
SÉANCE INFERNALE

"A rip-roaring pulp-fiction thriller filled with sinister subterranean spaces—labyrinths, tunnels, caves—in an exotically-rendered Edinburgh. But uniquely, it is also an eye-opening excursion into the origins of cinema, as Skariton, meshing fact with fantasy, explores the hidden history of the all-but-unknown inventor of moving pictures. Irresistible."
—Foster Hirsch, author of Film Noir: The Dark Side of the Screen

"Thrilling . . .mesmerizing." 
—Marilyn Stasio, NY Times Book Review

"Just enough intrigue to keep your fascination . . . captivating . . . entertaining; the gothic and supernatural atmosphere of the novel is its most engaging facet and this alone will most certainly keep the average mystery/thriller reader on the edge of their seat until the heart pounding final pages."
—Michael Thomas Barry, NY Journal of Books
 
"A post-millennial gothic ripsnorter [that] blends old-fashioned suspense and up-to-the-minute sadism in the dark streets and even darker underbelly of Edinburgh . . . An intricately designed thriller . . . This debut novel resembles a series of trap doors springing open and shut and open again . . . Its basic premise fascinates, and its fog-shrouded intrigue keeps your head in the game."
—Kirkus Reviews
 
"Séance Infernal is a menacing Gothic nightmare, a love letter to the dawn of cinema, to the ghost-ridden city of Edinburgh, and to the golden age of pulp fiction. There are subterranean tunnels and immolations; there's knife play and gunfire, alchemy and patent theft. It's a whipsaw ride, but always good, giddy fun."
—Scott Smith, author of A Simple Plan & The Ruins
Knopf, 9781101946732, 304pp.
Publication Date: August 29, 2017
About the Author
JONATHAN SKARITON was born in Athens, Greece, and attended the University of Edinburgh and the University of Wales, Bangor. He has a Ph.D. in cognitive neuroscience and experimental psychology. Skariton works as a cognitive neuroscientist for the largest fragrance manufacturer in the world. He lives in Kent, England.
or
Not Currently Available for Direct Purchase