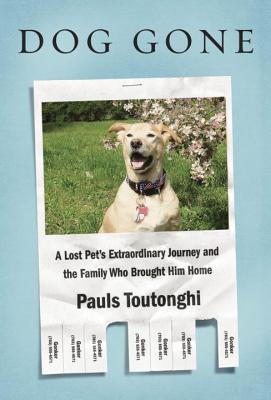 Dog Gone
A Lost Pet's Extraordinary Journey and the Family Who Brought Him Home
Hardcover

* Individual store prices may vary.
Other Editions of This Title:
Digital Audiobook (6/14/2016)
Paperback (4/4/2017)
MP3 CD (6/15/2016)
Compact Disc (6/15/2016)
Hardcover, Large Print (10/19/2016)
Description
The true story of a lost dog's journey and a family's furious search to find him before it is too late.

Saturday, October 10, 1998. Fielding Marshall is hiking on the Appalachian Trail. His beloved dog—a six-year-old golden retriever mix named Gonker—bolts into the woods. Just like that, he has vanished. And Gonker has Addison's disease. If he's not found in twenty-three days, he will die.

The search begins. Fielding and his father, John, are dispatched to the field. They have the family's other dog, Uli, in tow. Combing the trails, Fielding and his father bond like never before. Fielding's sister, Peyton, calls and talks him through some of his lowest moments. And—at home—Fielding's mother, Virginia, sets up a command center.

Virginia becomes a field general. With a map and a phone book at her side, she contacts animal shelters, police precincts, general stores, community centers, newspapers, radio stations, churches, and park rangers. She is tireless. The local paper in Waynesboro, Virginia, writes a small story about the family's search. The story hits the AP newswire. Tips—many of them of questionable authenticity—pour in from across the country. But as the search continues, the Marshalls realize they may not survive losing Gonker. Even as the wounds of their past return to haunt them and threaten to jeopardize everything, they know they have one mission: bring Gonker home.

With a big heart, intelligent humor, and a deft touch, Pauls Toutonghi tells this true tale of loss, love, and resilience. Dog Gone is by turns a story about how a family comes together in a crisis—and the way heroism can assert itself in the little things we do each day.


Praise For Dog Gone: A Lost Pet's Extraordinary Journey and the Family Who Brought Him Home…
"Toutonghi's narrative is well-written and fast-paced. . . . Like a good novel, "Dog Gone" is full of twists that keep the reader engaged until the very end. . . . Don't be surprised if, at the finish of "Dog Gone," you find yourself wanting to rush to an animal rescue shelter. . . . Dog lovers of the world can unite behind this book." —The Washington Post

"Lovely. . . . He'll make you laugh…and he'll evoke your tears. . . . It's a story about the triumph of hope over despair. And a story of persistence, courage, and determination. And in its most profound and universal sense, a love story." —Richmond Times-Dispatch 

"A moving nail-biter." —Good Housekeeping

"A beautifully told story of a lost childhood, and a woman's efforts to make things right with herself, her children, and the world." —The Oregonian

"The story of loss, love and resilience is told by Toutonghi with lots of heart and humor. The book stresses how heroism can assert itself in the little things we do each day." —The News & Observer

"A testament to the powerful relationship that we humans have with the furry creatures. . . . the power of one person helping another, though, will hopefully restore a little bit of faith in human goodness. And who doesn't need a bit of that right now?" —The Fredericksburg Free Lance-Star

"A poignant reminder of the important role dogs often fill as they help their human companions traverse difficult life passages." —Library Journal

"[Toutonghi] takes an intriguing parcel of family lore—the fervid (some would call it obsessive) hunt for a missing pet—and uses it to explore histories of abuse and illness that cloud an otherwise idyllic suburban household. Dog Gone is a quick read with a deceptively humble focus: how dogs impact the lives of the humans who care for them." —Willamette Week

"Dogs are us before we lost our innocence. Pauls Toutonghi has captured the joy of being a dog and the joy that dogs bring to our lives. In this moving, suspenseful, elegantly written story, he explores how a dog can be a loom that weaves together many souls into a beautiful fabric." —Dean Koontz, New York Times bestselling author of 77 Shadow Street and A Big Little Life

"You can't write about dogs without writing about people. They chose long ago to be our good company in the adventure of being alive, and ever since they've served as our mirrors, our teachers, and the most stubbornly loyal of friends. Pauls Toutonghi understands the richness of these bonds. In Dog Gone, this engaging storyteller lights up the ways the love between human and dog brings both species to hilarity, gratitude, deep sorrow and a tenderness so real you can't help but touch it." —Mark Doty, National Book Award winning author of Dog Years and Heaven's Coast
 
"Reader, prepare to fall in love: with Gonker, a dog unlike any other I've ever encountered; with the Marshall family, on their quest to find him; and with Pauls Toutonghi's achingly beautiful prose. Dog Gone does more than demonstrate the crucial and undeniable role that dogs—or any pet, for that matter—play in our lives. It illustrates the remarkable resilience of family in times of crisis. If you have ever loved and lost a pet, rest assured. You have found the book to make you whole again. Dog Gone is simply wonderful." —Julie Klam, New York Times bestselling author of Love at First Bark and You Had Me at Woof

"A hugely entertaining book. It's got humor, pathos, gorgeous prose, and its details are arranged with the precision of a jeweler." —Tom Bissell, author of Apostle and Extra Lives

"This is one of those rare books that reads you more than you read it.  It's a family story, a pet story, a spiritual journey.  It's almost a novel, except that it's 'true.'  It's kind-hearted, crazy, and moving.  I found myself laughing.  I found myself with tears to wipe away.  Mostly, I gasped:  the prose is so beautiful, with word-clusters that lodge in the memory.   An accomplished piece of storytelling by one of the best younger writers in this country." —Jay Parini, author of Empire of Self: A Life of Gore Vidal

"There are so many books and so many dogs in the world, but trust me when I say there are no books like Pauls Toutonghi's magnificent Dog Gone and no dogs like those he brings to life in this tender, weird, sly, erudite tale of longing, loss, and redemption. A page turning adventure story, a meditation on how animals can bring out the best in humans, Dog Gone is the best book I've read in a long time." —Karen Karbo, author of The Stuff of Life and the Kick-Ass Women series

"More a commentary on human nature, family dynamics, and past sorrows than a standard lost-dog story, the book uses Gonker's disappearance to explore the gamut of human emotions that family relationships can exude." —Publishers Weekly
 
"Sensitively told. . . . In empathetic and engaging prose, Toutonghi reveals how deeply the dog's disappearance affected his entire human family, and, in a larger sense, how a family works." —Booklist
Knopf, 9781101947012, 272pp.
Publication Date: June 14, 2016
About the Author
PAULS TOUTONGHI is a first-generation American. He has been awarded a Pushcart Prize, and he has written for The New Yorker, The New York Times, Virginia Quarterly Review, Granta, Tin House, and numerous other periodicals. He lives in Oregon, where he teaches at Lewis & Clark College.
or
Not Currently Available for Direct Purchase