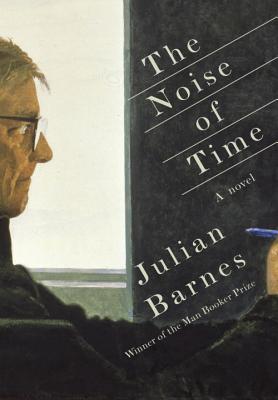 The Noise of Time
A novel
Hardcover

* Individual store prices may vary.
Other Editions of This Title:
Digital Audiobook (1/27/2016)
Paperback (6/13/2017)
Hardcover, Large Print (6/8/2016)
Description
A compact masterpiece dedicated to the Russian composer Dmitri Shostakovich: Julian Barnes's first novel since his best-selling, Man Booker Prize–winning The Sense of an Ending.

In 1936, Shostakovich, just thirty, fears for his livelihood and his life. Stalin, hitherto a distant figure, has taken a sudden interest in his work and denounced his latest opera. Now, certain he will be exiled to Siberia (or, more likely, executed on the spot), Shostakovich reflects on his predicament, his personal history, his parents, various women and wives, his children—and all who are still alive themselves hang in the balance of his fate. And though a stroke of luck prevents him from becoming yet another casualty of the Great Terror, for decades to come he will be held fast under the thumb of despotism: made to represent Soviet values at a cultural conference in New York City, forced into joining the Party and compelled, constantly, to weigh appeasing those in power against the integrity of his music. Barnes elegantly guides us through the trajectory of Shostakovich's career, at the same time illuminating the tumultuous evolution of the Soviet Union. The result is both a stunning portrait of a relentlessly fascinating man and a brilliant exploration of the meaning of art and its place in society.
Praise For The Noise of Time: A novel…
"Exquisite." —O Magazine

 "Stands in an honored literary tradition that includes such predecessors as Barnard Malamud's The Fixer, Adam Johnson's The Orphan Master's Son or this year's Pulitzer Prize winner, The Sympathizer, by Viet Thanh Nguyen [and] another even more audacious tradition, one that includes J.M. Coetzee's The Master of Petersburg, Colm Tóibín's The Master, and Kafka's Leopards by Moacyr Scliar. . . . What can be more ambitious than a writer who seeks to capture the inner life of another great artist?" —Chauncy Mabe, The Miami Herald

"A tense and elegant study of terror, shame and cowardice, of a celebrated artist capitulating to power, yet on his own terms. . . . Barnes interweaves the painful and the sublime to achieve an epic orchestral effect." —Tom Zelman, The Minneapolis Star Tribune

"A great short novel . . . thoughtful, humane and compassionate. . . . But its true beauty is in the impression it leaves of Shostakovich's distress and humanity. . . . The book is a meditation on the idea of character and integrity." —Andre Alexis, The Globe and Mail

 "Elegiac and ultimately affecting. . . . With cerebral precision, Barnes depicts a life encased by history and defined, from the outset, by music." —Anna Mundow, The Barnes & Noble Review

"As elegantly constructed as a concerto . . . another brilliant thought-provoker which explores the cost of compromise and how much confrontation and concession a man and his conscience can endure." —Heller McAlpin, National Public Radio

"Barnes's storytelling is phenomenal; Shostakovich, as tragic and anxious as he is, is utterly fascinating." —Leslie Rieder, The Christian Science Monitor

"This story is truly amazing . . . an arc of human degradation without violence (the threat of violence, of course, everywhere). . . . The whole Kafka madhouse brought to life."—Jeremy Denk, The New York Times Book Review

"Timely and arresting . . . deeply engaging . . . [it] leads us to places only a handful of novelists have the skill and the courage to go. . . . I can't recall any other recent book which offers such a prismatic perspective on the tension between revolutionary discipline and artistic freedom." —Askold Melnyczuk, The Boston Globe

"[An] ambitious Orwellian allegory about the plight of artists in totalitarian societies—and a Kafkaesque parable about a fearful man's efforts to wrestle with a surreal reality, even as he questions his complicity with the system. . . . Barnes's book internalizes these debates, turning them into conversations within Shostakovich's own head. On one hand, defending his need to survive and protect his family; on the other, cursing himself as a cowardly worm." —Michiko Kakutani, The New York Times

"Elegiac and ultimately affecting. . . . With cerebral precision, Barnes depicts a life encased by history and defined, from the outset, by music." —Anna Mundow, The Barnes & Noble Review

"Magnificent . . . Novels about artistic achievement rarely do justice to their subjects.  The Noise of Time is that rarity. It is a novel of tremendous grace and power, giving voice to the complex and troubled man whose music outlasted the state that sought to silence him." —Anthony Marra, Publishers Weekly

"A great novel, Barnes's masterpiece—the particular and intimate details of the life under consideration beget questions of universal significance; the operation of power upon art, the limits of courage and endurance, the sometimes intolerable demands of personal integrity and conscience. This novel, like [The Sense of an Ending], gives us the breath of a whole life within the pages of a slim book." —Alex Preston, The Guardian

"Undoubtedly one of Barnes's best novels." —Robert Douglas-Fairhurst, Sunday Times

"The Noise of Time tells the story of Dmitri Shostakovich, the Russian composer both feted and condemned by the Soviet state during his lifetime; but it does so not in aridly "truthful" fashion, but in full, delighted knowledge of how little use facts are in determining the essence of human experience, let alone its intersection with history and politics … A complex meditation on the power, limitations and likely endurance of art." —Alex Clark, Observer

"Barnes brilliantly captures the composer's conflicted state of mind, which culminates in the chilling realization that 'death was preferable to endless terror.' … Packs an extraordinary emotional punch." —Sebastian Shakespeare, Tatler

"[Barnes is] a master of the narrative sidestep… Not just a novel about music, but something more like a musical novel… The story itself is structured in three parts that come together like a broken chord.  It is a simple but brilliant device, and one that goes right to the heart of this novel."—Robert Douglas-Fairhurst, The Times

"A novel of deceptive slenderness… Barnes has reinvented himself once again." —Duncan White, Daily Telegraph
Knopf, 9781101947241, 224pp.
Publication Date: May 10, 2016
About the Author
JULIAN BARNES is the author of twenty previous books including, most recently, Keeping an Eye Open: Essays on Art. He has received the Man Booker Prize, the Somerset Maugham Award, the Geoffrey Faber Memorial Prize, the David Cohen Prize for Literature, and the E. M. Forster Award from the American Academy of Arts and Letters; in France, the Prix Médicis and the Prix Femina; in Austria, the State Prize for European Literature. In 2004 he was named Commandeur de l'Ordre des Arts et des Lettres by the French Ministry of Culture. His work has been translated into more than forty languages. He lives in London.

www.julianbarnes.com
or
Not Currently Available for Direct Purchase