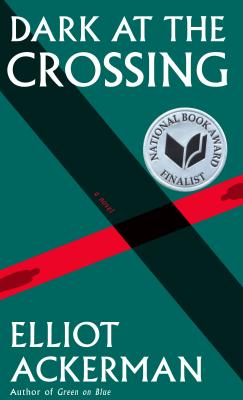 Dark at the Crossing (Hardcover)
A novel
Knopf, 9781101947371, 256pp.
Publication Date: January 24, 2017
Other Editions of This Title:
Compact Disc (1/24/2017)
Paperback (11/21/2017)
Hardcover, Large Print (5/3/2017)
* Individual store prices may vary.
Description
NATIONAL BOOK AWARD FINALIST

"Transports readers into a world few Americans know" —Washington Post

A timely new novel of stunning humanity and tension: a contemporary love story set on the Turkish border with Syria.

Haris Abadi is a man in search of a cause. An Arab American with a conflicted past, he is now in Turkey, attempting to cross into Syria and join the fight against Bashar al-Assad's regime. But he is robbed before he can make it, and is taken in by Amir, a charismatic Syrian refugee and former revolutionary, and Amir's wife, Daphne, a sophisticated beauty haunted by grief. As it becomes clear that Daphne is also desperate to return to Syria, Haris's choices become ever more wrenching: Whose side is he really on? Is he a true radical or simply an idealist? And will he be able to bring meaning to a life of increasing frustration and helplessness? Told with compassion and a deft hand, Dark at the Crossing is an exploration of loss, of second chances, and of why we choose to believe--a trenchantly observed novel of raw urgency and power.

"Promises to be one of the most essential books of 2017" —Esquire
About the Author
ELLIOT ACKERMAN, author of the critically acclaimed novel Green on Blue, is based out of Istanbul, where he has covered the Syrian Civil War since 2013. His writings have appeared in The New Yorker, The Atlantic, The New Republic, and The New York Times Magazine, among other publications, and his stories have been included in The Best American Short Stories. He is both a former White House Fellow and Marine, and served five tours of duty in Iraq and Afghanistan where he received the Silver Star, the Bronze Star for Valor, and the Purple Heart.
Praise For Dark at the Crossing: A novel…
"One could argue that the most vital literary terrain in America's overseas wars is now occupied not by journalists but by novelists...Elliot Ackerman is certainly one of those novelists...He has created people who are not the equivalents of the locally exotic subjects in your average NPR story, and he has used them to populate a fascinating and topical novel."
—Lawrence Osborne, New York Times Book Review

"Ackerman, who lives in Istanbul and has written some fine reportage from the Turkish borderlands, knows Gaziantep well and sharply depicts its incongruities . . . He shows boldness and empathy in trying to envision modern conflagrations from foreign vantage points."
—Sam Sacks, Wall Street Journal

"Ackerman's eye for detail grounds this novel in a space that quickly transports readers into a world few Americans know . . . Dark at the Crossing is not only a fictional meditation on remorse, betrayal, love and loss, but also a journey that returns us to the beautiful and broken world we live in."
—Washington Post

"Dark at the Crossing promises to be one of the most essential books of 2017."
—Esquire

"Visceral, unsentimental and in a style that begs to be underlined and savored, this is a novel about how people carry the emotional and physical scars of war through their lives, and how war both demolishes and becomes home . . . The many references to actual street and district names, smells and unique predicaments, such as underfunded, understaffed hospitals that are teeming with refugees, heighten the book's authenticity and earnestness."
—Pittsburgh Post-Gazette    

"Dark at the Crossing is every bit as taut and harrowing as the place it depicts, a region where fifteen years of relentless war play out in filthy refugee camps and upscale shopping malls. Elliot Ackerman has written a brilliant, admirably merciless novel of broken lives, broken places, and good intentions gone awry."
—Ben Fountain, author of Billy Lynn's Long Halftime Walk

"Infused with profound knowledge, empathy, and chutzpah, Ackerman's writing is hauntingly evocative and beautiful. It is a rare writer who is not afraid to deal with the toughest conflicts, ask the hardest questions, show the darkest side of even heroes, and still manage to renew our faith in humanity."
—Elif Shafak, author of The Bastard of Istanbul 

"Here is a thriller, psychological fiction, political intrigue, and even a love story all wrapped into a stunningly realistic and sometimes horrifying package. Put Ackerman on the A-list."
—Library Journal (starred)

"Elliot Ackerman's quietly subversive sensibilities make him one of the most potent and original writers to emerge from that elite platoon of men and women who, since 9/11, have laid down their guns to pick up a pen. Once again, here in his second novel, Dark at the Crossing, Ackerman insists American readers immerse themselves in the humanity of their country's enemies and victims. His work is a unique and bittersweet blessing of raw grace and naked, bleeding empathy."
—Bob Shacochis, author of The Woman Who Lost Her Soul

"Once again, Elliot Ackerman dares to imagine his way into the minds, lives, and fates of people too many American writers would judge as inaccessible—perhaps even forbidden. The result is a book whose emotional acuity is matched only by its literary artistry. They don't award medals of valor to novelists, but while reading this book I often thought, Maybe they should."
—Tom Bissell, author of Apostle: Travels Among the Tombs of the Twelve

"Ackerman has done a masterful job of creating a novel of ideas that invites thoughtful consideration of the folly and futility of war and the failure of idealism . . . The text is beautifully written, and the rendering of the setting is superb. Dark at the Crossing makes a significant contribution to the literature of war."
—Booklist (starred)

"Ackerman is a magnificent storyteller. Dark at the Crossing is a quietly but intensely profound novel. It captures this epic moment in Middle East history in human terms. It's a riveting read. I couldn't put it down."
—Robin Wright, author of Rock the Casbah: Rage and Rebellion across the Islamic World

"Welcome to a dark world illuminated by visions that the writer Elliot Ackerman has brought back from his wars, his journalistic investigations, and from his artist's imagination. We see a professional soldier's overused muscles, the smile of an Ivy League war-profiteer in his bathrobe, a Turkish woman's seductive glamour—all with lifelike clarity. This novel makes us see and hear as if we are there, too close for comfort, as Ackerman's hero and heroine are drawn, against any self-preserving logic, back across the border into the maelstrom of Syria. Can anyone make this dark crossing and remain true? Ackerman's heroes try. Like Robert Stone's A Flag for Sunrise, to which Ackerman's novel bears comparison, both for its sophisticated understanding of current affairs and its grim realism, Dark at the Crossing is a disturbing report on the ancient paradox of war in which life and death, good and evil are intimately intertwined. After the bodies fall, the green grass grows over them. We look at the graves and ask, 'What does it mean?' In this stunning, grief-inspiring book, it seems to me that Ackerman confesses we do not know. I don't think anyone can ask more of a piece of literature than this delivers."
—Atticus Lish, author of Preparation for the Next Life

"A timely and unsettling novel . . . A stark and multifaceted portrait of the civil war in Syria."
—Publishers Weekly

"Elliot Ackerman's slow-build, atmospheric, and profoundly compassionate novel offers an unexpected and unique perspective on the most volatile conflict zone of the present day. Richly detailed and told with the force of first-hand experience, Dark at the Crossing is a courageous and vital work."
—Greg Baxter, author of The Apartment

"Timely . . . Former Marine and current Middle East scholar Ackerman explores territory familiar to him but uncharted to most of us. Ackerman humanizes a war fraught with tragedy and seemingly without resolution."
—Kirkus Reviews

"Ackerman makes clear the tangled, shifting lines in the war . . . This is a tightly packed, nuanced narrative in which virtually every character introduced plays a pivotal role. The story is told with economy and a sense of urgency even when the characters seem to be stuck in a holding pattern."
—Washington Independent Review of Books

"Affirms [Ackerman's] high regard among contemporary storytellers. His story blends tension and substance and is anything but ordinary."
—Military Times

"Dark at the Crossing features a novelist fully growing into his literary powers . . . Ackerman's gift for prose and dialogue are on full display. He crafts a brutal love story and also beautifully depicts a violent part of the world largely misunderstood by those on the outside of the battle lines. A must read for anyone attempting to further their understanding of the Middle East, as well as our shared humanity."
—Writer's Bone

"Dark At The Crossing is written with exquisite care – for both its exactness of language and its materials . . . Ackerman's American readers are afforded a chance to enter the emotional range of those they have abandoned in Syria – and in the end, Ackerman doesn't hold back when the horror mounts."
—On the Seawall
 
"Ackerman extends an impressive amount of empathy toward each of the characters . . . Instead of trying to make a grand statement about what war means, Dark at the Crossing illustrates how war can mean different things to different people."
—Shelf Awareness
or
Not Currently Available for Direct Purchase