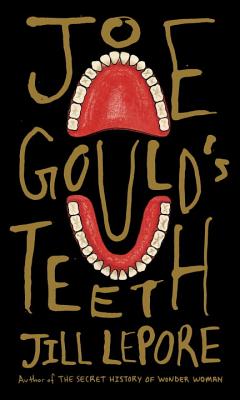 Joe Gould's Teeth (Hardcover)
Knopf, 9781101947586, 256pp.
Publication Date: May 17, 2016
Other Editions of This Title:
Digital Audiobook (5/16/2016)
Paperback (4/18/2017)
* Individual store prices may vary.
Description
From New Yorker staff writer and Harvard historian Jill Lepore, the dark, spellbinding tale of her restless search for the long-lost, longest book ever written, a century-old manuscript called "The Oral History of Our Time."

Joe Gould, a madman, believed he was the most brilliant historian of the twentieth century. So did some of his friends, a group of modernist writers and artists that included E. E. Cummings, Marianne Moore, William Carlos Williams, John Dos Passos, and Ezra Pound. Gould began his life's work before the First World War, announcing that he intended to write down nearly everything anyone ever said to him. "I am trying to preserve as much detail as I can about the normal life of every day people," he explained, because "as a rule, history does not deal with such small fry." By 1942, when The New Yorker published a profile of Gould written by the reporter Joseph Mitchell, Gould's manuscript had grown to more than nine million words. But when Gould died in 1957, in a mental hospital, the manuscript was nowhere to be found. Then, in 1964, in "Joe Gould's Secret," a second profile, Mitchell claimed that "The Oral History of Our Time" had been, all along, merely a figment of Gould's imagination. Lepore, unpersuaded, decided to find out.  

Joe Gould's Teeth is a Poe-like tale of detection, madness, and invention. Digging through archives all over the country, Lepore unearthed evidence that "The Oral History of Our Time" did in fact once exist. Relying on letters, scraps, and Gould's own diaries and notebooks—including volumes of his lost manuscript—Lepore argues that Joe Gould's real secret had to do with sex and the color line, with modernists' relationship to the Harlem Renaissance, and, above all, with Gould's terrifying obsession with the African American sculptor Augusta Savage. In ways that even Gould himself could not have imagined, what Gould wrote down really is a history of our time: unsettling and ferocious.
About the Author
JILL LEPORE is the David Woods Kemper '41 Professor of American History at Harvard University and a staff writer at The New Yorker. Her books include the New York Times best seller The Secret History of Wonder Woman and Book of Ages, a finalist for the National Book Award. She lives in Cambridge, Massachusetts.
Praise For Joe Gould's Teeth…
"A breezy, compulsively readable inquiry that touches on several big subjects, including what constitutes due diligence in journalism versus in history…No one could accuse Lepore of shoddy research: Undaunted by archives, she pores over reams of Gould's letters and diaries, pans for gold in Mitchell's boxes of notes at the New York Public Library, and corroborates her findings with extensive footnotes.….Joe Gould's Teeth is more than just a fascinating footnote to a beloved literary landmark. Using the tools of her trade, Lepore ended up broadening her search for his lost notebooks to encompass trenchant questions about journalism, race, and mental illness. The result has bite." —Heller McAlpin, NPR

"A well-aimed hand grenade of a book, fiercely concentrated in its precision and unflinching in its revelations. Best-selling Lepore's exciting approach to hidden and scandalous historical stories is drawing an enthusiastic, ever-growing readership that will be well primed for this thoughtful exposé." —Booklist, *starred review*

"Engrossing…. Lepore's book is as much about all the people, including herself, who project meaning and significance onto the work and personality of Joe Gould as it is about the man himself. Throughout history there have been peculiar characters who have captured the imagination of everyone they come into contact with, blinding them to obvious flaws and permitting all of us to imagine wonders just beyond what most of us can fathom. We owe Lepore a debt of gratitude for re-introducing us to one of the strangest strangers to have ever walked among us." —Chicago Tribune

"Revelatory….Lepore's inquiry, which first appeared as a long New Yorker article, discovers richer depths to Gould's character than Mitchell ever explored, even if Gould's likability is a casualty…. an impressive study of paradoxes….Lepore, a young prolific academic at the other end of the productivity spectrum from Mitchell, has upended the subject and author of the New Yorker's most-read article….she ends up with more to get your teeth into." —San Francisco Chronicle

"Marvelous….Lepore has established herself as perhaps the most prolific, nimble and interesting writer of American history today, vigorously kicking at the past until she dislodges it from the ossifying grip of received wisdom…. As she brings to bear the methods of an ace historian at the top of her game, Lepore turns "Joe Gould's Teeth" into a ripping detective story….Of all the stories swirling around Gould's, none interests Lepore so much as that of Augusta Savage, an African American sculptor and civil rights activist from Harlem who became the unreciprocated love of Gould's life, an unwilling muse and, after she refused his offer of marriage, an object of outright harassment. No other writer has made this connection between Savage and Gould, and one of the central satisfactions of "Joe Gould's Teeth" is the way it unexpectedly veers away from Gould to take Savage's story on its own terms, delivering by Trojan horse, as it were, a gift-wrapped second biography, a personal history set against Gould's in striking, illuminating relief." —The Washington Post

"Lepore has taken up the mantle of literary resurrectionist, and in 'Joe Gould's Teeth' she succeeds despite the unsavory nature of her subject's life and spurious literary legacy. Lepore shrewdly recounts her quest to find a near-mythical 'lost' manuscript by her subject, the New York eccentric who claimed to have written down nearly everything anyone ever said to him, starting before the outbreak of World War I….A madman's grossly engrossing tale." —The New York Times

"Anyone who has read Lepore knows that, let loose in archives—library archives, archives of memory—she is crackerjack, squeezing into claustrophobic corners where the good stuff is found….She surfaces with different riches, profiles of her own, of Gould, Mitchell and sculptress Augusta Savage, a subject of Gould's uninvited advances…. Savage is a vital counterpoint here, and Lepore seemingly plucks her story from the air, a sculpted piece of African-American experience all its own, but you know she found it in those cobwebby archives….It is easy to get a charge out of this parti-colored, flabbergasting tale, one that typifies what Lepore understands as 'the asymmetry of the historical record.' In the noise and silences, with only the evidence at hand, our sleuth must discern the card-carrying account." —Star Tribune

"Like a detective, Lepore describes her mazelike quest, her clues, her dead ends, the many people she met and talked to, the dusty archives visited in a wonderful, sprightly prose lusciously filled with allusions and references….Borges' great short story about the fictional writer Pierre Menard, author of the Quixote, comes to mind. Lepore is Borges to Gould's Quixote, which was his life writ large…maybe. A fascinating, sharply written, thoroughly engaging jeu d'esprit." —Kirkus Reviews

"Lepore's first four sentences each have a separate footnote—this is nimble detective work…. Lepore is shrewd about the sticky ethics here, carefully documenting how little research Mitchell did, how much he preferred just listening to Gould." —Los Angeles Times
 
"Lepore has written an ingenious puzzle book that works on multiple levels—as a straightforward account of a research query; a pocket history of at least a sliver of Modernism; a surprisingly dark biography; and, ultimately, an examination of what it means when we say that a story is true. It's a powerful work, and it will resonate with, and perhaps even haunt, readers long after they've reached the last page." —Richmond Times-Dispatch

"If Joseph Mitchell gently wrote the Greenwich Village eccentric into urban folklore, faults and all, Lepore, a fellow New Yorker writer, has produced a jolting reality check." —SFGate, recommended reading list

"Lepore deserves credit for taking on the legend surrounding Gould and his oral history. Her prose is wonderful; her research unassailable….She shows us the true Joe Gould rather than the one so many people wanted him to be." —The American Scholar

"If you're a fan of profiles on eccentric historical figures, this is certainly the book for you….Astute….Lepore is a fantastic historian." —The Michigan Daily

"Fascinating…a tragicomic tale of a madman at the intersection of history, fame and fiction….Lepore's book is not only a work of scholarship, but a layered gem of storytelling. It's a puzzle, mystery and archaeological dig rolled into one….This is a book about how we record history and what constitutes the historical record. It's also about the line between fact and fiction. At bottom, the book highlights the limitations of observing and reporting on other people, and the inevitability of bias." —Portland Press Herald

"A fascinating read that brings readers into the archives to hunt for clues about Gould's personal history, his literary comrades (Ezra Pound, E. E. Cummings, William Carlos Williams), his obsession with an African-American sculptor named Augusta Savage, and his death, in a mental hospital, in 1957….Lepore takes a forgotten character and uses her impeccable research skills to debunk myths and reveal a clearer picture of the past. Her narrative voice is chatty—pulling us aside, leaning in, and telling us her 'Holy Grail' story, a form familiar to many collectors, and much beloved." —Fine Books & Collections

"Fascinating....strongly recommended....packs a wallop of thought-provoking ideas." —Chicago Center for Literature and Photography

"Lepore is absolutely an astonishing historian and a riveting reader who can take sprinkled and disparate facts and weave them into a masterpiece of compelling narrative….Joe Gould's Teeth was one of the best books I've read this far. It stands out not only for Lepore's skilled ability to weave together a narrative out of a jumble of facts, many of which were contradictory, but also her compassion….Read it as I did, read it late into the night when no one else is around, so that when you finish it you're alone with the silence, maybe the cat snoozing nearby, but you're alone to think and react to such a powerful book. It took my breath away." —Broke By Books

"Engaging….This book will delight readers interested in the people's history of literary modernism." —Library Journal

"Fascinating…This is a breezy summer read to sweep out the mental cobwebs." —The Florida Times-Union

"An absorbing literary detective story, one which, nearly 60 years after his death, will likely be the last we shall hear of Joseph Ferdinand Gould." —Toronto Star
Coverage from NPR
or
Not Currently Available for Direct Purchase