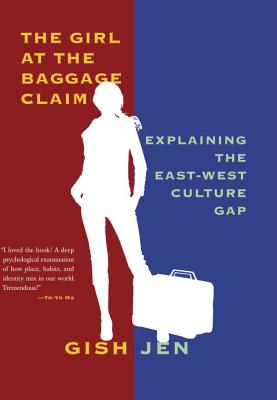 The Girl at the Baggage Claim
Explaining the East-West Culture Gap
Hardcover

* Individual store prices may vary.
Other Editions of This Title:
Digital Audiobook (6/26/2017)
Paperback (1/16/2018)
Compact Disc (6/27/2017)
MP3 CD (6/27/2017)
Compact Disc (6/27/2017)
MP3 CD (6/27/2017)
Description
A provocative and important study of the different ideas Easterners and Westerners have about the self and society and what this means for current debates in art, education, geopolitics, and business.

Never have East and West come as close as they are today, yet we are still baffled by one another. Is our mantra "To thine own self be true"? Or do we believe we belong to something larger than ourselves--a family, a religion, a troop--that claims our first allegiance? Gish Jen--drawing on a treasure trove of stories and personal anecdotes, as well as cutting-edge research in cultural psychology--reveals how this difference shapes what we perceive and remember, what we say and do and make--how it shapes everything from our ideas about copying and talking in class to the difference between Apple and Alibaba. As engaging as it is illuminating, this is a book that stands to profoundly enrich our understanding of ourselves and of our world.
Praise For The Girl at the Baggage Claim: Explaining the East-West Culture Gap…
"Timely and extremely important . . . In this book Gish Jen has once again taken the universal and made it personal, and vice versa . . .  She is uniquely suited to explore this topic." —Lisa See, The Washington Post
 
"Wise, impeccably researched, beautifully written, and vitally important . . . Gish Jen brings a novelist's understanding heart and a scholar's appreciation to her new book on the cultural differences between East and West, and a sympathetic perspective of someone who has been both an insider and an outsider in both." —Nell Minow, The Huffington Post
 
"I loved the book! A deep psychological examination of how place, habits, and identity mix in our world. Tremendous!" —Yo-Yo Ma

"Fascinating . . . Rich with examples of the contrast between Asian Society and our own. . . . She is onto something that the typical American may become aware of as we bump into people unlike ourselves—from other cultures, not limited to Asians." —Repps Hudson, St. Louis Post-Dispatch
 
"A fascinating, brilliant book that gripped me from page one. Subtle, erudite, and daring, The Girl at the Baggage Claim is a tour de force by one of the most insightful writers of our time." —Amy Chua, the John M. Duff Jr. Professor of Law at Yale Law School, and author of Battle Hymn of the Tiger Mother 

"[Turns] a study of culture and psychology into an engaging narrative. Whether in commerce, diplomacy, or travel, readers can take away memorable insights into how identity and context shape worldviews." —Linda Levitt, Popmatters

"Jen holds up a comprehensive and scholarly mirror to both worldviews—and be warned: Her mirror is honest, and at times provocative." —Deborah Mason, BookPage
 
"I honestly can't overstate how fascinating I found this book. It's shaken (in the best possible way) some of my basic assumptions about being a Self." –Jason Gots, producer of Big Think

"An excellent and engaging read, certain to appeal to readers interested in cross-cultural communication, cognitive science, and the experience of Asian Americans in the United States." —Rebecca Brody, Library Journal (starred review)

"[Jen] articulates the complexities of culture with a novelist's command of language in this rich exploration of the East-West culture gap." —Publishers Weekly

"Insightful, far-reaching and a joy to read, Gish Jen takes on the mystery of cultural difference, and succeeds in cracking the code. The Girl at the Baggage Claim answered questions I've been asking my whole life." —David Henry Hwang, playwright of M. Butterfly

"I honestly can't overstate how fascinating I found this book. It's shaken (in the best possible way) some of my basic assumptions about being a Self." –Jason Gots, producer of Big Think
  
"This book gives special proof to the belief that our best novelists are also our best psychologists. With characteristic wit and unfailing insight, Gish Jen creates a genre all her own—uniquely universal, deeply serious, and unselfconsciously joyous." —Maryanne Wolf, the John DiBiaggio Professor of Citizenship and Public Service at Tufts University, and author of Proust and the Squid: The Story and Science of the Reading Brain

"What a delightful exploration of ideas about how culture affects notions of the self. In her trademark lively and witty prose, Gish Jen not only limns non-Western views of the self but questions whether the Western self is really a natural way to be. A powerful, provocative work." —Michael Puett, the Walter C. Klein Professor of Chinese History at Harvard University, and author of The Path: What Chinese Philosophers Can Teach Us About the Good Life.

"Gish Jen draws on personal experience, interviews with experts, and her astute reading of both literature and social science to illuminate the crucial question of self in culture. Misunderstanding East-West differences can cost us in every way we know how to measure: in money, friendship, education, in the balance of power, and the fate of the planet. The Girl at the Baggage Claim is remarkable and fluent but, most of all, essential." —Sherry Turkle, the Abby Rockefeller Mauzé Professor of the Social Studies of Science and Technology at MIT, and author of Reclaiming Conversation: The Power of Talk in a Digital Age.

"Science has revealed how our senses filter the world around us—making us focus on visual boundaries, musical repetition, and musky odors. With her novelist's insights, Gish Jen shows us how differences in culture can filter our world as well. The Girl at the Baggage Claim is truly eye-opening and thought-provoking." —Eric Lander, president and founding director of the Broad Institute of MIT and Harvard University
 
"A beautifully observed book with a perfect, light tone, The Girl at the Baggage Claim poignantly captures the personal tussle between independence and interdependence so many of us are caught in. A must read for anyone navigating the East-West divide." —Priya Natarajan, Professor of Astronomy and Physics at Yale University, and author of Mapping the Heavens: The Radical Scientific Ideas That Reveal the Cosmos. 
 
Knopf, 9781101947821, 336pp.
Publication Date: February 28, 2017
About the Author
GISH JEN is the author of four novels, a book of stories, and a previous book of nonfiction, Tiger Writing. Her honors include the Lannan Literary Award for fiction and the Mildred and Harold Strauss Living Award from the American Academy of Arts & Sciences. She teaches from time to time in China and otherwise lives with her husband and two children in Cambridge, Massachusetts.
or
Not Currently Available for Direct Purchase