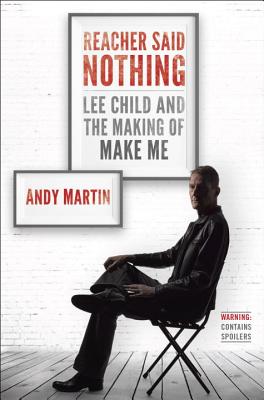 Reacher Said Nothing (Hardcover)
Lee Child and the Making of Make Me
Bantam, 9781101965450, 368pp.
Publication Date: November 24, 2015
* Individual store prices may vary.
Description
Fans of Lee Child know well that the muscular star of his bestselling novels, Jack Reacher, is a man of few words—and a lot of action. In Reacher Said Nothing, Andy Martin shadows Child like a literary private eye in a yearlong investigation of what it takes to make fiction's hottest hero hit the page running. The result is a fascinating, up-close-and-personal look into the world and ways of an expert storyteller's creative process as he undertakes the writing of the much anticipated twentieth Jack Reacher novel, Make Me.
 
Fueled by copious mugs of black coffee, Lee Child squares off against the blank page (or, rather, computer screen), eager to follow his wandering imagination in search of a plot worthy of the rough and ready Reacher. While working in fits and starts, fine-tuning sentences, characters, twists and turns, Child plies Martin with anecdotes and insights about the life and times that shaped the man and his methods: from schoolyard scraps and dismal factory jobs to a successful TV production career and the life-changing decision to put pencil to paper. Then there's the chance encounter that transformed aspiring author James Grant into household name "Lee Child." And between bouts at the keyboard in an office high above Manhattan, there are jaunts to writers' conventions, book signings, publishing powwows, chat shows, the Prado in Madrid, American diners, and English pubs.
 
"Can I—the storyteller—get away with this?" Lee Child ponders, as he hones and hammers his latest nail-biter into fighting trim. Numerous bestsellers and near worldwide fame say he can. Jack Reacher may be a man of few words, but Reacher Said Nothing says it all about a certain tall man with a talent for coming out on top.

Praise for Reacher Said Nothing
 
"Martin, an unabashed fan of Child's work, conveys his excitement at hanging out with Child."—Publishers Weekly
 
"In more than seventy tight vignettes . . . Child, his backstory, and his work come alive. Martin's irrepressible glee about the project is infectious. Recommended for fans of Child's work or aspiring novelists who could benefit from an insider's view of the messy, complicated, and transcendent act of writing."—Library Journal

"Amazingly enjoyable and genuinely enlightening, largely because Lee Child is as thoughtful and as amusing as you'd think from reading his great thrillers."—Sullivan County Democrat
 
"An unusual entry in the annals of literary biography . . . fascinating . . . I could not stop reading."—Sarah Weinman, The Crime Lady
 
"One-of-a-kind . . . It's funny, serious, a kind of mock-heroic and heroic together. It's quizzical and respectful, sophisticated and self-deprecating."—Professor Dame Gillian Beer
 
"Andy Martin is no mere 'Reacher Creature,' as fans of Lee Child's Jack Reacher are known. He's something of a Reacher Teacher. Martin's book is the perfect accompaniment to all things Reacher. It explores, it explains, and it entertains. Like a detective novel, Reacher Said Nothing takes you down alleys and lanes and streets cast in shadow—but the journey isn't urban, it's in the boulevards and byways between your own ears. Andy's writing is a brainiac's delight."—Sam Fussell, author of Muscle
About the Author
Andy Martin is a former fellow of the Cullman Center for Scholars and Writers at the New York Public Library. A native of Britain, he lectures at the University of Cambridge for the Department of French. He is the author of Waiting for Bardot, The Boxer and the Goalkeeper, Walking on Water, The Knowledge of Ignorance, Stealing the Wave, and Napoleon the Novelist.
Praise For Reacher Said Nothing: Lee Child and the Making of Make Me…
"[Andy] Martin, an unabashed fan of [Lee] Child's work, conveys his excitement at hanging out with Child."—Publishers Weekly
 
"In more than seventy tight vignettes . . . Child, his backstory, and his work come alive. Martin's irrepressible glee about the project is infectious. Recommended for fans of Child's work or aspiring novelists who could benefit from an insider's view of the messy, complicated, and transcendent act of writing."—Library Journal

"Amazingly enjoyable and genuinely enlightening, largely because Lee Child is as thoughtful and as amusing as you'd think from reading his great thrillers."—Sullivan County Democrat
 
"An unusual entry in the annals of literary biography . . . fascinating . . . I could not stop reading."—Sarah Weinman, The Crime Lady
 
"One-of-a-kind . . . It's funny, serious, a kind of mock-heroic and heroic together. It's quizzical and respectful, sophisticated and self-deprecating."—Professor Dame Gillian Beer
 
"Andy Martin is no mere 'Reacher Creature,' as fans of Lee Child's Jack Reacher are known. He's something of a Reacher Teacher. Martin's book is the perfect accompaniment to all things Reacher. It explores, it explains, and it entertains. Like a detective novel, Reacher Said Nothing takes you down alleys and lanes and streets cast in shadow—but the journey isn't urban, it's in the boulevards and byways between your own ears. Andy's writing is a brainiac's delight."—Sam Fussell, author of Muscle
or
Not Currently Available for Direct Purchase