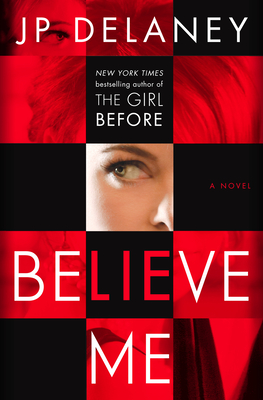 Believe Me (Hardcover)
A Novel
Ballantine Books, 9781101966310, 352pp.
Publication Date: July 24, 2018
* Individual store prices may vary.
Description
In this twisty psychological thriller from the New York Times bestselling author of The Girl Before, an actress plays both sides of a murder investigation.
 
"A compelling read . . . redefines the concept of an unreliable narrator . . . [a] rich, nuanced, highly literary take on the Gone Girl theme."—Booklist (starred review)

A struggling actor, a Brit in America without a green card, Claire needs work and money to survive. Then she gets both. But nothing like she expected.
 
Claire agrees to become a decoy for a firm of divorce lawyers. Hired to entrap straying husbands, she must catch them on tape with their seductive propositions.
 
The rules? Never hit on the mark directly. Make it clear you're available, but he has to proposition you, not the other way around. The firm is after evidence, not coercion. The innocent have nothing to hide.
 
Then the game changes.
 
When the wife of one of Claire's targets is violently murdered, the cops are sure the husband is to blame. Desperate to catch him before he kills again, they enlist Claire to lure him into a confession.
 
Claire can do this. She's brilliant at assuming a voice and an identity. For a woman who's mastered the art of manipulation, how difficult could it be to tempt a killer into a trap?
 
But who is the decoy . . . and who is the prey?

Praise for Believe Me

"Fast-paced . . . A solid pick from bestselling author [JP] Delaney for readers who enjoyed the paranoia factor in A.J. Finn's The Woman in the Window or the unreliable narrator of Paula Hawkins's The Girl on the Train. The domestic thriller trend is showing no signs of slowing. Buy accordingly."—Library Journal
 
"An intense, stylish psychological thriller."—Good Housekeeping
 
"The author produces a bobsled run's worth of twists."—Publishers Weekly
 
 "I so enjoyed it—what a twisty, exciting read."—Sabine Durrant, author of Lie With Me
About the Author
JP Delaney is a pseudonym for a writer who has previously written bestselling fiction under other names. Delaney is the author of the New York Times bestseller The Girl Before, which is being brought to the screen by Academy Award winners Ron Howard and Brian Grazer's Imagine Entertainment.
Praise For Believe Me: A Novel…
"A compelling read . . . redefines the concept of an unreliable narrator . . . [a] rich, nuanced, highly literary take on the Gone Girl theme."—Booklist (starred review)

"Fast-paced . . . A solid pick from bestselling author [JP] Delaney for readers who enjoyed the paranoia factor in A.J. Finn's The Woman in the Window or the unreliable narrator of Paula Hawkins's The Girl on the Train. The domestic thriller trend is showing no signs of slowing. Buy accordingly."—Library Journal
 
"An intense, stylish psychological thriller."—Good Housekeeping
 
"The author produces a bobsled run's worth of twists."—Publishers Weekly
 
 "I so enjoyed it—what a twisty, exciting read."—Sabine Durrant, author of Lie With Me

Praise for JP Delaney's The Girl Before
 
"A pitch-perfect novel of psychological suspense."—Lee Child
 
"The pages fly."—USA Today
 
"The Girl Before generates a fast pace."—The New York Times
 
"Get hooked on this hair-raiser."—Cosmopolitan
 
"[A] must-read."—New York Post
 
"Almost unbearably suspenseful."—Joseph Finder
 
"A masterfully crafted spellbinder."—Booklist (starred review)
 
"Superior psychological suspense."—The Bookseller
 
"A sexy murder mystery."—InStyle