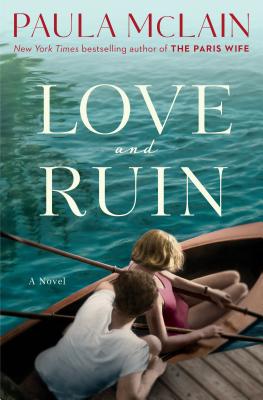 Love and Ruin (Hardcover)
Ballantine Books, 9781101967386, 400pp.
Publication Date: May 1, 2018
* Individual store prices may vary.
Description
The bestselling author of The Paris Wife returns to the subject of Ernest Hemingway in a novel about his passionate, stormy marriage to Martha Gellhorn--a fiercely independent, ambitious young woman who would become one of the greatest war correspondents of the twentieth century. In 1937, twenty-eight-year-old Martha Gellhorn travels alone to Madrid to report on the atrocities of the Spanish Civil War and becomes drawn to the stories of ordinary people caught in the devastating conflict. It's the adventure she's been looking for and her chance to prove herself a worthy journalist in a field dominated by men. But she also finds herself unexpectedly--and uncontrollably--falling in love with Hemingway, a man on his way to becoming a legend. In the shadow of the impending Second World War, and set against the turbulent backdrops of Madrid and Cuba, Martha and Ernest's relationship and their professional careers ignite. But when Ernest publishes the biggest literary success of his career, For Whom the Bell Tolls, they are no longer equals, and Martha must make a choice: surrender to the confining demands of being a famous man's wife or risk losing Ernest by forging a path as her own woman and writer. It is a dilemma that could force her to break his heart, and hers. Heralded by Ann Patchett as "the new star of historical fiction," Paula McLain brings Gellhorn's story richly to life and captures her as a heroine for the ages: a woman who will risk absolutely everything to find her own voice. Advance praise for Love and Ruin "Wonderfully evocative . . . Paula] McLain's fans will not be disappointed; this is historical fiction at its best, and today's female readers will be encouraged by Martha, who refuses to be silenced or limited in a time that was harshly repressive for women."--Library Journal (starred review) "McLain has perfected her dramatic and lyrical approach to biographical fiction, lacing Marty's ardent inner life into electrifying descriptions of place and action. . . . McLain's fast-moving, richly insightful, heart-wrenching, and sumptuously written tale pays exhilarating homage to its truly exceptional and significant inspiration."--Booklist (starred review) "If you loved McLain's 2011 blockbuster The Paris Wife, you're sure to adore her new novel, which is just as good, if not better."--AARP "Romance, infidelity, war--Paula McLain's powerhouse novel has it all."--Glamour
About the Author
Paula McLain is the New York Times bestselling author of the novels Circling the Sun, The Paris Wife, and A Ticket to Ride, the memoir Like Family: Growing Up in Other People's Houses, and two collections of poetry. Her writing has appeared in The New York Times, Good Housekeeping, O: The Oprah Magazine, Town & Country, The Guardian, The Huffington Post, and elsewhere. She lives in Ohio with her family.