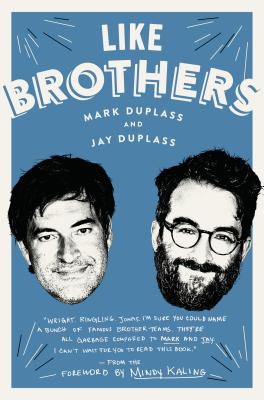 Like Brothers (Hardcover)
Ballantine Books, 9781101967713, 320pp.
Publication Date: May 8, 2018
Other Editions of This Title:
Digital Audiobook (5/7/2018)
CD-Audio (5/8/2018)
* Individual store prices may vary.
Description
The multitalented writers, directors, producers, and actors (as seen on The League, Transparent, and The Mindy Project) share the secrets of their lifelong partnership in this unique memoir.

"A book that anyone will love . . . You can enjoy it even if you have no idea who the Duplass brothers are."—Janet Maslin, The New York Times (17 Refreshing Books to Read This Summer)

Whether producing, writing, directing, or acting, the Duplass Brothers have made their mark in the world of independent film and television on the strength of their quirky and empathetic approach to storytelling. Now, for the first time, Mark and Jay take readers on a tour of their lifelong partnership in this unique memoir told in essays that share the secrets of their success, the joys and frustrations of intimate collaboration, and the lessons they've learned the hard way.
 
From a childhood spent wielding an oversized home video camera in the suburbs of New Orleans to their shared years at the University of Texas in early-nineties Austin, and from the breakthrough short they made on a three-dollar budget to the night their feature film Baghead became the center of a Sundance bidding war, Mark and Jay tell the story of a bond that's resilient, affectionate, mutually empowering, and only mildly dysfunctional. They are brutally honest about how their closeness sabotaged their youthful romantic relationships, about the jealousy each felt when the other stole the spotlight as an actor (Mark in The League, Jay in Transparent), and about the challenges they faced on the set of their HBO series Togetherness—namely, too much togetherness.
 
But Like Brothers is also a surprisingly practical road map to a rewarding creative partnership. Rather than split all their responsibilities fifty-fifty, the brothers learned to capitalize on each other's strengths. They're not afraid to call each other out, because they're also not afraid to compromise. Most relationships aren't—and frankly shouldn't be—as intense as Mark and Jay's, but their brand of trust, validation, and healthy disagreement has taken them far.
 
Part coming-of-age memoir, part underdog story, and part insider account of succeeding in Hollywood on their own terms, Like Brothers is as openhearted and lovably offbeat as Mark and Jay themselves.

"Wright. Ringling. Jonas. I'm sure you could name a bunch of famous brother teams. They're all garbage compared to Mark and Jay. I can't wait for you to read this book."—from the foreword by Mindy Kaling
About the Author
Mark Duplass and Jay Duplass are the critically acclaimed filmmakers behind The Puffy Chair, Baghead, The Do-Deca-Pentathlon, Cyrus, and Jeff, Who Lives at Home. For HBO, they wrote and directed Togetherness, produced the animated series Animals, and created the anthology series Room 104. Their producer credits also include the Netflix documentary series Wild Wild Country and the feature films Safety Not Guaranteed, The Skeleton Twins, and Tangerine. As an actor, Mark has appeared on the hit comedy The League and in such films as Your Sister's Sister, The One I Love, and Blue Jay, while Jay has a leading role on the Golden Globe–winning series Transparent and has appeared in such films as Landline, Beatriz at Dinner, and Outside In. Both brothers had recurring roles on The Mindy Project.
Praise For Like Brothers…
"Wright. Ringling. Jonas. I'm sure you could name a bunch of famous brother teams. They're all garbage compared to Mark and Jay. I can't wait for you to read this book."—from the foreword by Mindy Kaling

"A likable memoir of how Jay and Mark Duplass blazed their idiosyncratic trail, and an inspiring how-to guide."—The New York Times Book Review

"The book is a collection of diverse pieces that fit together to reveal the puzzle of [the Duplass brothers'] lives. There's part of it that's very practical. . . . But another big piece of the book is the chapters that explore their unusually close relationship. . . . Both parts of Like Brothers make for a fascinating read."—Orange County Register

"Like Brothers is more encompassing than most moviemaking memoirs. . . . [It] isn't just worthwhile for fans of the Duplass Brothers; this autobiography is a fascinating look at the art of sneaking into the industry through the back door . . . [and] just how they pulled it off."—Moviemaker

"A frank, intimate, hilarious account of their creative success and personal bond."—Entertainment Weekly
 
"Mark and Jay Duplass are not just brothers, kind of like their book is not just a memoir. . . . The book playfully darts between essays, pop-culture tributes and self-help tips. . . . What sets Like Brothers apart . . . is the uncanny bond between its authors. . . . Like Brothers is ultimately a fascinating window into the creative process, showing the complexities that come with being so inextricably linked."—USA Today

"Equal parts touching memoir and rallying cry, the book is a candid and often unapologetically emotional survival guide for aspiring artists."—Vulture

"Like Brothers is . . . a surprisingly practical road map to a rewarding creative partnership. . . . Like Brothers is as openhearted and lovably offbeat as Mark and Jay themselves."—Broadway World

"As creative partners, we sure learned a thing or two from Mark and Jay Duplass's journey through the Hollywood machine. Like Brothers is an essential guide for making space for yourself in a world that doesn't always encourage individuality and innovation. As useful to an aspiring filmmaker as it is to a pair of siblings wondering 'How do we turn our connection into something great?,' this book will be essential on your shelf."—Lena Dunham and Jenni Konner

"The Duplass Brothers have a genius for conveying deep feeling without ever straying into sentimentality. Here they capture the often wonderful and occasionally terrible business of collaborating professionally with someone you love."—John Green and Hank Green

"As a writing team and directing team, we love seeing two people who are more intelligent and articulate than us explore the dynamic that we don't have the depth or self-reflectiveness to explore ourselves!"—Seth Rogen and Evan Goldberg

"In my next life I'd like to come back as a Duplass Brother. But until then I'll just enjoy their hilarious, insightful book."—Judd Apatow
Coverage from NPR