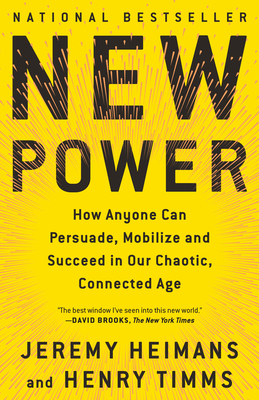 New Power
How Anyone Can Persuade, Mobilize, and Succeed in Our Chaotic, Connected Age
Paperback

* Individual store prices may vary.
Other Editions of This Title:
Digital Audiobook (4/2/2018)
Paperback, Large Print (4/3/2018)
CD-Audio (4/3/2018)
Hardcover (4/3/2018)
Description
NATIONAL BESTSELLER

Shortlisted for the Financial Times/McKinsey Business Book of the Year Award

"The best window I've seen into this new world." —David Brooks, The New York Times
 
In this indispensable guide to navigating the twenty-first century, two visionary thinkers reveal how "new power" is reshaping politics, business, and life to be more open, participatory, and peer-driven. Here, Jeremy Heimans and Henry Timms reveal a new and compelling lens on the biggest stories of our age—from the out-of-nowhere victory of Donald Trump to the rise of mega-platforms like Facebook. They show the strength of new power—movements like #MeToo; platforms like Airbnb and Lyft; organizations like TED and Lego—as well as its dark side. They contrast it to "old power," the foundations of which are coming under assault in an age of ubiquitous participation.
 
The battle between old and new power is determining who governs us, how we work, and even how we think and feel. This groundbreaking book provides a new way to understand the world—and the tools we all need to thrive in it.
Praise For New Power: How Anyone Can Persuade, Mobilize, and Succeed in Our Chaotic, Connected Age…
"A must read for anyone looking to engage people to help them build a movement around a cause or a brand."
—Forbes

"A useful lens to use when thinking about how business has changed, how to spread ideas or start a movement, or create change. This book challenges all of us to think about the values we hold and how we can all be a part of building a more open, equitable, and participatory world."
—Richard Branson
 
"The surest sign that I've encountered a big idea isn't what the idea does to my brain. It's what it does to my eyes. When an idea is sufficiently compelling, it changes the very way I see. That's what happened to me when I read New Power."
—Daniel H. Pink, author of When and Drive

"This fascinating book will transform your understanding of how to gain power—and how to use it for good."
—Adam Grant, author of Originals and Give and Take

"A manifesto for a more humane world."
—NPR

"Fascinating. . . . Cogent. . . . Will intrigue anyone who wants to channel the new power of the crowd."
—Kirkus Reviews

"A must-read, New Power is a gift to our movements. It's not just about going viral—it's about connecting millions of people to roll up our sleeves and create the changes we long for."
—Alicia Garza, co-founder of Black Lives Matter

"You couldn't wish for two better people to write this explanation and exploration of new power than Henry Timms and Jeremy Heimans. . . . It is the detail in this book that really excites. . .its optimism and practical advice. And, unexpectedly, it is funny. . . . I'd encourage you to participate in purchasing."
—Hannah Jane Parkinson, The Guardian

"This book will inform and inspire all those wanting to make change. . .and achieve a goal against all odds."
—Jane Goodall

"Essential and extremely insightful."
—Reid Hoffman, co-author of the #1 New York Times bestsellers The Alliance and The Startup of You

Anchor, 9781101971109, 336pp.
Publication Date: February 26, 2019
About the Author
JEREMY HEIMANS is a lifelong activist and the co-founder and CEO of Purpose, an organization that builds and supports social movements around the world.

HENRY TIMMS is president and CEO of the 92nd Street Y, a visiting fellow at Stanford, and co-founder of #GivingTuesday, an international day of philanthropy.