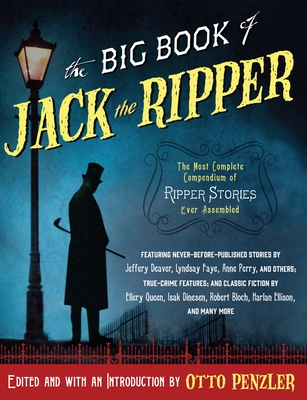 The Big Book of Jack the Ripper (Paperback)
Vintage Crime/Black Lizard, 9781101971130, 864pp.
Publication Date: October 4, 2016
* Individual store prices may vary.
Description
Edgar Award–winning editor Otto Penzler's latest anthology takes its inspiration from the historical enigma whose name has become synonymous with fear: Jack the Ripper.
 
Of the real-life serial killers whose gruesome acts have been splashed across headlines, none has reached the mythical status of Jack the Ripper. In the Ripper's wake, terror swept through the streets of London's East End in the fall of 1888. As quickly as his nightmarish reign came, Saucy Jack vanished without a trace—leaving future generations to speculate upon his identity and whereabouts. He was diabolical in a way never seen before—a killer who taunted the police, came up with his own legendary monikers, and, ultimately, got away with his heinous crimes.

More than a century later, the man "from hell" continues to live on in the imaginations of readers everywhere—and in some of the most spec­tacularly unnerving stories, both fiction and nonfiction, ever written. The Big Book of Jack the Ripper immerses you in the utterly chilling world of Red Jack's London, where his unprecedented evil still lurks.
 
Including:
· Legendary stories by Marie Belloc Lowndes, Robert Bloch, and Ellery Queen
· Captivating essays from George Bernard Shaw, Stephen Hunter, and Peter Underwood
· Riveting new stories by contemporary masters Jeffrey Deaver, Loren D. Estleman, Lyndsay Faye, and many more
· Astonishing theories from the world's foremost Ripperologists
 
From the Ripper Vault:
· Demonic letters from Jack himself
· Gruesome postmortem exams documenting all the bits and pieces of the cases
· Harrowing witness statements taken on those hellish nights
· Breaking newspaper accounts of the East End hysteria
About the Author
OTTO PENZLER is the editor of fourteen Vintage Crime/Black Lizard anthologies, including The Black Lizard Big Book of Black Mask Stories, The Black Lizard Big Book of Locked-Room Mysteries, and, most recently, The Big Book of Sherlock Holmes Stories. He lives in New York City, where he is the proprietor of the Mysterious Bookshop.
Praise For The Big Book of Jack the Ripper…
Advance Praise for Otto Penzler and The Big Book of Jack the Ripper

"A monumental collection. . . . [Penzler] leaves no stone unturned." —Kirkus Reviews

"Ambitious [and] comprehensive. . . . As with previous Big Books, Penzler's dogged research has enabled him to include undeservedly obscure stories. . . . High-quality tales original to this volume, from such 21st-century masters as Daniel Stashower, Lyndsay Faye, and Jeffery Deaver, are another bonus." —Publishers Weekly 
 
"If there's some star around which the mystery world orbits, it might well be Otto Penzler, who is widely considered one of the world's foremost authorities on the genre." —Los Angeles Review of Books
       
"Readers familiar with Penzler. . . . want to be him when they grow up. . . . He's a fantastic judge of what his readers want." —The Seattle Times

"When Mr. Penzler speaks, the mystery world listens." —The Wall Street Journal